NIL Deals of the Week: Bronny James signs with Beats by Dre, Tennessee's Jalin Hyatt cashes in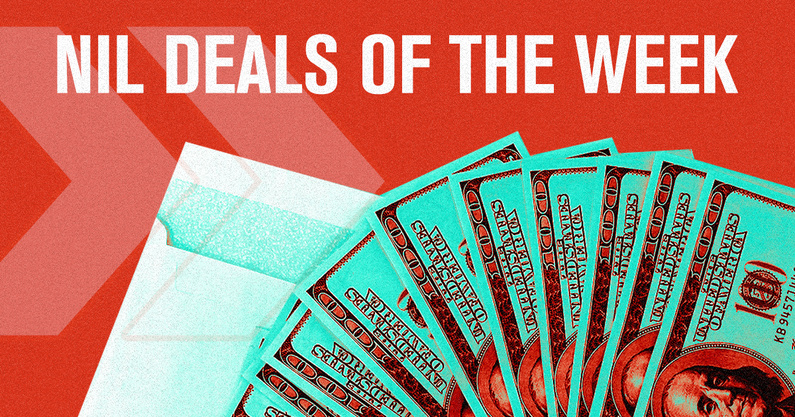 Do not question the power of an in-game performance. While NIL does not allow athletes to directly profit from their on-field stats, it does provide the perfect workaround.
Jalin Hyatt's five touchdown catches against Alabama are still being talked about. Talk to most people, and they know about Tennessee's win over the weekend. And they know who Hyatt is. So much so, that the wide receiver has now added nearly 50,000 followers on Instagram since Saturday.
He's already started to sign some new NIL deals, too. But those followers will equal more partnerships coming up the pipeline for him.
As a reminder, feel free to submit info on your NIL deal to On3. You can send an email to [email protected] or reach out via DM or comment on Twitter to @On3NIL or @deals_nil. Direct messages are open, too, on the @On3NIL Instagram account.
Let's get to the deals that highlighted this week in NIL.
CLICK HERE to subscribe for FREE to the On3 YouTube channel
Jalin Hyatt cashing in on legendary performance
Jalin Hyatt caught every touchdown pass Hendon Hooker threw in Saturday's 52-49 win over Alabama. The Tennessee wide receiver's big-time performance is not going to be forgotten around Knoxville anytime soon.
Hyatt tallied six catches for 207 yards and five touchdowns. And he became the first player since DeVonta Smith in 2019 to have 200 receiving yards and five receiving touchdowns in a game.
He's already starting to earn some serious NIL dollars because of it, too.
The receiver has signed a deal with The Volunteer Club, which is facilitated by Spyre Sports Group. He will receive the profits of all new memberships he drives to the Volunteer Club in the first month. And he will receive another 20% moving forward. In exchange, the wide receiver will send fans a free, signed picture of himself. It's a pretty easy way for Tennessee fans to show their appreciation for Hyatt's performance.
That's not the only deal, though. Hyatt is also involved in a co-licensed line of apparel that says "GIMME 5" through the apparel company BreakingT. The shirts and hoodies feature Hyatt's name, a picture of him catching a pass, and the Tennessee logo, which means the university approved the use of school marks for the NIL deal. Youth T-shirts are available for $30, adult shirts cost $34 and hoodies are $57.
Jalin Hyatt saw his Instagram following explode following his performance, too. Entering Saturday's game, he had 15,700 followers. The number now sits north of 65,500. Those are real dollars he can earn in social media activation. He also now holds an On3 NIL Valuation of $611,00, a 122% jump.
Bronny James becomes first HS athlete to sign with Beats by Dre
LeBron James partnered with Beats by Dre in 2008 as the company's first brand ambassador.
Now his son is making history. Bronny James announced a partnership earlier this week with Beats by Dre, making him the brand's first high school ambassador. The announcement comes just a week after James and four other basketball players signed NIL deals with Nike. He also has a deal with PSD Underwear.
As part of the agreement, Lebron and Bronny are starring in a Beats by Dre commercial, which dropped Monday on YouTube. Titled "LeBron James' Legacy Continues with Bronny," the two exchange a variety of shots each while wearing Beats by Dre wireless earbuds.
A 6-foot-3 combo guard who attends Sierra Canyon School, Bronny James has yet to make a college commitment. The 2023 four-star recruit took an unofficial visit to Ohio State in September. And there's real interest from USC and Oregon, too.
With an On3 NIL Valuation of $7.4 million, James holds the top-ranked evaluation in the NIL 100. The On3 NIL 100 is the first-of-its-kind, defacto NIL ranking of the top 100 high school and college athletes ranked by their market value.
Anthony Richardson becomes first Florida athlete to sign with Gatorade
Florida quarterback Anthony Richardson signed a NIL deal with Gatorade, which was announced on Wednesday. The sports drink was developed by a team of scientists at Florida's College of Medicine for the Gators football back in 1965. The initial purpose of the drink was to act as a replacement for body fluids lost when playing football.
And now Richardson has become the first Florida athlete to ink a Name, Image and Likeness deal with the company, IP attorney Darren Heitner confirmed to On3. Heitner represents Richardson in sponsorship, endorsement and marketing agreements.
As part of the deal, the quarterback is promoting the SEC "Game Day Challenge" in partnership with Gatorade. It's all part of a major campaign from the brand titled "Fuel Tomorrow." Fans can enter to win a trip to the SEC Championship Game, along with the ACC, Big Ten and SWAC title games.
It's a historic move and years in the making.
"It brings me great joy to have brought together two of my clients, Gatorade and Anthony Richardson, to work together in promoting the iconic Gatorade brand," Heitner told On3. "The sky is the limit for Anthony, and I look forward to continuing to assist him off the field."
Richardson currently holds an On3 NIL Valuation of $413,000. He's inked deals this fall with Champs Sports and Fanatics.
DJ Wagner Jr. signs with WME Sports
DJ Wagner Jr. has his choice of college options. And since he lives in New Jersey — one of 19 states that allows high schoolers to profit off their NIL — he's been able to add a few deals early on in his career.
This week, the top-ranked recruit in the 2023 class signed with WME Sports for NIL representation. It's worth keeping tabs since the five-star combo guard out of Camden, New Jersey, will have all the opportunities he wants at the college level.
Brands have already started to identify that, too. He has deals in place with Drake's Nike sub-label NOCTA, and last week Nike officially signed him with four other athletes. Wagner led Camden to its first state title since 2000 this past winter. The two-time New Jersey Gatorade Player of the Year's recruitment is trending towards a Kentucky commitment.
With an On3 NIL evaluation of $662,000, Wagner's valuation ranks No. 6 in the high school basketball rankings. And he's only just starting to focus on NIL. WME Sports will help expand Wagner's portfolio.
Candy finalizes roster of college football Sweet Futures NFTs
The Sweet Futures NFT program was launched last year as one of the first opportunities for college football players to use their NIL in the digital collectible space.
Now its roster of college football players for Year 2 of NIL is set. The NFT company has signed the following athletes to deals:
Fans have two ways to purchase NFTs featuring their favorite college football players. Mystery packs, which are valued at $20, contain one icon — a certain type of NFT — at random from the players included in this first drop.
The other option is to buy a seven-pack of icons, picked at random, which costs $125. Fans are guaranteed a rare version of an icon with a seven-pack. There are three versions of an icon: core, rare and legendary.
Once purchased, NFTs can be listed on Candy's secondary marketplace. Fans will be able to buy and sell the digital collectibles to try and find their favorite player even if it wasn't in their initial pack.
Honorable Mention