NIL Deals of the Week: Shedeur Sanders, BJ Ojulari join car trend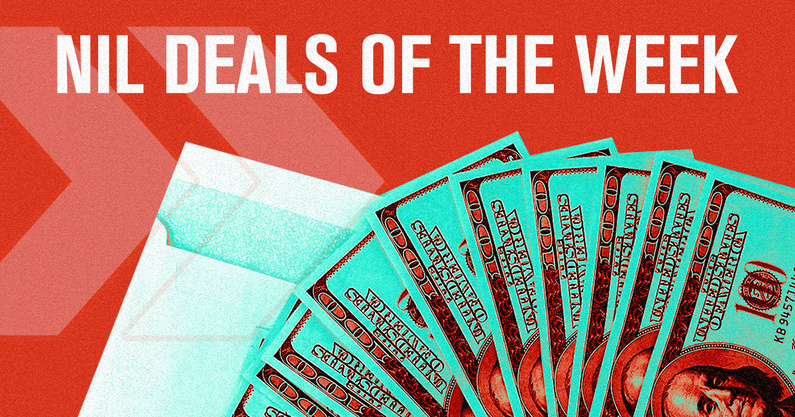 Car deals continue to remain king in NIL.
While most partnerships with dealerships are short lived, they also don't include cash or equity. But in the moment, landing a set of wheels has real value to college athletes.
Take this week, for example. Jackson State quarterback Shedeur Sanders landed a partnership with Mercedes-Benz, promoting the company's electric EQB SUV. That's a national campaign, which is boosting the athlete's exposure. And he got the keys to the car, too.
LSU defensive end BJ Ojulari also joined the trend. He signed with Natchitoches, Louisiana-based Jimmy Granger Ford Lincoln dealership. As part of the agreement, Ojulari received the keys to a Ram TRX Hellcat truck.
They may not have the car for the long haul. But it's reliable transportation to get around campus and impress teammates.
As a reminder, feel free to submit info on your NIL deal to On3. You can send an email to nil@on3.com or reach out via DM or comment on Twitter to @On3NIL or @deals_nil. Direct messages are open, too, on the @On3NIL Instagram account.
Let's get to the deals that highlighted this week in NIL.
CLICK HERE to subscribe for FREE to the On3 YouTube channel
Shedeur Sanders face of Mercedes-Benz national campaign
Shedeur Sanders has quickly become one of the most accomplished athletes in the NIL Era.
In the last year alone, he's signed with Gatorade, launched his own barbecue sauce and been tabbed as the BRADY brand's long-term ambassador.
And this week, he inked his first car deal. The Jackson State quarterback and son of Deion Sanders appeared in promotions across multiple Mercedes-Benz social media platforms. While so many NIL car deals have taken place at the local dealership level, this is a national campaign that solely features Sanders. It's another noteworthy deal for an athlete who has become one of the leading NIL ambassadors for brands.
As part of the agreement, he's promoting the company's new, electric EQB SUV. He landed his own 2022 model, too, which starts at at $55,550. WME Sports brokered the deal.
Former Miami quarterback D'Eriq King and multiple NCAA athletes sign with Mercedes-Benz for its "#MercedesAllStar" campaign, which ran throughout the first year of NIL. But this marks the first time Mercedes-Benz as a national brand has entered the NIL space this year. It also shows the clout Sanders has in the NIL space and the portfolio he has built.
Sanders currently holds a $1.3 million On3 NIL Valuation. The Jackson State quarterback sits at No. 12 in the the NIL 100, which is the first of its kind and defacto NIL ranking of the top 100 high school and college athletes ranked by their On3 NIL Valuation.
Northwestern State's Hansel Enmanuel adds deal with T-Mobile
Less than a month after he is believed to have become the first NCAA athlete to receive an O-1 visa for NIL-related purposes, Hansel Enmanuel signed a significant NIL deal this week. The Northwestern State freshman guard inked a partnership with T-Mobile earlier this week. The mobile telecommunications company is the second landmark deal for Enmanual, who signed with Gatorade back in June.
This is also the most notable move T-Mobile has made in the name, image and likeness space. Boost Mobile set the precedent at the start of the new era, signing the Cavinder Twins. And AT&T Fiber recently signed a handful of Tennessee athletes.
The deal was brokered by Z-Axis Sports. Details of the contract were not disclosed in Instagram announcement.
"Happy to be part of the T-Mobile family," Enmanual wrote in the post. "Like T-Mobile, we continue shattering expectations."
A former three-star recruit, Enmanuel had one arm amputated as a child after an accident. Born in the Dominican Republic, he played high school basketball at Life Christian Academy in Kissimmee, Florida. He held offers from Memphis, Bethune-Cookman and Tennessee State.
With the O-1 visa now in play, it's tough to imagine a cap being put on the Northwestern State freshman's NIL potential. The brand recognition of the two first deals he has signed is only proof. While his on-court talent speaks for itself, his story of perseverance is helping in NIL, too. He has more than 4.2 million social media followers, too.
Enmanuel has an On3 NIL Valuation of $1.5 million, which ranks No. 9 in the On3 NIL 100. His On3 NIL Valuation also played a role in his O-1 visa being approved.
Arizona basketball signee Jada Williams signs with Lemon Perfect
Lemon Perfect continues to ramp up its NIL involvement. The zero sugar drink with only five calories has been agressive in the space, signing the Ohio State quarterback-center duo to C.J. Stroud and Luke Wypler to a partnership. Duke five-star Duke basketball commit Jared McCain also previously signed with the company.
Now class of 2023 prospect Jada Williams has added her name to the brand's growing NIL roster. A five-star prospect and senior at La Jolla Country Day School in San Diego, she recently signed her National Letter of Intent with Arizona.
With a full collegiate career in front of her, Williams has a major social media following and NIL potential. The point guard has a massive social media following with more than 660,000 Instagram followers and another 370,000 on TikTok. There's no denying her talent on the court, either. She's played for USA Basketball, winning gold medals at the 2022 FIBA U17 World Cup and 2021 FIBA Americas U16 Championship.
"Our partnership with Jada is exciting for Lemon Perfect as we dive meaningfully into the NIL ecosystem," Lemon Perfect CEO Yanni Hufnagel said in a statement. "That Jada is both a top-tier basketball prospect and social media star is unique."
Williams currently has an On3 NIL Valuation of $550,000. Her evaluation ranks No. 72 in the NIL 100.
LSU's BJ Ojulari signs with Jimmy Granger Ford Lincoln
LSU defensive end BJ Ojulari is the latest to join the trend car trend. He added a new partnership to his growing list, signing with the Natchitoches, Louisiana, based Jimmy Granger Ford Lincoln dealership on Friday. The junior has emerged as one of the top pass rushers in the SEC this season.
As part of the agreement, Ojulari promoted the dealership on his Instagram account. He will also receive the keys to a Ram TRX Hellcat truck. The deal was brokered by the Ballengee Group, which serves as his primary NIL representation.
"Honored to be a part of the team," he wrote on Instagram.
The 6-foot-3, 250-pound edge rusher has wrecked havoc on SEC defenses this season. Through seven games, Ojulari has 36 total tackles with 6.5 tackles for loss and a forced fumble. He racked up 11 tackles against Alabama, including a sack. He added two fumble recoveries and seven tackles on the road at Arkansas, too.
The endorsement deal with Jimmy Granger is one of a number Ojulari has signed. He has a memorabilia deal in place and was part of the contingent of LSU players who took over a Baton Rouge Raising Cane's in August. The Tigers star players served patrons at the counter and even through the drive-thru. He also made an appearance at the Baton Rouge Food Bank this summer in partnership with Geaux Enterprises.
The LSU edge rusher currently holds a $459,000 On3 NIL evaluation. The valuation ranks No. 65 in the college football NIL rankings.
Honorable Mention