NIL Deals of the Week: Gordon McKernan capitalizes on LSU win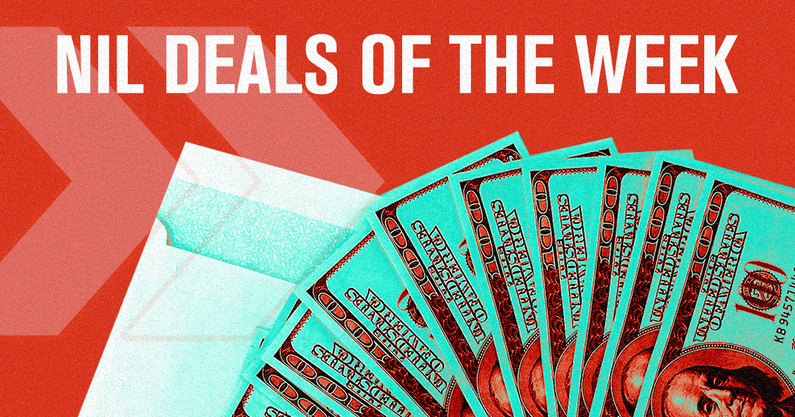 There's been lessons learned in the NIL Era. Maybe most important when it comes to deals: Brands love to capitalize on big-time moments.
Take this week at LSU for example. The Tigers knocked off Alabama in Death Valley, catapulting them into the College Football Playoff conversation. Gordon McKernan Injury Attorneys made sure to cash in on it, signing Jayden Daniels and Josh Williams to endorsement contracts.
Those are household names in Louisiana right now. It's hard to put an exact price on the word of what a deal like that could mean for a business.
Let's get to the deals that highlighted this week in NIL.
As a reminder, feel free to submit info on your NIL deal to On3. You can send an email to [email protected] or reach out via DM or comment on Twitter to @On3NIL or @deals_nil. Direct messages are open, too, on the @On3NIL Instagram account.
CLICK HERE to subscribe for FREE to the On3 YouTube channel
Gordon McKernan delivers NIL deals following LSU statement win
LSU delivered the first statement win of the Brian Kelly era last weekend. And while Tiger fans hope it is only a start, it's hard to deny the rebuild is ahead of schedule in Baton Rouge.
Part of that is thanks to Gordon McKernan's NIL deals. Multiple sources in the NIL space believe the law firm has played a role in roster management. He may be starting to lay the foundation to ensure some star players return for another season.
Quarterback Jayden Daniels signed with the attorney on Tuesday. A day later, running back Josh Williams had also been added to McKernan's NIL roster.
Daniels, the former Arizona State transfer was 22 of 32 for 182 yards, throwing two touchdowns against Alabama. He caused problems on the ground, too, carrying the ball 18 times for 95 yards and adding another score. He also delivered the win for LSU. Daniels rolled to his right and found an open Mason Taylor, who fell into the end zone for the game-winning, two-point conversion.
And Williams, a former walk-on, has had a breakout season. Against the Tide, he finished with seven carries for 54 yards and a touchdown. But his block in overtime on Daniels' 25-yard touchdown run? That was a major factor in the win. The running back dove at Brian Branch to make sure his quarterback finished the run in the end zone.
McKernan previously told Sports Illustrated the price tag for elite players is often at least $100,000. He said he will pay $500,000 in NIL deals this year.
Hendon Hooker lands back-to-back noteworthy deals
Headed into the showdown with Georgia last weekend, Tennessee quarterback Hendon Hooker signed two of his most noteworthy deals to date.
The first was a partnership with Mercedes-Benz of Knoxville. As part of the agreement, the Heisman favorite will promote the dealership on his social media channels. The first ad hit his Instagram on Thursday night.
On top of that, Hooker has signed a lease for a Mercedes-Benz GLE 53, sources told On3. The dealership initially made contact with the Spyre Sports Group before it was handled by the quarterback's representation.
Then the next day, he signed his most infamous NIL deal to date. Hooker announced a partnership with French's Mustard, paying homage to the bottle thrown on the field last year against Ole Miss.
The endorsement contract was brokered by Spyre Sports Group, sources told On3. As part of the deal, French's has commissioned a pair of mustard-inspired Nike Air Force 1s. The Tennessee quarterback will also push out content for the yellow mustard on his social media platforms.
Hooker currently has a $1.1 million On3 NIL Valuation. His social media following has seen a major uptick this season, now sitting north of 137,000 total followers. Most of that is thanks to his 96,000 followers on Instagram. He also has a per-post projection of $2,100.
South Carolina's Aliyah Boston lands Orangetheory endorsement deal
Aliyah Boston's off-season workout regiment will be replicated in Orangetheory Fitness classes across the nation starting Thursday. The South Carolina women's basketball star and reigning National Player of the Year signed a NIL deal with the boutique fitness franchise this past week. With more than 1,350 workout studios in the United States, the partnership with Orangetheory provides an opportunity to grow her brand.
The Orangetheory fitness team worked hand-in-hand with Boston to collaborate and create a workout similar to Boston's. The "Aliyah Boston Workout" calls for trainer-led agility drills, a medicine ball drill and some core exercises. The training regimen is now available at participating studios.
Along with the workout, the South Carolina star will appear on video screens in Orangetheory studios to guide members through the workout.
"The Orangetheory workout is challenging and fun; I really enjoy seeing my performance results afterward," Boston said in a statement. "This collaboration serves as an authentic opportunity to translate the off-court exercises that made such a big impact on my game – and my life – with Orangetheory members across the country."
Boston's deal is just the latest in her growing NIL portfolio. She signed a major deal with Under Armour this spring, working with the design team and providing insight on future women's basketball shoes. And she has another endorsement deal with Crocs, too.
The South Carolina forward holds a $102,000 On3 NIL Valuation. Her evaluation ranks No. 13 in women's basketball.
Kansas stars Jalon Daniels, Jared Casey star in Applebee's ad
Jayhawks tight end Jared Casey is back in the spotlight with an Applebee's commercial this year.
And he's brought along a friend. When the former Kansas walk-on tight end Jared Casey caught the game-winning two-point conversion at Texas last season, he capitalized on the moment through a deal with Applebee's Grill + Bar.
In the latest ad, Kansas quarterback Jalon Daniels makes an appearance alongside Casey. The Kansas-focused NIL collective Mass Strategies helped facilitate the NIL opportunity. Casey, who earned a scholarship in August, and Daniels, wore shirts promoting the collective in the commercial.
"Given the monumental moment of Jared's two-point conversion reception and the Applebee's spot that ensued, it was a no-brainer to do it again this year with an added celebrity," Mass Strategies President and COO Dan Beckler said in a statement provided to On3. "The relationship we developed last year with Thrive Restaurant Group really set the stage for a repeat performance this year. Jalon and Jared have a great friendship and it was fun to see them in action during this commercial shoot.
"When brands align and see value in these partnerships with student-athletes, everyone wins, and have some fun along the way."
Daniels has an On3 NIL Valuation of $88,000, while Jared Casey's evaluation sits at $35,000.
Stetson Bennett cashes in on leaked phone number 
Stetson Bennett continues to rack up the NIL dollars.
Before Georgia's blowout win over Tennessee, Bennett's phone number was somehow leaked to Vols fans. He estimated he received around 600 and 700 calls and texts from Tennessee faithful the day before the game.
The quarterback did not forget. During his celebration following a 13-yard touchdown run, he held his hand up as if he was talking on the phone – trolling the fans who lit his up all night. And now, he has multiple T-shirts out in Athens monetizing the moment.
"Call me 27-13" is the wording on The Players Trunk merchandise, and black T-shirts are selling for $29.99 and hoodies for $49.99. Another T-shirt that says "Ring Me" with an image of Bennett and his autograph is offered up by Breaking T for $34.
The move to create T-shirts is far from being his only NIL deal this season. Bennett has deals with Shuman Farms, Fanatics, Georgia Power, AARP and Synovus Bank in his portfolio.
The national champion currently has an On3 NIL Valuation of $971,000. He also ranks as the No. 24 player in the On3 NIL 100.
Honorable Mention
The Nyle Maxwell Family of Dealerships has signed the Texas women's basketball team. Each player will receive $5,000, totaling $60,000 for the team.
Virginia men's basketball guard Reece Beekman signed with local McDonald's franchises that are owned and operated by RAHE Inc. 
USC wide receiver Brenden Rice has signed with Centurion Lifestyle. He will have access to his choice of luxury cars at least twice a month.
Kansas quarterback Jason Bean has inked an endorsement deal with Serious Bean Co.