NIL Deals of the Week: Hyatt Hotels picks up Jalin Hyatt, adidas makes statement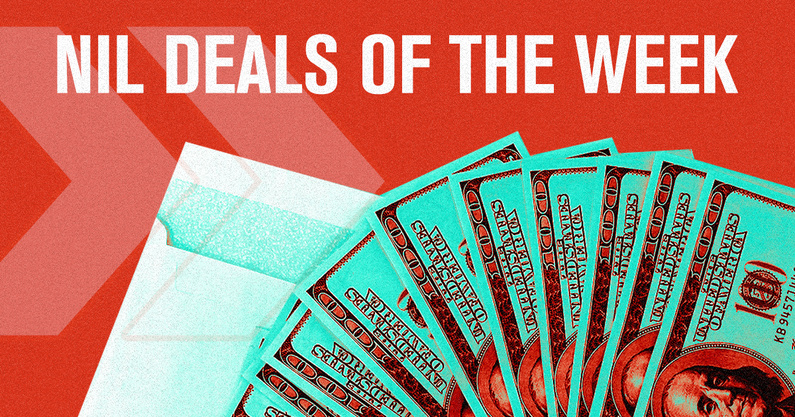 Now in the middle of its second year, NIL continues to mature.
What started as an undeveloped and unknown industry continues to progress. And this week in NIL encapsulated it. Opendorse, one of the leading NIL marketplaces, announced a $20 million round of funding.
And the brands who inked deals this week showed they are buying in. Tennessee wide receiver Jalin Hyatt announced a partnership with Hyatt Hotels, which will benefit his teammates. And adidas made a splash, signifying the ongoing NIL battle playing out between the major sneaker companies.
As a reminder, feel free to submit info on your NIL deal to On3. You can send an email to [email protected] or reach out via DM or comment on Twitter to @On3NIL or @deals_nil. Direct messages are open, too, on the @On3NIL Instagram account.
Let's get to the deals that highlighted this week in NIL.
Tennessee receiver Jalin Hyatt inks NIL deal with Hyatt
The NIL Era has brought plenty of innovative monetizing opportunities to athletes with unique names. But Tennessee wide receiver Jalin Hyatt possibly scored the most lucrative one earlier this week.
Hyatt inked an agreement with Hyatt Hotels, an endorsement contract destined to be signed ever since his five-touchdown performance against Alabama. As part of the agreement, he is gifting his teammates with a generous hotel credit, similar to their stay at the Orange Bowl in Miami. The plan is for players' families to use the credit for the trip to South Beach.
It's an unprecedented move in the NIL space. While more and more brands have been joining marketplaces and executing deals, the hospitality business has been slow to jump into the mix.
"The World of Hyatt team gave me the ability to create a deal that benefited my teammates and our families," Jalin Hyatt said in a statement to On3. "That's real, as those are the people I care about the most. Knowing my teammates' families will all have help to be at the game, and that they are being cared for on the road is amazing."
Hyatt's marketability has been on the rise since the Third Saturday in October. Hyatt holds an On3 NIL Valuation of $818,000 — a 229% growth over the last 10 weeks. And he sits at No. 36 in the NIL 100, which is the first of its kind and defacto NIL ranking of the top 100 high school and college athletes ranked by their On3 NIL Valuation. 
Adidas expands college basketball footprint with NIL
After making a splash partnering with 15 female student-athletes in recognition of the 50th anniversary of Title IX, adidas jumped back into the space with new deals with some of the top men's players in the country.
Adidas announced Tuesday it has signed Northwestern State's Hansel Enmanuel, Kansas' Gradey Dick and Indiana's Trayce Jackson-Davis and Jalen Hood-Schifinio.
More importantly, it signals adidas is not going quietly in its NIL battle with Nike, which signed five athletes back in October. The sneaker companies are now in a race to sign NIL deals with high school and college talent.
Enmanuel has a NIL portfolio that includes T-Mobile, Gatorade and other companies. He has the highest On3 NIL Valuation in college basketball at $1.5 million. Plus, he has more than 4.2 million social media followers.
A former On3 Consensus five-star recruit, Dick averages 15.4 points, 4.1 rebounds. He currently touts an On3 NIL Valuation of $349,000 with a long list of deals. He recently starred in a commercial with a local car dealership in Kansas that turned a lot of heads for its creativity.
Jackson-Davis has an On3 NIL Valuation of $611,000 and is No. 11 on the On3 College Basketball NIL Rankings. Hood-Schifino is just starting to build his NIL portfolio.
Wiz Khalifa's Taylor Gang Entertainment signs 25 athletes
One of the most unique NIL deals seen in the new era of college athletics came together in the past week. Wiz Khalifa's Taylor Gang Entertainment has entered the space, signing 25 athletes to endorsement deals to promote Khalifa's "45 Minute Beatdown" on their Instagram account.
As part of the deal, the music label and management company paid the athletes to record a video of themselves dancing to the song with a link to their Instagram stories on Friday. The song, which features the rapper Lil Uzi Vert, was released earlier this month.
All 25 contracts were brokered by the Texas-based, NIL-driven A&P Agency. Each athlete will be compensated for their social media activation.
The move is one of the first by a music label in name, image and likeness. Back in June, Atlantic Records announced it was expanding its partnership with INFLCR, using the Global Exchange to connect with more than 65,000 athletes to promote upcoming music.
But it's by far one of the more innovative ways NIL has been used by a company. Athletes involved in the deal include Demond Demas and Isaiah Bond.
Click here for the full list of athletes involved in the deal.
Dunkin' launches national campaign across 24 institutions
Brands are choosing to partner with athletes who are basically social media influencers. But student-athletes who can wear their institution's branding in an advertisement is invaluable to these companies.
Dunkin' was able to tap into that with its nationwide campaign. The coffee chain announced the signing of NIL agreements with the entire Northwestern field hockey team, plus athletes from 23 other institutions on Monday. There are 48 athletes in total, including 25 from Northwestern. Learfield played a role in bringing the deals to athletes, along with the assistance of its marketplace partner Opendorse.
Because Learfield is the media rights holder for these schools, athletes will execute their deals while wearing their school colors and logos. This is an example of a brand tapping into a major swath of talent while monetizing an institution's IP.
Athletes involved in the deal include Tennessee quarterback Hendon Hooker, North Carolina star forward Armando Bacot and South Carolina guard Zia Cooke.
As part of the agreement, athletes will participate in the Team Dunkin' campaign across social media. This is not the first foray into NIL for the nationally recognized brand. Back in September, Michigan quarterback J.J. McCarthy secured his own Dunkin' order at select Metro Detroit locations of the chain coffee and breakfast shop.
Quinshon Judkins re-signs with The Grove Collective
The Grove Collective signed Ole Miss running back Quinshon Judkins through the 2023-24 season. He finished the regular season averaging 5.9 yards per carry. He's well over the 1,000-yard mark with 1,476 yards. He set the Rebels' single-season rushing touchdown record with 16.
A for-profit LLC founded back in January, it then relaunched in September, with former Rebel Walker Jones appointed as the leader of the collective.
Locking in Judkins to a longer NIL deal is a win for Ole Miss. It ensures the tailback won't be one of many players entering the portal. He has emerged as a large part of Lane Kiffin's offense, which has turned into a prolific, rush-heavy attack this season.
The Grove Collective recently topped the $10 million mark in fundraising, one of the top reported totals in the NIL collective market. The Ole Miss head coach has been one of the most outspoken voices on how NIL has changed the college game.
"That's awesome," Kiffin said after hearing of The Grove Collective's fundraising efforts. "Very encouraging. Obviously, it has a lot to do with the world of college football that we're in — the ability for places to sign players and to keep their own players. That's very encouraging."
Honorable Mention