NIL Deals of the Week: Matador Club dishes out $25k to athletes, Zep Jasper capitalizes on Jarritos ad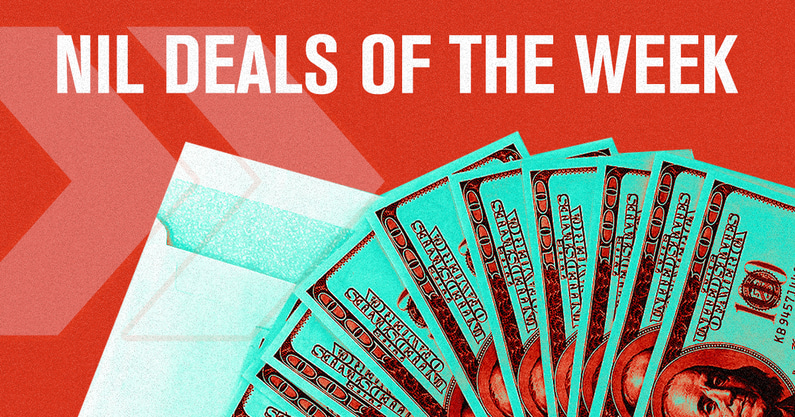 With the start of the academic year just around the corner, On3 is debuting a new weekly feature called "NIL Deals of the Week."
With a mission to highlight the top deals of every week, the On3 NIL team will focus on identifying noteworthy deals in the college athletics landscape. Creative and original partnerships will be mentioned, too.
As a reminder, feel free to submit info on your NIL deal to On3. Feel free to send an email to [email protected] or reach out via DM or comment on Twitter to @On3NIL or @deals_nil. Direct messages are open, too, on the @On3NIL Instagram account.
Let's get to the deals that highlighted this week in NIL.
CLICK HERE to subscribe for FREE to the On3 YouTube channel
Matador Club collective to pay 100 football players $25,000
One of the largest NIL deals to date, the Texas Tech collective the Matador Club announced plans this week to pay 85 scholarship players and 15 of the team's top walk-on players $25,000 annually.
The one-year deal follows a similar structure to Utah-based Built Brands, which surprised every BYU walk-on with an endorsement deal covering their scholarships last summer. Players will be able to renew the contract, too. Student-athletes will be required to do charity work.
The club has not publicly released its annual goal or how much money it has raised so far – which is common among collectives that view fundraising as proprietary information. However, the $25,000 investment in the 100 players adds up to $2.5 million. Around 1,000 donors have contributed to the collective so far.
The Matador Club has non-profit 501(c)3 status and was organized in Feb. 2022 by Texas Tech alums Cody Campbell, Tim Culp, Terry Fuller, Marc McDougal, Gary Petersen and John Sellers. This announcement has also come with its share of scrutiny, though.
As a non-profit, the collective could be putting its status with the IRS on the line. There is precedent in tax court, too, since a gymnastics booster club lost its exempt status. The group was operating for the benefit of private interests.
"Collectives that are organizing in this way, doing these types of deals, and then publicly discussing them are putting huge targets on themselves," Mit Winter, a sports attorney at Kansas City-based Kennyhertz Perry LLC, wrote on Twitter.  "Donors won't be happy when the collective loses its non-profit status and they have to pay back taxes."
The Foundation, NIL Management strike largest deal yet at Ohio State
Ohio State's donation-based collective, The Foundation, helped broker the largest NIL deal ever involving the school's athletes. Quarterback C.J. Stroud, wide receiver Jaxon Smith-Njigba, running back TreVeyon Henderson and defensive back Denzel Burke are featured in the deal, which totals $550,000.
The quarterback-wide receiver duo is set to partner with Designer Shoe Warehouse, while the other two Ohio State stars will star in a campaign with American Eagle. Stroud, who is a preseason Heisman favorite, also has a solo deal with Value City Furniture.
All four Buckeyes are clients of NIL Management, a Columbus-based firm that focuses on brokering deals for student-athletes. The Foundation's CEO and co-founder Brian Schottenstein brought the deals to the table, while NIL Management co-founder Zach Beebe and his staff finalized contract negotiations.
The six-month contract calls for two lump sum payments. Each player is earning a different rate of compensation for their involvement in the partnership.
This deal is another example of a collective pooling together resources to strike a major win for its student-athletes.
Zep Jasper builds brand with electric Jarritos ad
Auburn shooting guard Zep Jasper inked his first NIL deal on Thursday in style, dubbing it "straight fire."
With a lineup of Jarritos bottles on a basketball court in his Instagram ad, he said the Mexican fruit soda his "drink of the summer." The former College of Charleston star has more than 24,000 followers on Instagram, proving he has the social media following to help send the Jarritos to a wider audience.
Last year, Jasper averaged 5.1 points, 1.3 rebounds, and 2.1 assists per game for the Tigers. His season-high in points came on Feb. 23 against the Ole Miss Rebels — when he stuffed the stat sheet with 15 points on 5-of-7 shooting from the field.
Dear Old Clemson signs Tigers freshmen class to deals
After just launching on June 1, Dear Old Clemson announced this week the signing of 29 student-athletes, including the entering Tigers' freshmen football class. Other student-athletes who have signed on with the collective include baseball and softball players. There is also a pending contract with a basketball player.
Dear Old Clemson already has an event in place with the 20 freshmen football players. Later this month, the collective is holding a meet-and-greet autograph session with the freshmen.
And on Aug. 27 in the Grand Ballroom at the Madren Conference Center will be a meet-and-greet along with the 2022-23 softball team. Fans can grab autographs, too.
Tickets for the events can be purchased online at dearoldclemson.com or at the event. The organization was founded in June by Robert MacRae and Jason Beaty with a focus on helping football and an option to support women's sports. Both are Clemson alumni and operate businesses in Clemson.