NIL Deals of the Week: Nike scoops up cross country star, brands prep for March Madness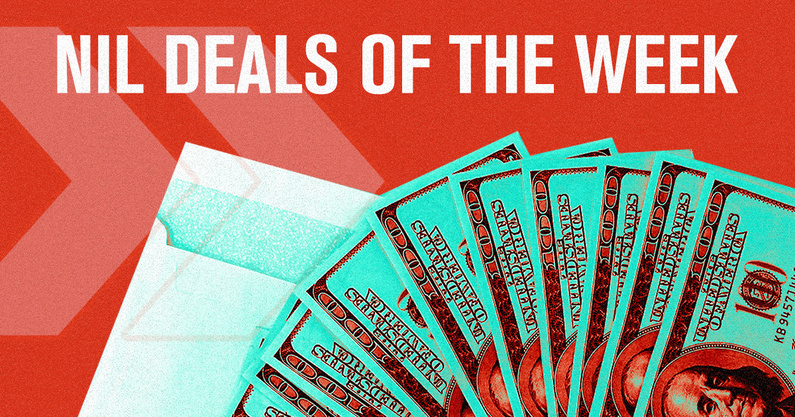 With Selection Sunday just a day away, brands have spent the past week prepping for the men's and women's NCAA Tournament.
This will be the second time around for NIL and March Madness. St. Peter's Doug Edert was a winner last year, signing with Barstool Sports and Buffalo Wild Wings. Over the last week, Beats by Dre and Athletic Brewing have announced partnerships with athletes who will be playing in the Big Dance.
After opening weekend, a new NIL star could emerge in either tournament.
As a reminder, feel free to submit info on your NIL deal to On3. You can send an email to [email protected] or reach out via DM or comment on Twitter to @On3NIL or @deals_nil. Direct messages are open, too, on the @On3NIL Instagram account.
Let's get to the deals that highlighted this week in NIL.
Nike signs Stanford cross country star Charles Hicks
Stanford cross-country star Charles Hicks announced last weekend he's "over the moon to be joining the Nike Running family" as part of a new marketing partnership. He shared the news of the deal with his 25,800 followers on Instagram and his nearly 33,000 followers on YouTube.
Nike has now signed deals with athletes in basketball, track, golf and soccer. Hicks said he will be paid to promote the brand's products on social media and also through appearances. Runner's World noted through its reporting that Hicks' deal could be worth between $50,000 and $150,000 per year. Ray Flynn and Matthew Sonnenfeldt, agents with Flynn Sports Management, facilitated the deal for Hicks that will last through the remainder of his college eligibility.
Hicks became the first runner in Stanford history to win an NCAA cross-country individual national championship. He edged Northern Arizona's Nico Young in a close race in November. Hicks was named USTFCCCA National Men's Athlete of the Year in 2022. He's a seven-time All-American for the Cardinal. Hicks also won the U23 European cross-country championships twice while running for Great Britain.
The runner has two more years of cross-country eligibility and one more year of eligibility for indoor and outdoor track at Stanford.
He told Runner's World the NIL partnership won't "necessarily change the calculus" for when he might turn pro. Thanks in part to NIL, more and more athletes are taking advantage of deals to spend more time competing in college sports.
Gonzaga's Drew Timme signs NIL deal with Beats by Dre
Drew Timme has announced three NIL deals in less than two weeks.
The Gonzaga big man decided last June to return to college basketball for another year and it has paid off. On Thursday he announced his deal with Beats by Dre. He also previously gifted his team headphones as part of the agreement.
Leading up to Thursday's news, he signed with Continental Tire. One of three college basketball players promoting the brand this March, he filmed a training sessions with Chris Matthews, also known as "Lethal Shooter." The two-minute video features Matthews meeting up with the players using his Continental Tires. Timme's video focused on shooting from free-throw and 3-point range.
The 6-foot-10, 235-pound forward also inked a deal with Barstool Gonzaga, launching his own merchandise with the brand. He signed with Seven1 Sports & Entertainment Group for NIL representation in August 2021. The agency is founded by Jermaine O'Neal and Tracy McGrady.
Timme is averaging 20.9 points, 7.3 rebounds and 3.2 assists while shooting an outstanding 62.4 percent from the field. The Zags are the ninth-ranked team in the nation and beat Saint Mary's earlier this week to capture the West Coast Conference title.
With Gonzaga poised to make another deep run in March, Timme has a $626,000 On3 NIL Valuation. The forward's valuation ranks in the top 10 of college basketball. His prolific run in college has also led to a major social following, with more than 110,000 followers.
Garnet Trust partners with designer to create NIL trading cards for soccer players
The South Carolina-focused collective Garnet Trust released four new trading cards featuring some top players from the Gamecock's nationally ranked women's soccer team this week. The deal will allow Hallie Meadows, Catherine Barry, Payton Patrick and Taylor Jacobson to receive 100% of the profits from sales.
"We can't think of a better way to celebrate Women's International Day than to honor these amazing student-athletes from Gamecock women's soccer," Garnet Trust said in a statement.
Meadows was an SEC Academic Honor Roll pick in the 2020 and 2021 seasons. Patrick played 98 minutes for the Gamecocks in the 2022 season. Barry played in 24 games for South Carolina in 2022, and she led the team in goals, points, shots and shots on goal for the 2020 and 2021 seasons. Jacobson also played in 24 games for Carolina in 2022.
Johnso Creative designed the trading cards. The former creative director and graphic designer for Oklahoma State and South Carolina football, Joe Johnson has emerged as a popular designer in the NIL trading card world.
Athletic Brewing signs trio of basketball players
A leading manufacturer of non-alcoholic craft beer, Athletic Brewing has been an active player in NIL since the jump. It has invested heavily in the last 20 months, aligning with notable names in college football and basketball.
This past week it signed a trio of college basketball players entering the sport's busiest month. USC's Boogie Ellis, Texas' Rori Harmon and Houston's Marcus Sasser all promoted the beer on their Instagram pages.
All three are participating in the company's "Fit For All Times" campaign, which launched back in September. When it comes to athletes promoting alcohol using their name, image and likeness, the NCAA has taken a backseat on the issue. Instead, states and schools have been left to make the decision.
In most institution's NIL policies, athletes are prohibited from promoting alcohol, tobacco and gambling.
"Beer sponsorships have always been problematic for NCAA athletes," Athletic co-founder and CEO Bill Shufelt previously said. "As the country's leading non-alcoholic brewer, we want to inspire change around the idea that you need to sacrifice your college experience in order to succeed in the classroom or on the field."
Ellis is averaging 18 points and 3.7 rebounds for a USC team destined for the Big Dance. Behind Sasser, Houston may earn a top seed. And Harmon has only improved her output since winning Big 12 Freshman of the Year last season, averaging 11.6 points and 7.3 assists.
Illinois NIL Store launches Matthew Mayer 'Mullet Monster' T-shirt campaign
Matthew Mayer might have not known it at the time but his desire for caffeine unintentionally created a marketing opportunity.
The Illinois forward missed multiple days of practice earlier this month for what he described as "caffeine poisoning." He said he drank six Monster energy drinks the same day the Illini played at Ohio State with all but one coming after the game.
"I had six Monsters the day of the game — I only had one before, but I had five after — because I had like a caffeine-induced euphoria to play video games," he said when he returned to practice. "So I could barely get out of bed the next day. It was basically like a caffeine hangover."
Campus Ink did not waste time putting together an NIL opportunity. The company, which runs the NIL Store platform, started to have internal discussions soon after and had some designs sketched up within a day, Campus Ink Director of Athlete Development and Partnerships Adam Cook told On3.
Soon after, Campus Ink presented a few options to Mayer's camp. After winning a national title at Baylor in 2021, he transferred into the Big Ten last offseason. The 6-foot-9, 225-pound forward now has his own T-shirt and crewneck playing up his caffeine overdose on the Illinois NIL Store.
Limited pre-order on the merchandise ends on Monday, March 20. The tee is $34.99, while the crewneck is priced at $49.99. The forward is averaging 12.8 and 5.5 rebounds per game while shooting 41.4 percent from the field. He has scored more than 20 points seven times, too. He also holds a $115,000 On3 NIL Valuation, which ranks in the top 70 among men's basketball players.
Honorable Mention
Tennessee quarterback Nico Iamaleava announced on social media that he partnered with Force Factor – a health and wellness supplement company – in an NIL deal that Spyre facilitated. In the commercial, Iamaleava encourages viewers to shop for Force Factor products at Walmart and "unleash your potential."
MarketPryce has reached a partnership with the UCLA women's basketball team that will support the nationally ranked squad ahead of March Madness.
Jayda Curry, Keyonte George, Cliff Omoruyi and Mike Miles have all signed NIL deals with Nabisco.
Texas golfer Tommy Morrison signed with WME Sports for NIL representation.