NIL Deals of the Week: Stetson Bennett returns to Raising Cane's, Austin Volkswagen scoops up four Texas players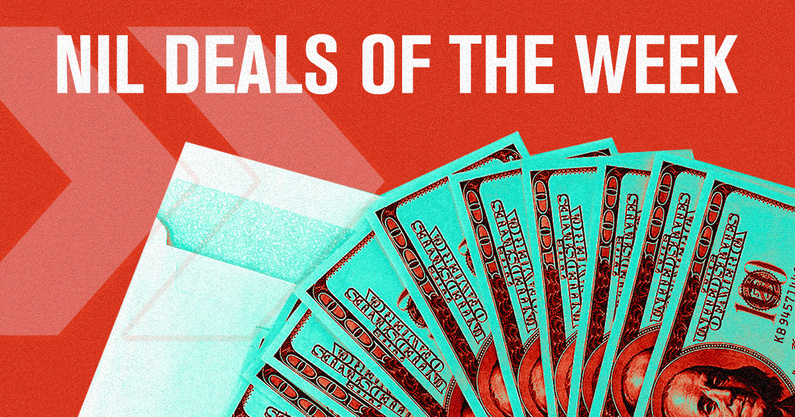 MarketPryce has reached an "exclusive NIL partnership" agreement with Arizona that will support the Wildcats' nationally respected women's basketball and softball teams.
In addition, several individuals on the Arizona women's soccer, gymnastics, golf, tennis and track squads have joined MarketPryce to further expand NIL opportunities. MarketPryce is an online marketplace that helps student-athletes facilitate marketing deals.
To celebrate the partnership with Arizona female student-athletes, MarketPryce facilitated teamwide NIL deals between sports energy drink G.O.A.T. Fuel and the entire women's basketball and softball teams. The deal is one of the most wide-ranging agreements between a brand and entire rosters of women's college sports teams that have been announced to this point. The terms of the deals with G.O.A.T. Fuel were not released.
Players on the Wildcats' softball and basketball programs learned about the deals earlier this week. Arizona homerun leader Allie Skaggs and senior All-Pac-12 guard selection Jade Loville surprised teammates when they uncovered coolers full of G.O.A.T. Fuel, the sports energy drink created by Jerry Rice and his family.
"The team's reaction to the surprise was priceless," Skaggs, who led the Pac-12 in home runs last year, said in a statement to On3. "We're all so fired up to start working with MarketPryce. NIL is a huge opportunity for us, so it's exciting to have a brand like G.O.A.T. Fuel give us our first team deal and help everyone on the squad – especially our younger players – get started in the space."
Loville agreed.
"This feels like a long time coming for us," Loville told On3. "We've been wanting to engage in NIL but weren't sure how to get started. It's incredible to see Coach Adia (Barnes) and the entire athletic department invest in our women's programs. We're excited to get to work."
NIL deal includes more than 30 Arizona female athletes
Through agreement, more than 30 women across seven teams received free product and paid NIL deals from G.O.A.T. Fuel.
Michael Ehrlich, head of athlete engagement for MarketPryce, told On3 this agreement is just the beginning. He hopes there will be multiple "authentic brand partnerships that support equitable NIL opportunities for Wildcat women." He also said multiple female Arizona athletes have already applied to additional active brand campaigns on the MarketPryce platform.
In addition to connections with brands, Arizona student-athletes will have access to MarketPryce+. MarketPryce+ is an educational platform featuring NIL best practices on creating authentic and engaging social media content. It also helps athletes with writing strong brand pitches, building their personal narratives and maximizing value for themselves.
"We saw an opportunity with Arizona to take an innovative approach to NIL education," MarketPryce CEO and co-founder Jason Bergman said in a statement to On3.
"We don't show PowerPoints or presentations. And we meet athletes where they are and help them learn tangible skills they can use to maximize brand partnerships and build their personal brands. We're inspired to lay the blueprint for bringing real, sustained NIL value to student-athletes in coordination with an elite athletic department. Launching with two team-wide deals sets a high bar for our partnership. But we expect nothing less from these storied programs."
Arizona supporting NIL for female athletes
MarketPryce is also now part of Arizona Edge, the school's NIL program focused on developing opportunities for student-athletes.
"Arizona Athletics has led from the front in the NIL space," Vice President and Director of Athletics Dave Heeke said in a statement to On3.
"MarketPryce is an innovative partner that can help grow NIL opportunities for all Wildcats. NIL is an integral part of the lives of student-athletes as a critical addition to our longstanding Commitment to an Athlete's Total Success program. Arizona Athletics remains committed to its mission of providing opportunities for student-athletes to become academic, athletic and life champions and supporting the outstanding young women and men in our programs through new NIL endeavors bolsters that commitment."