NIL Deals of the Week: Adidas signs 15 athletes to honor Title IX anniversary, Oscar Tshiebwe partners with Walkaway Sports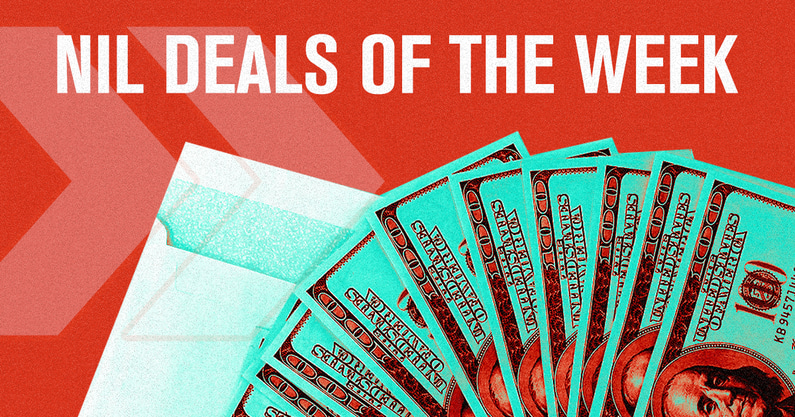 With college football season closing in, the number of NIL deals executed will continue to ramp up.
There is plenty of speculation that the brunt of partnerships this fall will happen after Week 1 of the season. Many NIL experts believe companies will want to verify their return on investment this season before striking a deal.
Either way, there are plenty of creative and original partnerships to highlight in this week's NIL Deals of the Week. With a mission to highlight the top deals of every week, the On3 NIL team will focus on identifying noteworthy deals in the college athletics landscape.
As a reminder, feel free to submit info on your NIL deal to On3. You can send an email to [email protected] or reach out via DM or comment on Twitter to @On3NIL or @deals_nil. Direct messages are open, too, on the @On3NIL Instagram account.
Let's get to the deals that highlighted this week in NIL.
CLICK HERE to subscribe for FREE to the On3 YouTube channel
Adidas announces NIL deal with 15 athletes to honor 50th anniversary of Title IX
In recognition of the 50th anniversary of Title IX, adidas announced this week that 15 college athletes have signed on to the sportswear brand. Billie Jean King and Candace Parker were in New York City on Tuesday next to the athletes to announce the news.
The players will represent the brand inside and outside of university obligations. The endorsement deal also calls for them to be featured in brand marketing campaigns while also promoting apparel and footwear.
Earlier this year, adidas announced the first NIL network, reaching more than 50,000 eligible athletes across 23 sports and all genders at 109 Division I institutions. This deal marks the first group of athletes to join the network.
Here is the list of athletes:
NC State soccer player Jaiden Thomas
NC State soccer player Jameese Joseph
Miami track & field athlete Moriah Oliveira
Louisville women's basketball player Hailey Van Lith
Texas A&M tennis player Gianna Pielet
Texas A&M tennis player Jayci Goldsmith
Washington softball player Kinsey Fiedler
Nebraska volleyball player Nicklin Hames
Indiana softball pitcher Brianna Copeland
Kansas volleyball player Lauren Dooley
Georgia Tech volleyball player Erin Moss
Mississippi State goalkeeper Maddy Anderson
Grambling State softball player India Wells
Rutgers softball player Emily Mason
Arizona State gymnast Izzy Redmond
Stanford golfer Rose Zhang
While other companies have announced major deals to honor the 50th anniversary of Title IX, none have come from such a noteworthy brand as adidas. No contract details were disclosed.
Oscar Tshiebwe partners with Walkaway Sports, includes exclusive T-shirt
Kentucky's national player of the year continues to capitalize on his NIL worth.
Announced on Friday, Oscar Tshiebwe is partnering with Walkaway Sports on the SRV Trainer, a multifunctional basketball training tool. As part of the deal, Walkaway Sports is offering a limited-time Oscar Tshiebwe T-shirt featuring the center posing with his trophies. For every T-shirt purchased, fans will receive one entry for an autographed limited-edition print of the original artwork, of which only 15 will be produced. No contract details were disclosed.
This raffle will go down, along with his photo shoot for the SRV Trainer, when the team travels to the Bahamas. Tshiebwe, who was born in Congo, is not able to execute deals inside the United States due to student visa restrictions.
The SRV Trainer is a multifunctional training device that helps athletes with their shooting, rebounding, and vertical. Tshiebwe's On3 NIL Valuation of $109k places him 15th in the college basketball NIL rankings.
Topps, Iowa guard Caitlin Clark announce NIL partnership
The top point guard in the country is making her dreams a reality. Iowa's Caitlin Clark has signed a deal with Topps trading cards, making her one of the first Hawkeyes athletes to have an officially licensed card.
"Grew up collecting trading cards now Topps and I have partnered to officially create my own," she tweeted on Tuesday. "Could not be more grateful and excited."
Clark led the nation in both points (27) and assists (8) per game and earned All-American honors. She was a finalist for both the Naismith Trophy and Wooden Award, while winning Big Ten Player of the Year.
Darlington Raceway signs Coastal Carolina QB Grayson McCall
In a first-of-its-kind NIL partnership, Coastal Carolina quarterback Grayson McCall has signed a year-long deal with Darlington Raceway. The deal was first reported by ESPN's Ryan McGee.
While Atlanta Motor Speedway has partnered with Georgia players, and Ohio State tight end Cade Stover was named the grand marshal for the Honda Indy 200, no race track has signed an athlete to a contract like McCall's.
The Coastal Carolina quarterback will use his social media channels to promote NASCAR's oldest superspeedway. The racetrack will hold its annual Labor Day weekend race, which includes a NASCAR "Crown Jewel" event — the Southern 500 on Sept. 4. McCall will also serve as the face of the track's marketing campaigns.
The back-to-back Sun Belt Player of the Year currently resides in Conway, South Carolina, which is 65 miles to the southeast of the raceway. He'll have a hectic start to the college football season, though. The Chanticleers kick off the season on Sept. 3 at Army. The green flag for the 73rd edition of the Southern 500 is 23 hours later, at 6 p.m. ET on Sunday.
McCall has an On3 NIL Valuation of $435k, which ranks in the top 50 of the NIL 100.