'NIL first:' Entire St. John Bosco football roster offered deal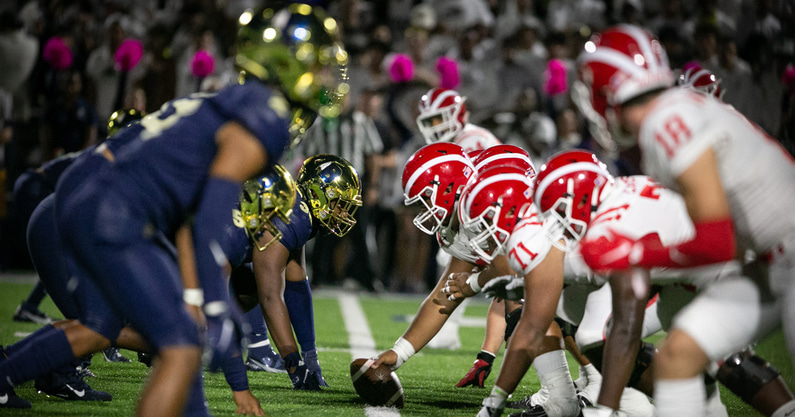 In what is believed to be the first ever teamwide high school NIL deal, KONGiQ is providing a NIL opportunity for each member of the Bellflower (Calif.) St. John Bosco football team.
California was the first state to allow high school athletes to enter into NIL agreements. So, it's acceptable for St. John Bosco football players to participate in the NIL deal with KONGiQ – a sports performance, equipment and wellness technology platform.
High school athletic associations in 17 states allow their student-athletes to participate in NIL. Recently, the District of Columbia, Iowa and Massachusetts joined the list where it's allowed. However, football powerhouse states like Texas, Florida and Georgia have prohibited student-athletes from participating in NIL.
Yet, the deal with 70-plus players and KONGiQ is believed to be a first for an entire high school team.
According to KONGiQ, every player who accepts the NIL deal will post personal experiences using the KONGiQ Sports Performance system with their social media following and also on the KONGiQ App.
KONGiQ says the student-athletes will also be listed as influencers on the company's website. The compensation will be delivered in two payments. The first is distributed on the night before the first game of the season.
St. John Bosco opens the season Friday on the road against Allen (Texas) High in the Tom Landry Classic. Bosco continues with what could be considered the toughest schedule in the country with games against Kahuku, Hawaii, and Central Catholic of Portland. The game against Central Catholic will be played at Oregon's Autzen Stadium on Sept. 9. The Braves also play in the Trinity League against nationally ranked programs like Anaheim Servite and Santa Ana Mater Dei. The league is ranked annually as the toughest in the country.
St. John Bosco deal a 'NIL first'
Coach Jason Negro has seen first-hand the changes through the years at St. John Bosco. Now coaching at his alma mater, he is embracing the empowerment of students – much of which has led high schools like Bosco to make major investments in how they schedule, and in how they physically prepare and care for students.
This includes NIL.
"Year-in year-out, we create one of the toughest schedules in the nation to challenge our players to be at their very best," Negro said in a news release.
"It is critical that student-athletes have access to the best wellness, strength training and sports performance technology available with KONGiQ."
Mit Winter, a sports attorney at Kansas City-based Kennyhertz Perry LLC, called the deal a "NIL first."
"I don't believe any of the state high school athletic association NIL rules prevent school officials from being involved in developing NIL deals," Winter said. "I'd have to look, though. It could bring up Title IX issues."
Bosco always loaded with talent
Not only is St. John Bosco one of the top high school football programs in the country, but it's always home to some of the nation's top recruits.
The Class of 2023 is no exception.
Bosco is home to five-star defensive lineman Matayo Uiagalelei, four-star Louisville receiver commitment DeAndre Moore Jr. and Cardinal four-star quarterback pledge Pierce Clarkson. Other coveted recruits in the senior class at Bosco include safety R.J. Jones and Stanford cornerback commit Jshawn Frausto-Ramos.
The Braves' 2024 class is also loaded with four-star recruits Peyton Woodyard, Marcelles Williams and Kyngstonn Viliamu-Asa.
Deal could trigger more team NIL agreements
From an exposure standpoint, partnering with players at a school that's home to so many blue-chippers is a smart idea. The exposure they'll provide for KONGiQ through their recruitments and on also with the schedule Bosco plays is a wise investment, NIL experts say.
The deal might also be the start of a larger trend.
"We may start to see more of these teamwide deals for high school teams in states where it's allowed," Winter said.
"That's especially true in a situation where an alum of a school or a parent of a player owns a business willing to do NIL deals. If a high school team's players are known for having NIL deals, I'm sure it wouldn't hurt with retention of talented players and other talented players may want to move into the district or otherwise transfer to the school."