NIL marketplace Opendorse raises $20 million in funding round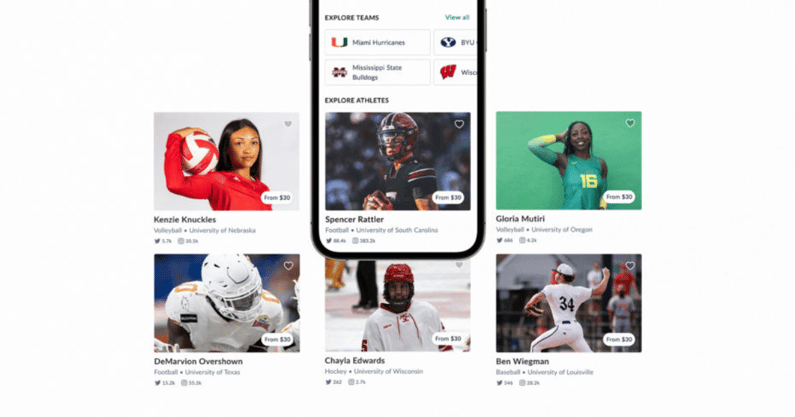 The NIL landscape continues to expand. The NIL company Opendorse, which offers one of the industry's leading marketplace technologies, believes it's in position to grow with the market with its latest round of funding,.
The company announced a $20 million funding round, with investors including Flyover Capital, Serra Ventures, Advantage Capital, Will Compton and former Formula One managing director Sean Bratches. Since its inception in 2012, Opendorse's total funding now sits at roughly $40 million.
With the new round of cash, there are a number of routes co-founder and CEO Blake Lawrence plans to take. School-specific marketplaces were launched this past summer, followed by a front-facing public NIL marketplace for fans to access.
Building Opendorse's brand campaign staff is at the top of the list. While more than 100,000 athletes are on the platform for NIL, Opendorse is constantly working to bring companies onto the platform while also ensuring NIL campaigns are successful. Staffers will be added to the working group focused on NIL collectives, too.
Consolidation across the NIL industry
An injection of cash also signifies another move — consolidation across the NIL industry. With more cash in the bank, sources indicated to On3 that Opendorse could be approaching an acquisition period.
"Consolidation is coming to the NIL market," Lawrence told On3. "That statement has two paths. The first is consolidation on the school side. Schools over the last three years have loaded up on NIL solutions from a large quantity of constituents in the space. It's creating a challenging ecosystem for the schools who are uncertain of which solutions they've even purchased, which ones they're using, how they work together.
"… The other side is there are more than 200 NIL vendors that have been established since July 1, 2021, all focused on NIL. While NIL is a large industry, it's already bigger than what we thought, the athletes are fatigued by the myriad of haphazard, low-quality NIL solutions in the market."
Lawrence told On3 that Opendorse receiving the new round of funding signals there's confidence in the ever-evolving NIL market. He believes it is eventually growing into a $10 billion market. In 2023, he expects his platform can help athletes earn $100 million.
Opendorse set to launch NIL clubs
Along with the announcement of new funding, the marketplace announced plans to launch licensed NIL clubs across partner schools. Infrastructures have already been created to launch immediately with Illinois men's basketball with multiple othr clubs set to launch in the coming weeks.
The monthly subscription service idea is along the same lines as to what what the company YOKE announced this summer with monthly revenue sharing among teams. While the YOKE-run clubs are player-led and launched at more than 40 football programs, they use a machine learning algorithm to determine the monthly goal for the organizations.
Opendorse-backed clubs have launched with a $29.99 monthly rate or a $299.99 annual rate. As part of the subscription, fans will receive behind-the-scenes access with exclusive footage from practices, games and team events.
Opendorse plans to purchase film and photos from schools that is not used on behalf of the athletes to ensure institutions are not violating the NCAA guidelines on involvement in brokering deals.
Here's the breakdown of where the fees will go:
+ 50% towards NIL rights royalties (distributed quarterly) 
+ 20% towards marketing services payments (offered monthly) 
+ 20% towards education program access (accessible 24/7) 
+ 10% towards content licensing fees (paid quarterly) 
In On3's conversation with Lawrence, the Opendorse founder was confident these clubs can soon come to each athletic program at institutions across the country.
"Across the majority of NIL membership programs, whether collectives or NIL clubs of that sort, are focused on football," Lawrence said. "Very few are anything other than football, but they're certainly not many women's sports and there's a lot of non-revenue sports. But the beauty of Opendorse clubs is that we endeavor to have a club for every sport on a campus, every team on a campus.
"The value prop to administrators is Opendorse is a solution that helps them support every athlete on campus, and it gives their fans a way to support their athletes in a way they're most comfortable."