Here's what to expect at the 2023 INFLCR NIL Summit and NIL Awards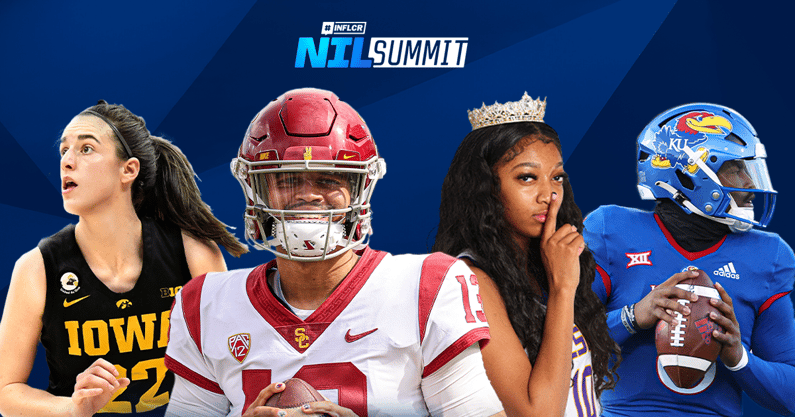 The second annual INFLCR NIL Summit takes place this weekend at the College Football Hall of Fame in Atlanta. Hundreds of college athletes, plus other industry stakeholders, will gather to celebrate their accomplishments, network and discuss name, image and likeness best practices.
The NIL Summit starts Saturday and ends Monday. On3's Andy Wittry will be in attendance and provide live coverage throughout the NIL Summit. Here's a look at what to expect at the event.
The 2023 NIL Awards
There are 12 categories for this year's NIL Awards, and an eight-member selection committee determined the winners.
The nominees include some of the highest-profile college athletes, such as USC quarterback and reigning Heisman Trophy winner Caleb Williams, Georgia tight end and two-time national champion Brock Bowers, and LSU teammates and recently crowned national champions Angel Reese and Flau'jae Johnson. Reese is also going to be a special guest performer Saturday night.
The 12 award categories are below. You can view the complete list of nominees for each award here.
Female Athlete of the Year
Male Athlete of the Year
Innovator of the Year
Hustle Award
Scholar Athlete of the Year
Athlete Advocate of the Year
Breakthrough Athlete of the Year
High School Athlete of the Year
Best Individual Campaign
Best Group Campaign
Best Institutional Program
Brand of the Year
The winners at the 2022 NIL Awards included then-Oregon forward Sedona Prince, UCLA quarterback Chase Griffin, then-Norfolk State football and track athlete Rayquan Smith, Boise State and WWE.
What's the schedule for 2023 NIL Summit?
The NIL Summit starts at 6 p.m. ET Saturday with red carpet arrivals and a cocktail hour, followed by a dinner reception, the NIL Awards and an after-party.
On Sunday, lululemon is the presenting sponsor of a yoga session in Centennial Park for athletes at 7:30 a.m. ET. Some of the day's sessions, most of which run from 10 a.m. to 5:30 p.m., are titled "Tell your story, own your moments, build your legacy" and "Navigating college athletics' legal and regulatory environment." In the evening, there's an administrator happy hour and dinner.
On Monday, there are a handful of sessions, such as "Maximizing NIL at scale through group licensing" and "Beyond making money: The power of student-athletes owning their NIL." Farewell and departures are scheduled for 12:30 p.m. Monday.
The weekend's events and educational sessions are sponsored by companies such as Celsius, Chick-fil-A, hudl, INFLCR, Instagram, Invesco QQQ and Student Athlete NIL, the last of which is organizing the event.