NIL will play important role in college football's coaching carousel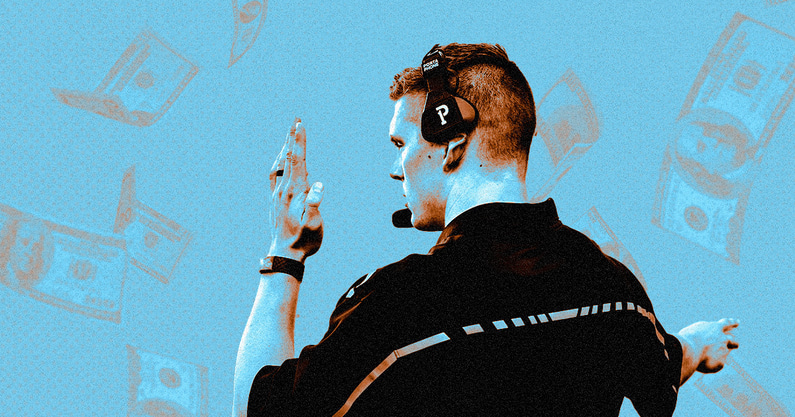 While a handful of jobs are already open, Silly Season kicks into high gear after this weekend when athletic directors look to rebuild their football programs. And make no mistake, as coaches examine job opportunities, a school's NIL foundation and the success of the program's booster-led collective will play important roles in the decision-making process.
Coaches across the country have quickly realized NIL has become the driving force in recruiting, roster maintenance and Transfer Portal. Simply put, NIL matters. And coaches are going to use it as a major factor in whether or not they accept a position in the next couple of weeks.
"In the past, I think it was the resources, the facilities and obviously salaries that were important for the right coaches," a former head coach that now works as an assistant in a Power 5 Conference told On3. "But I think the ability to recruit good players comes with a dollar sign, whether people want to admit that or not. That's the reality."
"Some schools are putting money into facilities. Others are putting them into players. When you can sign good players because you can pay them through NIL, you have a chance to be a whole lot better coach."
Another former head coach that's also a Power 5 assistant had similar thoughts about NIL's impact on the coaching carousel. All of the assistants interviewed for this story asked not to be identified by On3 so they could speak freely on the subject.
"I hope I'm in a good position to be a candidate at a couple of places, and you can bet I'm going to ask a lot of questions about a school's NIL situation," the second coach told On3.
"I'm a firm believer if you've got an opportunity to be a head coach somewhere where you can get players based on a good NIL game plan, then it's now going to be more important than things that normally mattered in the past. It's just how things are now."
NIL is 'another box to check'
Even the people that help coaches make decisions and draw up contracts understand NIL will be a huge factor for candidates when weighing one school over another.
Former All-American, NFL first-round draft pick and current super-agent Trace Armstrong has served as the representative for many of the top names in college and in the NFL. So, it speaks volumes when he says, "NIL is going to be a factor."
"It's almost a mindset," Armstrong told On3.
"If people are willing to do the things it takes to win, NIL's going to be a factor. You just added another area that people will evaluate. Leadership, facilities, commitment to sport… It's definitely another box to check."
Schools scrambling to support NIL efforts
And checking that box to look good for top candidates is partly why we've seen a mad scramble over the past month by school administrators to officially endorse booster-run collectives.
When the NCAA clarified its interim NIL policy in late October, it opened the door for schools, athletic department officials and coaches to officially endorse booster-run collectives. And at schools where there are coaching changes already afoot, school leaders have wasted little time throwing their support behind the groups.
"Resources provided to student-athletes through NIL activities are crucial in the current intercollegiate athletics environment, and I'm excited to share our endorsement of The Varsity Collective," said Wisconsin Athletic Director Chris McIntosh, who is searching for the Badgers' next football coach. "The Varsity Collective has Badgers' best interests at the forefront. It has quickly established itself as a way for individual donors and companies to partner with and support our current student-athletes."
As he also searches for a head football coach, Auburn athletic director John Cohen also gets the importance of supporting NIL – especially the school's On To Victory collective.
"Certainly, now that it's started, much like the space race in the 60s, we have to be out front," Cohen told On3's AuburnLive. "We have to be aggressive and it's the way of the world. We're going to jump in with both feet."
Even Colorado interim coach Mike Sanford urged Buff fans to donate to the recently launched Buffs4Life NIL Collective.
"This is where we have to go," Sanford said. "It is not something that's just going to happen. This is going to be a game-changing piece of the puzzle for our program going forward."
Successful collectives will key for coaching candidates
And as the donations come in, collectives want to put those puzzle pieces together and make an attractive package for potential coaching candidates.
"I think if you asked a coach what he would like, the immediate answer is that, 'I'd like everything,'" said On To Victory Executive Director Brett Whiteside, who has experience in recruiting from his time as Mizzou's Chief Recruiting Officer and previous stops as Auburn's Director of Recruiting Operations and Director of Football Operations.
"But the honest thing, if you had to pick and choose is if we're not going to be effective in NIL and if we do not have opportunities to support our student-athletes in NIL, then the buildings that we're in and those types of things are not going to be as important. It's going to take a great NIL collective to bring in the high-caliber athletes and to retain any athletes you want to retain."
At Nebraska, two collectives – The Big Red Collaborative and The 1890 Initiative – have been launched since Athletic Director Trev Alberts fired Scott Frost. The leaders of both collectives believe they could help not just players on the football team, but also lure potential coaching candidates.
"The reality, whether any of us like it or not, is that NIL at the end of the day is really to recruit and retain when you want to look at it from a coach's or an athletic department's point of view," Joe Petsick, an advisor to The Big Red Collaborative, told On3. "Knowing you're doing a coaching change is probably when your roster and recruits become most vulnerable. Being in a position to have a tool – and in this case a new tool – I think a coach can understand what's in place to deliver significant impact and that certainly is helpful."
Coaches know they have to 'play the NIL game'
Petsick and others in the NIL space are right. Winning in the future is going to look a lot different than it did in the past because of NIL.
Brand-new or updated facilities are cool. Having a pool of money to pay quality assistant coaches is still a very good thing. So is having a great recruiting base.
Yet, all of those don't matter if you can't attract talent to campus.
The first 17 months of the NIL Era have taught us that decisions are made on the recruiting trail because of "pay-for-play," players are looking for deals to stick around on campus and others are going to play the 'What's the best deal that I can get in the Transfer Portal game.' Heck, a recent On3 survey of the top 85 recruits in the country revealed 30% are open to taking a NIL deal over the perfect fit.
That's just the world we're in now.
And savvy coaching candidates aren't going to walk into a situation at a program where they're fighting for or trying to retain talent without a good NIL support system in place.
"To me, you're going to want to be at a place where you can get good players," a third assistant that has head coaching aspirations told On3. "And to get good players, you're going to have to play the NIL game. It just is what it is. It's like the NFL. You got a quarterback? Can you get one? Can you pay one? It's a bitter reality that everybody that is going to be a head coach has to deal with.
"You play the NIL game and hopefully get enough talent to win a lot of games. Or you don't, and you're looking for a new job."