North Carolina legislators, administrators battle over NIL rights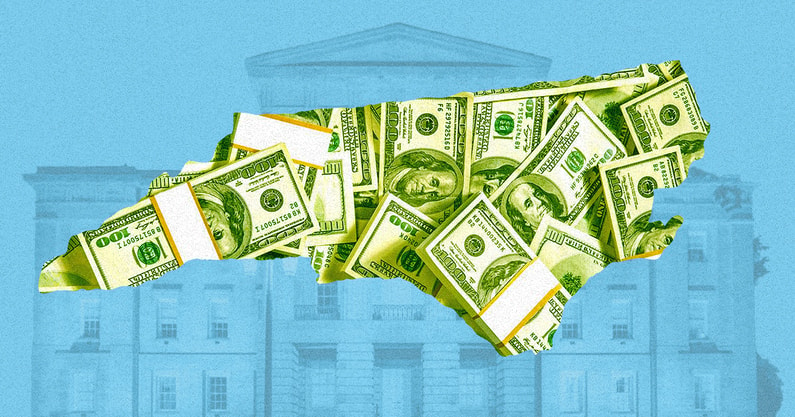 Half of the North Carolina General Assembly has passed Republican-sponsored Senate Bill 636 in the latest legislative or regulatory conflict between the statehouse and the North Carolina High School Athletic Association. If the bill, which has a short title of "School Athletic Transparency," is signed into law, it could disrupt name, image and likeness opportunities for high school athletes in the state.
The version of the bill that was originally filed didn't include any NIL-related clauses.
However, on May 3, the NCHSAA Board of Directors approved a policy proposal that would grant high school athletes their NIL rights effective July 1, 2023, pending approval from the State Board of Education, according to NCHSAA Commissioner Que Tucker.
The same day, the Senate amended the bill to say the State Board of Education shall adopt NIL-related rules if the bill is passed. The Senate passed the bill along party lines in early May. The House passed the first reading of the bill and referred it to a committee.
"I don't know if NIL is good or bad at the high school level," Republican Sen. Vickie Sawyer, who's a primary sponsor of the bill, said in a video interview. "I just know that it should be the state making that decision and not a private business."
High school athletic associations regulate NIL deals in most states
The statewide high school athletic association is the governing body that has approved an NIL policy for high school student-athletes in 26 states, plus Washington, D.C. So far, the exception is Arkansas, where a recently signed state law grants NIL rights to high schoolers who have been admitted to or signed a National Letter of Intent with an institution in the state.
However, the NCHSAA Board of Directors doesn't sit well with Sawyer.
"They're making public decisions about our children in a private boardroom," Sawyer said. "That is not acceptable."
The NCHSAA Board of Directors lists 16 members, five affiliate members and three officers. The members and officers include seven principals, six athletic directors and six superintendents who represent various regions of the NCHSAA.
Sawyer said she has a very good relationship with her local athletic directors.
"So, why is it that they feel entitled to negotiate on our children's behalf just because they are the ones who make sure the trains run on time when we have a playoff game?" Sawyer said. "That's not the mission or my understanding of the role of the high school athletic association and so if it is going to be an NIL agreement, whether it's good or bad – I don't know that I have the answer to that yet – but what I do know is that that decision should be made in a public space and not by a third-party company that's only job is to administer high school athletics."
What are the motivations for SB 636?
When describing the backstory and motivations of sponsoring SB 636, Sawyer listed the NCHSAA's large endowment and budget, the $500 fines she said it issued to schools when parents live-streamed athletic competitions in violation of broadcast licensing agreements during the COVID-19 pandemic, the admittance of private schools into the NCHSAA and her belief that the NCHSAA has been operating unchecked for roughly 20 years.
Sawyer cited the NCHSAA's nearly $24 million in securities reported on its Form 990 for the 2020-21 tax year. She called it "a mass amount of money that does nothing other than make, I think, financial advisors very rich off of the investments that they have."
For the last several years, the North Carolina General Assembly has proposed bills in an attempt to provide the State Board of Education with greater control of high school athletics. Gov. Roy Cooper signed House Bill 91 into law in November 2021, which allows the State Board of Education to enter into a memorandum of understanding for a four-year term with at least one nonprofit organization to administer and enforce rules in high school athletics.
Tucker said she signed the MOU on March 14, 2022.
When asked if the NIL-related amendment to SB 636 was tied to the NCHSAA Board of Directors approving the NIL policy proposal, Sawyer said, "It absolutely was that at that time, the high school athletic association was usurping their authority that was in the MOU to make this NIL agreement."
However, as Tucker described the nature of the NCHSAA's relationship with the State Board of Education under the MOU, she said the policy proposal that the NCHSAA Board of Directors approved is now in the hands of the State Board of Education, which will meet in early June.
"Obviously, we have attorneys as well and so as we were trying to craft our language, we certainly sought our attorneys' input but always with the understanding that this will move forward to the State Board of Ed," Tucker said.
When On3 asked Sawyer to clarify if she believed the NCHSAA exercised authority outside of the MOU by approving an NIL policy proposal, she said, "That is my feeling and interpretation. I'm not an attorney but, again, the goal of the high school athletic association and the MOU is to say, 'You guys are really good at making sure the trains run on time when it comes to administering high school athletics.' But when it comes to the eligibility, that's our job and that job is by the Department of Education.
"When it comes to NIL, that's also a Department of Education thing. The high school athletic association's job is to make sure the games happen. But how the students are there and whose students they're dealing with, that is absolutely a function of the legislature or in effect, the Board of Education, which is appointed by our governor."
State Board of Education scheduled to meet in early June
Tucker said the State Board of Education meets the first Thursday of every month, which means it'll gather again on June 1.
"We've been very clear in everything we've said that now it is a policy that our board has approved," Tucker said. "It is now in the hands of the State Board of Education. We sent it to the State Board before the board [of directors] met in its draft form, then the board met, tweaked a few sentences or maybe changed a word or two, and then we sent it on over to the State Board of Education. We have done nothing with that policy until we hear back from the State Board of Education because now they have to craft a rule that either allows us to enact what we have put out and what we have proposed, or they would enact a rule that would mean we have to tweak the regulations that we've proposed.
"So, we're clear in our understanding of the memorandum and that our board has the purview under the memorandum of understanding to propose anything it wants to, otherwise we don't need a board of directors then."
Sawyer, Tucker both say parents should be involved
Sawyer reiterated several times that she doesn't know if permitting high school athletes to engage in NIL deals is good or bad. When asked if she has talked to any current high school athletes about how SB 636 might affect them, Sawyer said she has talked in passing to local athletic directors, whom she said shared her concerns.
She said she has concerns about the legal aspects of permitting NIL deals, such as whether an 18-year-old can enter into a contract. Sawyer is also worried that the private schools that compete in the NCHSAA could be at an advantage through NIL deals. She said two private schools recently competed for a state championship in boy's lacrosse, which is "neutering the entire public ed system when it comes to athletics."
"That's a problem when you have NIL because now these schools will be able to attract and retain elite athletes within, I don't know, let's say a 50-mile radius," Sawyer said. "There's nothing about that other than me just thinking how far would I drive every day to get my kid to get money to play for an elite program and so we're basically sucking all of the talent out of public ed."
Sawyer said she hasn't spoken with state legislators or executives of high school athletic associations from other states where high school athletes can engage in NIL deals.
"I do read constantly about what is going [on], what is right, what is wrong and hearing from other states on both sides of the issue," she said.
"My pushback, again, and will always remain to be that's not the decision of a third-party group that's only purpose is to administer high school athletics. That is a decision between me, and my kid, facilitated with my school through the State Board of Education."
Tucker agrees that parents should be involved in high school athletes' NIL deals.
"At the end of the day, if a student goes out and it has nothing to do with them being an athlete wearing that uniform and they can make a deal, mamas and daddies and everybody ought to be involved in that," Tucker said. "We think that that ought to happen in every situation."