Notre Dame 4-star WR Tobias Merriweather lands first major NIL Deal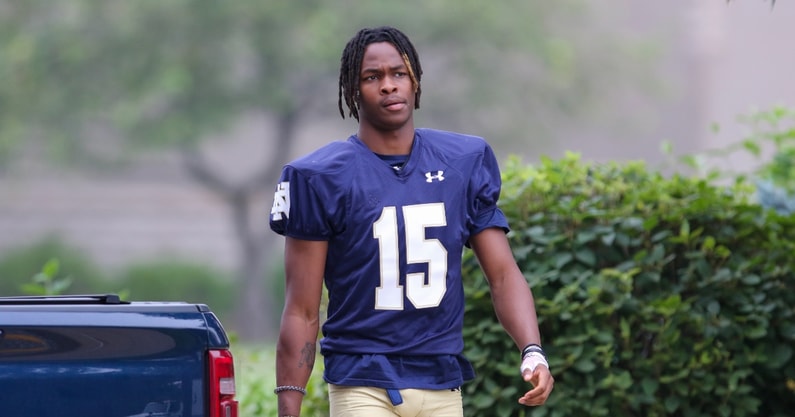 Tobias Merriweather arrived in South Bend as one of the Fighting Irish's heralded recruits in the 2022 class. The former On3 Consensus four-star receiver is already "turning heads." He is expected to be an impact player in the future for Notre Dame. Merriweather is also starting to make an impact on NIL.
Tobias Merriweather secured what is believed to be his first NIL deal with Clean Energy, a sports nutrition company. The company's website says Clean Energy is a Clean Label, certified organic, plant-based smoothie in a single-serve packet that changes the paradigm for on-the-go sports nutrition. The deal was brokered on the Icon Source marketplace.
Clean Energy has been very active in the NIL space. The company has executed deals recently with athletes like Virginia Tech football player Areeb Rashid. UCF track athlete Samieryah Bradwell and Lindenwood gymnast Gayla Griswold have also done deals.
If Tobias Merriweather makes progress on the field for Notre Dame, he has the potential to be a big-time NIL success. He already has an On3 NIL Valuation of $17,800. He also has an On3 Per Post Value of $209. Merriweather also has a solid social media presence with 8,600 followers, including 4.6K followers on Instagram.
Plus, Notre Dame currently has two players listed in the On3 NIL 100 — Michael Mayer at No. 29 and Isaiah Foskey at No. 96. It shows the potential NIL power a young star like Merriweather could have in South Bend.
What is the On3 NIL Valuation?
Furthermore, the On3 NIL Valuation is an index that looks to set the standard market value for both high school and college-level athletes. The NIL valuation does not act as a tracker of the value of NIL deals an athlete has completed to date. It rather signifies an athlete's value at a certain moment in time.
The On3 NIL 100 is the first of its kind and the defacto NIL ranking of the top 100 high school and college athletes ranked by market valuation.