Ohio State's Miyan Williams signs with Limitless for NIL representation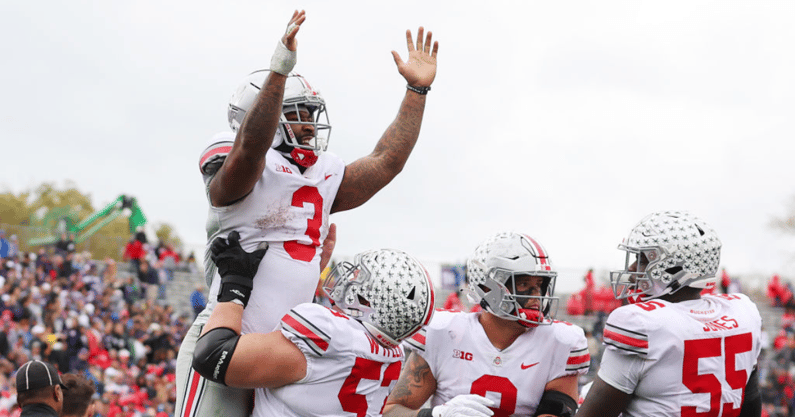 Ohio State's Miyan Williams has developed into one of college football's top running backs over the past three seasons.
He stood out against Clemson in the College Football Playoff semifinals following the 2020 season. Williams built on that the following season, averaging 7.2 yards per carry. He led the team in rushing this past season despite dealing with injury.
Williams now has signed with Limitless NIL for representation ahead of what appears to be his final season with the Buckeyes. The NIL agency announced the move Monday morning on Twitter.
"We had a lot of respect for him for a long time," Limitless director of recruiting Aeneas Hawkins told On3. "Reached out to him recently and found some synergy, some space in which we thought we could help him with his NIL experience while he wrapped up his college career. Definitely excited to have him on board."
Launched by former Penn State quarterback Sean Clifford this past April, Limitless has expanded from just three athletes to nearly 50 and growing. Clifford and multiple employees of the agency are from Cincinnati, just like Williams. The common ground made for an easy connection between the two parties.
Clifford sold Limitless NIL to TEAM Group Holdings in February, but he and his partners are still running the day-to-day operations. The current Limitless NIL roster includes a handful of Penn State players. Former Ohio State defensive end Zach Harrison also worked with the group.
Hawkins said Limitless will help in some marketing deals at the pro level but won't be the main agent for athletes.
Williams already has found success using his publicity rights. He had partnerships with MoneyLion and Kane Footwear. He was featured in a commercial for Cincinnati's Kingdom Family Dentistry in November next to Michigan tight end Erick All. And after his decision to return to Ohio State, he announced an agreement with the Buckeyes-focused NIL collective The Foundation.
Building out 'Never Been Regular'
While Limitless will help find Williams more brand deals, a focus of the agreement will be helping to elevate his brand. He will also have access to financial advisers at Beacon Pointe, a financial advisory firm.
Williams launched his own clothing line in October called "Never Been Regular." With a variety of T-shirts, sweatshirts and hats, Williams serves as the company's CEO.
"There's a good combination of factors going for him," Hawkins said. "He's one of the better running backs in college football, one of the best. And he's playing for one of the best teams in college football. He's a guy who's performed at a high level on the biggest stages that college football has to offer. So, yeah, absolutely, we think he's more marketable than the standard college football player.
"But, you know, he's also a great dude. He's a great ambassador for the university, so felt like it was a no-brainer."
Miyan Williams' On3 NIL Valuation
Williams has built a notable following during his time in Columbus, boasting more than 62,000 social media followers. He has an On3 NIL Valuation of $716,000, which sits in the top 35 of college football.
The valuation ranks No. 52 in the On3 NIL 100, which is the first of its kind and a de facto NIL ranking of the top 100 high school and college athletes ranked by their On3 NIL Valuation.
The On3 NIL Valuation is the industry's leading index that sets the standard market NIL value for high school and college athletes. A proprietary algorithm, the On3 NIL Valuation calculates an athlete's NIL value using dynamic data points targeting three primary categories: performance, influence and exposure.
About On3 NIL Valuation, Brand Value, Roster Value
While the algorithm includes deal data, it does not act as a tracker of the value of NIL deals athletes have completed to date, nor does it set an athlete's NIL valuation for their entire career.
The On3 NIL Valuation is publicly available. Performance, Influence, and Exposure ratings along with the athlete's personal Brand Value Index and Roster Value Index are available only to the athlete in the "Athlete Verified" private dashboard on the On3 Athlete Network.