Oklahoma-focused Crimson and Cream announces teamwide NIL deal for football roster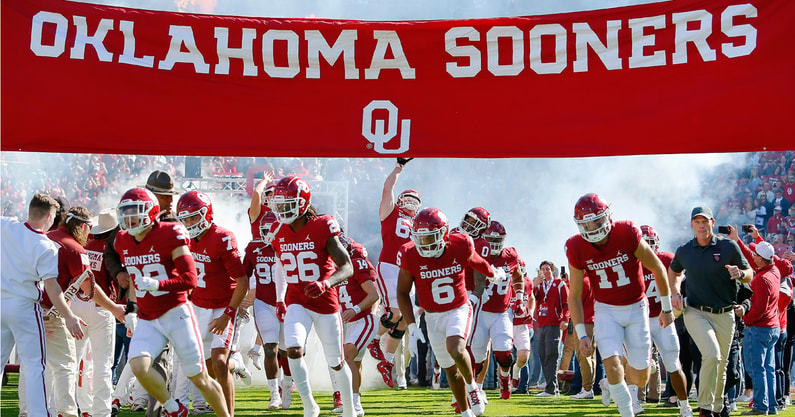 Texas Longhorn football players Johntay Cook II, Justice Finkley, Anthony Hill and Kelvin Banks announced new NIL deals on Friday with Vanguard Volkswagen.
The Austin, Texas, car dealership announced the NIL deal with Finkley on its social media accounts. Cook, Hill and Banks shared the news about their deals on their personal Instagram accounts. All of the players are posing in front of cars in the posts.
"We had a special delivery to Justice Finkley, a first-year defensive lineman for the UT Longhorns," Vanguard Volkswagen said in the post. "Congratulations and welcome to the Vanguard Volkswagen family!"
Cook said he was "glad to be a part of the Vanguard Volkswagen family here in Austin" when announcing his deal. Banks thanked the dealership for his new GMC truck in his post, and Hill's message was similar.
Young Longhorn stars have big NIL potential
Kelvin Banks is one of the top young offensive linemen in the country. The former On3 Consensus five-star recruit was a second-team All-Big 12 selection by both the conference coaches and the Associated Press in 2022. He was also tabbed honorable mention Big 12 Offensive Freshman of the Year by the league's coaches. Banks has an On3 NIL Valuation of $48,000, a number that'll surely grow as he gains more national attention.
Justice Finkley, a former On3 Consensus four-star recruit out of Trussville (Alabama) Hewitt-Trussville, played in 12 games at EDGE as a true freshman for the Longhorns. He totaled seven tackles with half tackle for a loss, half a sack and one quarterback hurry in 2022. Nonetheless, Finkley is expected to be a key figure in the Longhorns' defense moving forward.
Finkley has been extremely active on the NIL front, inking deals with Gamers First, GoodSport and Vanguard since the start of the new year. He was also one of six athletes to sign NIL deals with Activision in November. He has an On3 NIL Valuation of $74,000.
Cook, Hill taking advantage of new NIL opportunities
Johntay Cook arrived in Austin for the spring semester as one of the top prospects in the Longhorns' No. 3 2023 recruiting class. He's the No. 45 overall prospect in the On3 Consensus, No. 8 receiver in the country and No. 6 recruit in the Lone Star State. Cook picked the Longhorns over Texas A&M, Oregon, Alabama and Michigan.
Because he played high school football at DeSoto (Texas) High School, Cook was not able to participate in NIL activities. Yet, now that he's arrived in Austin, he's able to start executing deals. So, don't be surprised if the deal with Vanguard Volkswagen is just the beginning for Cook. He has a massive On3 NIL Valuation of $308,000 and more than 202,000 followers on social media.
Anthony Hill arrives in Austin with an even higher rating. The On3 Consensus five-star prospect out of Denton (Texas) Ryan was the No. 15 overall player, the nation's No. 1 linebacker and the fourth-best recruit in the Lone Star State. He picked the Longhorns over Texas A&M, Oklahoma and a long list of other national offers.
He, too, was not able to participate in NIL activities while in high school because he played high school football in the Lone Star State. But he arrives in Austin with a massive $355,000 On3 NIL Valuation and more than 31,000 social media followers.
About the On3 NIL Valuation
The On3 NIL Valuation is the industry's leading index that sets high school and college athlete's projected annual value (PAV).
A proprietary algorithm, the On3 NIL Valuation establishes the overall NIL market and projected 12-month growth rate by measuring two categories, Brand Value Index and Roster Value Index.  
The Brand Value Index measures the national licensing and sponsorship market. The Roster Value Index collects data from all school Collectives into a proprietary Roster Management software. Brand Value and Roster Value are combined to create the overall NIL market.
Using the overall NIL market size, the On3 NIL Valuation calculates an athlete's Brand Value and Roster Value by using dynamic data points targeting three primary categories:
+ Performance
+ Influence
+ Exposure
While the algorithm includes deal data, it does not act as a tracker of the value of NIL deals athletes have completed to date, nor does it set an athlete's NIL valuation for their entire career. The On3 NIL Valuation calculates the optimized NIL opportunity for athletes relative to the overall NIL market and projects out to as long as 12 months into the future. The On3 NIL Valuation is publicly available. Performance, Influence, and Exposure ratings along with the athlete's personal Brand Value Index and Roster Value Index are available only to the athlete in the "Athlete Verified" private dashboard on the On3 Athlete Network.