Oklahoma, Barry Switzer launches NIL collective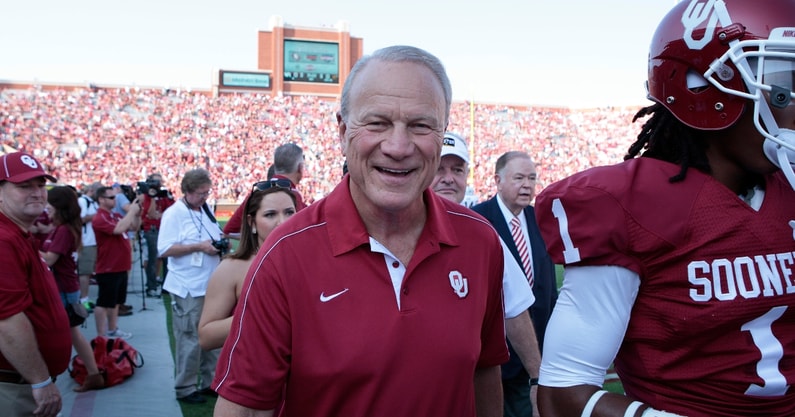 Former Oklahoma Sooners head coach Barry Switzer announced a new NIL collective program on Friday evening. Naming it 1Oklahoma, football, men's basketball, and softball players will have the opportunity to make money through the collective. Every football player on the roster could make as much as $50,000 according to Switzer.
"We changed the game in 1981 at the University of Oklahoma by being a pioneer for schools to negotiate their own contracts and generate additional revenue," Switzer said in a statement. "We are changing the game again with 1Oklahoma Collective. Through NIL, every OU football player will have the opportunity to earn between $40,000-$50,000 a year while positively impacting the community."
In the press release, Oklahoma and Switzer call 1Oklahoma the "most comprehensive and impactful NIL offering in the country." Athletes will be working with non-profit organizations throughout the state of Oklahoma by using their Name Image and Likeness.
1Oklahoma says the student-athletes have already begun working with the non-profit organizations, with the response being positive thus far.
"1Oklahoma Collectives has already begun the process of partnering with athletes and non-profits," the statement read. "The response from athletes and non-profit leaders has been overwhelmingly positive. 1Oklahoma Collective is excited for alumni, donors, and those passionate about OU sports and making a difference in community no matter the partner alongside the collective through generous donations and volunteer donation."
Dillon Gabriel discusses Oklahoma quarterback room
Dillion Gabriel appears to have the Oklahoma quarterback position locked down for 2022, but he was recently asked about the group of young signal-callers behind him.
The veteran was clearly excited about the future at the position behind him.
"I think there's been a lot of growth from each and every one of them," Gabriel said. "They bring a lot of different things to the table which is super cool. But just a lot of growth, from day one in the winter workouts until now, it's night and day. And just to see their growth, man I'm super proud of them."
Nick Evers — a former four-star prospect who originally committed to Florida — is the most likely to take over for Dillon Gabriel at Oklahoma as the future Oklahoma Sooners' signal-caller.
The 2022 Oklahoma quarterback room also includes Micah Bowens, a transfer from Penn State, who came to Norman after the 2021 season, and Ralph Rucker, a walk-on. Bowens has yet to play in a game at Oklahoma, while Rucker has appeared in one game, completing two passes for 20 yards.
On3's Sean Labar contributed to this report