Oklahoma men's basketball signs team-wide NIL deal with Crimson and Cream collective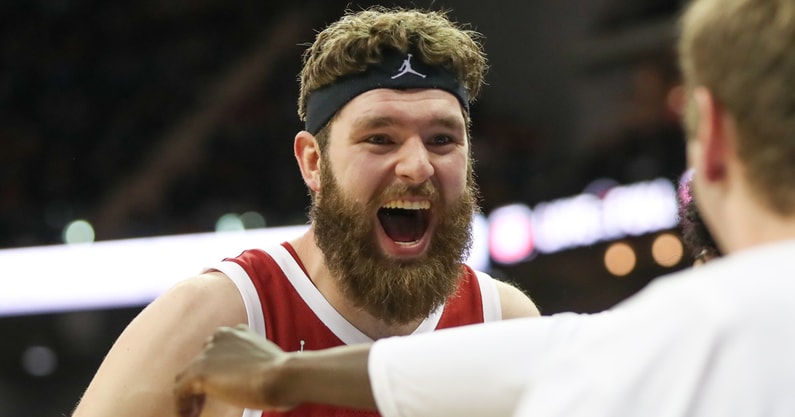 Oklahoma's newest NIL collective is quickly making a splash.
After launching in late September, the Crimson and Cream collective announced Tuesday it's signed the Sooner men's basketball roster to NIL deals. The deals include 12 members of the team and are the first major moves by the collective that's operated by Student Athlete NIL. The terms of the agreement were not made public.
"We're excited to have the entire OU men's basketball program signed with Crimson and Cream," Student Athlete NIL CEO Jason Belzer told On3.
"Our goal continues to be to create seamless ways for the Sooner community to engage with student-athletes, and having the team signed on to work with us will help us facilitate even more NIL opportunities for them."
As part of the deal, each student-athlete has committed to performing the same number of pre-negotiated services for the collective – such as autograph signings, social endorsements and appearances.
"We'll work around their academic and athletic schedules to ensure they can fulfill their obligations for the brand deals and other fan engagements we'll be asking them to take part in," Belzer said.
Announced as part of the deal were Jalen Hill, Otega Oweh, Joe Bamisile, Tanner Groves, Bijan Cortes, Jake Moser, C.J. Noland, Jacob Groves, Grant Sherfield, Milos Uzan, Sam Godwin and Luke Northweather.
Crimson and Cream has 'university support'
Crimson and Cream is operated by Student Athlete NIL, the company that runs multiple successful collectives across the country such as Success with Honor at Penn State and Knights of The Raritan at Rutgers.
The new Oklahoma collective is following the same model that was built at Penn State and Rutgers. For example, Success with Honor has struck more than 100 deals with student-athletes in all of the varsity sports at Penn State.
"There are two sides to the collective," Belzer said. "One is a 501(c)(3) and the other side is commercial. So, we're planning on being able to bring opportunities to student-athletes through multiple funnels. But our main focus will be heavily on the commercial side, where there's no cap on earning potential for student-athletes.
"We've put together a Board of Directors that includes a number of prominent alumni from the university. Some of them are former student-athletes that have strong ties back into the school in particular sports."
But maybe most importantly, Belzer says "the university is supporting us."
"I'd say we have a great relationship with the university," Belzer said. "We were fully transparent in our process of building the collective. We asked for advice on having the right people involved. Obviously, the university can't directly be involved. But they were able to point us in the right direction for alumni and other individuals they thought would be good ambassadors for any type of program we wanted to build."
Big things expected for Oklahoma Sooners
The Sooners are expected to see a big improvement on the court this season, led by Grant Sherfield and Tanner Groves.
Sherfield was recently named the Big 12's Preseason Newcomer of the Year. He is the first Sooner since Amath M'Baye in 2012-13 to be selected as the preseason newcomer of the year.
Sherfield spent the previous two seasons at Nevada and was twice selected to the USBWA All-District VII Team. Sherfield averaged 6.39 assists per contest and led the Mountain West and finished fourth in the NCAA in assists per game last season. He led the Pack in points (19.1) and minutes (35.7) per game and added 4.2 rebounds per contest.
Groves made his debut in the Crimson and Cream last season and averaged 11.6 points, 5.8 rebounds and 1.6 assists per contest. He started 34 games and earned 2021-22 All-Big 12 Honorable Mention honors. Groves was a three-time Big 12 Newcomer of the Week.
Groves is Oklahoma's top returning scorer and second in rebounds per contest. He shot 53.2% (150-for-282) from the field and 38.1% (43-for-113) from beyond the arc. Prior to his time in Norman, Groves was the 2020-21 Big Sky Conference Most Valuable Player and was selected to the All-Big Sky First Team and NABC All-District 6 First Team.