Oklahoma NIL collectives merge, more consolidation on the way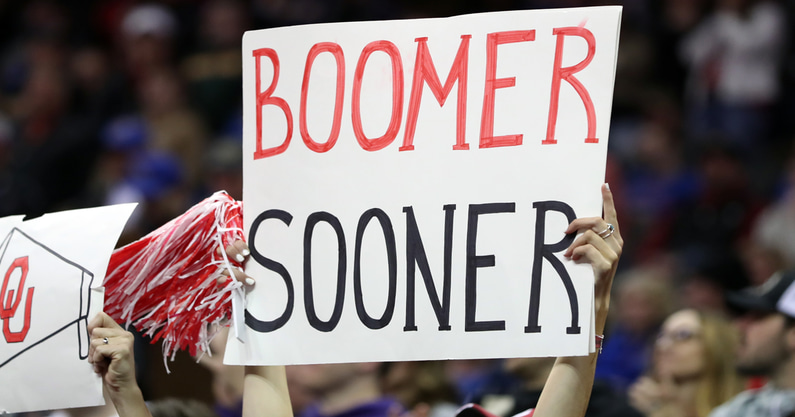 Oklahoma's crowded NIL collective market got a little less congested on Thursday.
Sooner-focused NIL collectives Crimson and Cream and Strengthening Oklahoma announced they have officially merged.
Strengthening Oklahoma was founded in August 2022 by former football stars Dusty Dvoracek and Gabe Ikard, along with Josh Smith, an offensive lineman on the Sooners' 2000 national championship team. The collective launched with NIL deals agreed upon with 13 Sooner football players.
Crimson and Cream was unveiled in September 2022 with a long list of former Sooner greats in multiple sports on its Advisory Board. Crimson and Cream grabbed a lot of headlines in November for its ambitious fundraising campaign that's generated more than $1,425,000 over the past 23 days.
"The collective power of Sooner Nation will empower OU student-athletes in ways no other fanbase can," Crimson and Cream CEO Jason Belzer said in a news release. "That's why Crimson and Cream has decided to join forces with Strengthening Oklahoma – to channel our resources in order to maximize NIL opportunities for all Sooner student-athletes, now and in the future."
The merger reduces the number of known NIL collectives at Oklahoma to three. Along with Crimson and Cream and Strengthening Oklahoma, 1Oklahoma and the Norman NIL Club are also in the market.
Normal NIL Club has been met with lukewarm success and has reached only 35% of its publicly stated goal of $50,000 in monthly subscriptions.
1Oklahoma is the collective that was founded by Hall of Fame coach Barry Switzer and a group of local area businessmen, community leaders and alumni. 1Oklahoma is considered the other top collective in the Sooner market, having struck deals with multiple top OU student-athletes, including softball stars Grace Lyons and Tiare Jennings.
Collectives merging at Oklahoma makes sense
Ikard said the move to merge was the best thing for Oklahoma student-athletes and fans looking for ways to make an impact through NIL.
"Until now it's been a bit of a competition for fans' NIL attention, but now fans can choose the strongest collective that supports all OU sports," Ikard said in a statement. "We want athletes to make every NIL dollar they can, and we want to support OU athletics. This is the best way to do that."
Dvoracek said the merger creates more opportunities for OU to have success with player retention and reward businesses looking to partner with Sooner student-athletes.
"The NIL landscape is changing before our eyes," Dvoracek said in the release. "We've always wanted to give these athletes the best support we can — both from the perspective of former athletes and now analysts. Now the student-athletes have access to even more advocates ensuring they get the best deals, are supported throughout the processes and continue to be successful on and off the field."
Oklahoma latest market where collectives merged
Since NIL became approved by the NCAA in July 2021, more than 200 collectives have emerged, and many experts believe the market has become overcrowded. That's why we're seeing more and more collectives representing top programs merge.
In May, two key Florida State collectives Rising Spear and Warpath 850 announced they were consolidating under the Rising Spear brand. Then in June, two collectives focused on TCU merged as part of Think NIL. But the biggest merger took place in early November when five separate Texas Longhorns collectives combined to form the Texas One Fund.
More mergers expected
Several observers told On3 they anticipate more collective mergers in the future. The experts say consolidation makes sense and helps the collectives build a larger war chest for recruiting and retention efforts.
"I think it's better for everyone involved," Peter Schoenthal, CEO of Athliance, recently told On3.
"One of the issues with NIL is that confusion leads to inaction. When fans, boosters and student-athletes have too many places to go or don't know where to go, they tend to not get involved. Furthermore, every collective at a school tends to specialize or do one thing well that the others do not.
"By merging and coming together, you are removing the fog of confusion and creating a unified front that allows everyone to get involved and therefore succeed. Collectives at universities should not be competing where ultimately they share a common goal."
Mit Winter, a sports attorney at Kennyhertz Perry LLC, agreed with Schoenthal.
"This is a smart move in my opinion," Winter said. "One, it makes it easier for fans and donors to support NIL opportunities for OU athletes. They know where to make NIL contributions, instead of potentially being confused as to who they should make NIL contributions to when there are multiple collectives. Two, it allows the resulting collective to amass more money, which will lead to more NIL opportunities for OU athletes. Three, it makes it easier for the school if they only have to interact with and promote one collective.
"And finally, and probably most important, it makes it easier for the athletes. They know which collective to work with, and that the collective will have the resources to create and source valuable NIL opportunities."
Like Schoenthal, Winter believes more mergers are on the way.
"I believe we'll continue to see more of this in the future. Especially as more collective founders realize the amount of time and resources that are needed to operate a successful NIL collective."