Opendorse: Big Ten leads all conferences in NIL compensation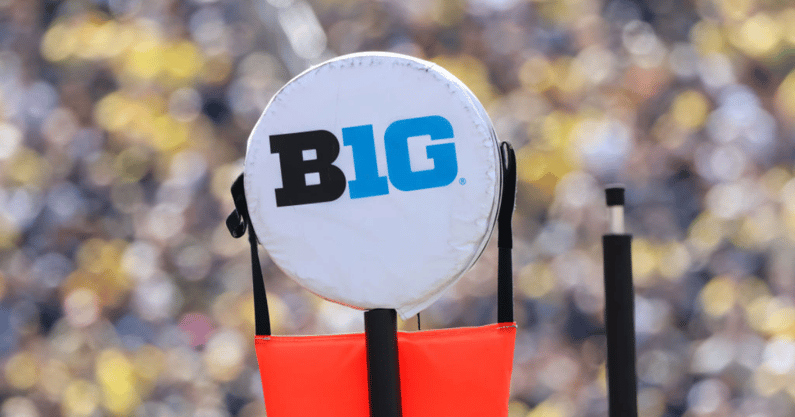 The second year of the Name, Image and Likeness Era has arrived. The undeveloped industry is now in its second academic year, with new deals, brands and data.
Opendorse released updated data Tuesday, which ran through August, reflecting new information on where transactions are taking place and which sports have found success. As it has been since the NIL software initially released data last fall, the Big Ten remains the leader for NIL compensation and activity.
The release of this type of data from major NIL service providers is probably the best glimpse of the market the public can receive at this point in time. With the number of NIL deals being disclosed somewhere below 50 percent, marketplace data is truly the best glimpse. All data from Opendorse comes from the activity on their products.
Behind the Big Ten in total compensation sits the Big 12, Pac-12, Big East and ACC. The SEC clocks in at No. 6 to close out the Power Five conferences. The top Group of Five conference, outside of the Big East, sits the American in seventh.
Male sports make up 60.8 percent of all deals completed on Opendorse through August, with women's sports at 39.2 percent. The gender gap at the Division I level for total compensation is 72.5 percent male to 27.5 percent female.
Currently, Division I athletes are averaging $3,063 per deal. The number jumps down signcantly at the Division II level to $709 followed by $868 in Division III.
Football players continue to lead way for NIL deals on Opendorse
Opendorse also provided which sports earn the most most compensation across the platform. Football leads with way, taking up roughly half the market at 48.6 percent. The average quarterback is receiving $2,240 per deal. Running backs are actually compensated more, however, earning an average of $2,265. The third top-earner is a wide receiver, making $1,523.
Men's basketball (17.7 percent) and women's basketball (13.5 percent) round out the top three earning sports. Female basketball guards are averaging more on a single deal, $2,009, than a guard on a men's basketball team is at $1,204. There is a serious drop off with post players, however, with male forwards earning $1,720 per partnership. Centers are bringing in $1,446, too.
There's a serious drop off following women's basketball in top sports by NIL compensation. Women's volleyball is the fourth top earner, making up 2.4 percent. Softball, men's track and field, baseball, women's track and field, men's swimming and diving and women's gymnastics round out the top 10.
Social posts remain most popular NIL activity
In the data through August provided by Opendorse, social media continues to be the most popular NIL activity. Roughly 55 percent of all deals struck on the marketplace are social media posts and advertisements. It also takes up for 40 percent of the compensation seen on the NIL-centric company.
"I'd just say you don't want to overstrain yourself," Kentucky quarterback Will Levis told On3 at the NIL Summit. "You don't want to have your entire social media feed flooded with ads for companies. You need to be authentic. You need show the actual authentic side of you. You can't just have an advertisement page for your social media."
Posting too many advertisements on social media could have a negative effect on an athlete's long-term earning potential.
"If your pages become too inundated with marketing things for other brands, people will start unfollowing you and brands will stop reaching out," Duke cross country and track and field runner Emily Cole said. "It's really important to be picky about which ones you work with."
Followed by advertisements, the category "other" ranks second in most popular activity and total compensation. Shoutouts are a rising across the Opendorse platform, making up for 7.1 percent of all activations.
Autographs rank last in activation and compensation.