Opendorse launches new, public NIL marketplace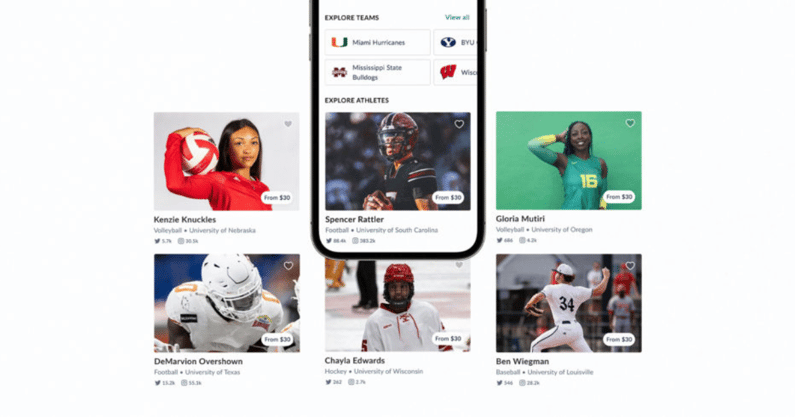 Opendorse has made another push to open up NIL to the common fan.
The company announced plans to launch school-specific marketplaces at 75 partner schools throughout fall 2022 earlier this summer. And on Monday, Opendorse unveiled a brand new user-interface, creating a public NIL marketplace with complete access to student-athletes.
Opendorse works with institutions to help initiate, track and monitor NIL deals. Payments will be made by credit card. Data in Year 1 of NIL, compiled by Opendorse, shows only 4% of deals came from fans working with student-athletes.
The move makes Opendorse the first openly-facing NIL marketplace yet in the space. Optimizing data gathered during the first year of NIL, the company made major upgrades to its interface. Included in the re-done marketplace is a streamlined buying experience, complete athlete profiles and a comprehensive athlete search.
"This is the premium marketplace experience that athletes and the NIL market deserve," Opendorse CEO Blake Lawrence said in a press release. "Fans have been eager to support their favorite student-athletes through NIL activities like video shoutouts for their children, or autographs for memorabilia collections and more – but they don't know where to start.
"Now, any fan with a credit card can request and pay an athlete for any activity in just a few seconds. It's as easy as booking a stay on Airbnb or ordering a deal on Doordash."
Opendorse has also launched the Opendorse Athlete Rate Card, which provides athletes with their market rate for NIL deals. The tool uses insight from more than 100,000 deals to deliver accurate rates for any NIL activity. 
Blake Lawrence explains need for new NIL marketplace
Lawrence remains adamant that the revamped, school-specific NIL marketplace remains a necessity.
The data backs up his theory, too.
In the most recent data released by Opendorse, which runs through May 31, the average compensation for a D-I athlete is $3,711. The number is calculated by the total NIL compensation of all athletes divided by the total number of athletes with at least one deal since July 1.
Additionally, there is a major drop-off following Division I. The Division II player makes $204 on average while a Division III athlete is compensated $309.
Furthermore, Opendorse has seen promising NIL returns in women's volleyball, softball and a number of Olympic sports. With the launch of a new, streamlined marketplace, Lawrence hopes to see those numbers jump up in Year 2.
"Helping athletes use technology to make money for a decade, we've seen a lot of things," he told On3 earlier this summer. "One of the more real things is athletes with representation. It's got to make economic sense for a person to get involved in a transaction. If that person is earning a 10% commission on a NIL deal, it takes them the same amount of work to do a $1,000 deal as it does a $10,000 deal. If given the chance, a person working on NIL opportunities may turn down or not put effort into helping a student-athlete get a $100 deal.
"The majority of student-athlete NIL activities are those deals. There's a gap in most markets of smaller-dollar deals. Without a technology partner, these athletes have no access to capitalize."