OU QB General Booty to give percent of NIL sales to Oklahoma Children's Hospital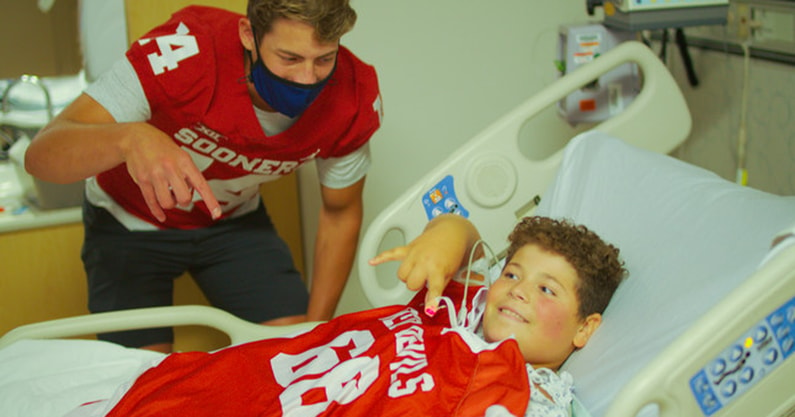 Not only does Oklahoma Sooners quarterback General Booty have one of the best names in college football. He also has one of the biggest hearts. The latter became clear after he revealed what he plans to do with a percentage of his NIL earnings.
Booty – an Allen, Texas, native who played last season at Tyler Junior College – plans to donate a percentage of his NIL activity to the Oklahoma Children's Hospital.
"My family has been a really good example to me my whole life," Booty, who is related to former USC quarterback John David Booty, said in a news release from OU Health. "We talked about the importance of giving back. I have a special place in my heart for kids, so after my visit there, I knew Oklahoma Children's Hospital would be where my support would go."
General Booty unveils website for NIL sales
To spark donations General Booty, who is projected to be the backup to starter Dillion Gabriel this season, launched More Than Just A Name, a website where fans can purchase T-shirts, hats and other mementos featuring his name, image and likeness.
The website also highlights gear with some colorful catchphrases like "Booty Call" and "I ♥️ Booty."
"I have a unique name, but I'm also a good player," Booty said. "That's the connection … Oklahoma Children's Hospital is more than a name. They are the best at what they do."
General Booty recently visited the hospital to engage with patients. His visit made a difference, hospital president Jon Hayes said.
"We have some young football fans going through health issues no one – let alone a child – should have to go through," said Jon Hayes, hospital president.
"Seeing the kids' faces light up when General stopped by to hang out with them for a while was a great way to take their minds off where they are. We are delighted to not just have General supporting us through his merchandise sales, but just becoming engrained in what we do here. We can't wait to see what he does on the football field."