Penn State commit Quinton Martin inks NIL deal with Ovation for Men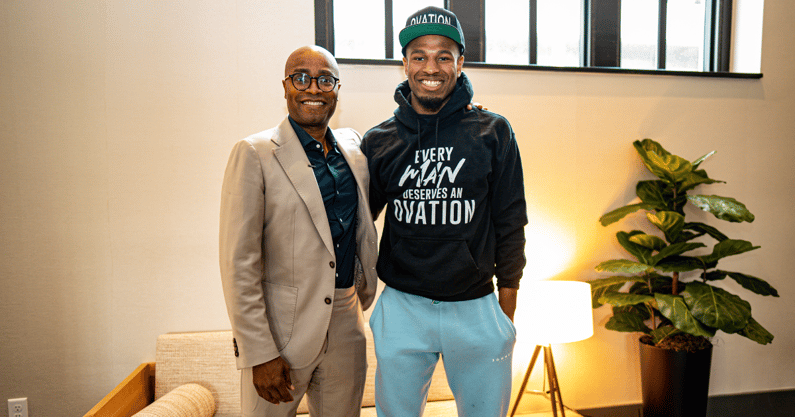 Quinton Martin has had a busy few weeks. The third-ranked athlete in the 2024 recruiting class committed to Penn State earlier this month, shutting down his recruitment.
On Thursday, he announced his first NIL deal with the fragrance company Ovation for Men.
Earlier this week he signed the contract, meeting with Ovation co-founder Shawn Crenshaw. He was also was fitted for a custom suit as part of the deal.
"It was an experience to remember," Martin told On3 earlier this week in a phone interview. "The dude Shawn was very nice dude to work with. I got to learn more about the background and the meaning of the brand. … Once he told me more about how it's an African-American-owned brand – that's a big deal to me."
Martin is the highest-ranked high school football player to sign with the company. Ovation has previously worked with Michigan State defensive back Dillon Tatum and recent LSU tight end and basketball commit Trey'Dez Green.
Founded by Crenshaw, as well as Fadelf Jackson and Cecil Cross, Ovation was created to produce a fragrance celebrating the "style, creativity, and showmanship of African-American men."
Ovation for Men is a perfume that has a blend of bergamot, cardamom, aqua, tobacco, and vetiver with hints of amber, vanilla, and leather, according to the company's website. Through a long-term partnership, Martin will help promote the Ovation for Men Sport fragrance, which will launch this summer.
"As Quinton's first NIL partner, we keenly understand the importance of creating compelling brand stories around Quinton that are authentic to who he is as person, not just an athlete," Crenshaw said. "Quinton is the highest-ranked high school prospect on our roster. He epitomizes excellence, confidence, and determination. We are going to custom curate campaigns that celebrate all of those traits. Quinton will be uplifted in every piece of content that includes his name, image, and likeness."
Because the state of Pennsylvania allows high schoolers to profit off their publicity rights, Martin was able to sign his first NIL deal before enrolling at Penn State. The top-ranked 2024 recruit out of the Keystone State plans to continue building his brand through his senior year. He holds a $183,000 On3 NIL Valuation.
Martin is not the first high school athlete to ink an endorsement deal. West Virginia signee Rodney Gallagher from Uniontown, Penn., inked an endorsement deal with The Pavement Group hours after the Pennsylvania Interscholastic Athletic Association board of directors passed an amendment to the organization's rulebook allowing high school athletes to monetize their NIL.
"I have been talking about doing an NIL deal since it came out for college ball," Martin said. "And now it's passed at the high school level. It's definitely a big thing people are talking about. I have a couple of friends that have done some, like Rodney Gallagher.
"We're just going to keep building and building [his relationship with Ovation] and learning stuff off from each other and just keep helping each other through the process."
Quinton Martin on decision to pick Penn State
As a junior in 2022, he rushed for 1,279 yards and 22 touchdowns. He averaged 8.8 yards per carry. He also had 424 yards receiving and six additional scores. Martin picked the Nittany Lions over Ohio State, Pitt and West Virginia.
"I wouldn't say it was an easy decision," Martin said. "There was definitely other schools in the conversation, but I picked Penn State because of their commitment to me and my family. They've always been so committed to getting me up there. I've always been a priority, and they've always let me know that I was a priority."
Listed at 6-foot-2, 185 pounds, Martin could play a variety of positions at the next level. He did spend time in his recruitment talking with Terry Smith, who serves as Penn State's cornerbacks coach and defensive recruiting coordinator. One of the top athletes in his recruiting class, Martin said Penn State see him playing as a running back once he gets to campus.
NIL never played a factor in his decision. But the school's commitment to him from the jump in the recruitment process made a difference.
"It wasn't like, 'Hey, give me $7.5 million, and I'm happy,'" his uncle, Shawn Martin, said. "It's the environment. The commitment that the school put in and put effort into you. And I can honestly tell you, the reason why he picked Penn State has always been from the beginning, they have been with him since he's been a pup. They always have been given him 100-percent effort from the door, and they never let up. They never were pushy."