Pepsi signs NIL deals with football players to support recycling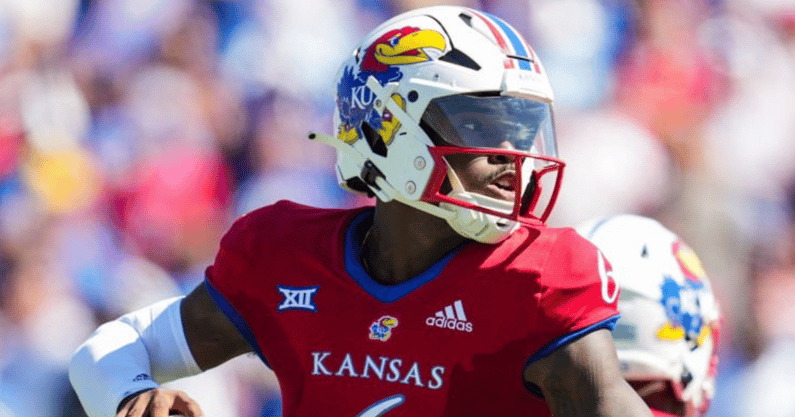 Pepsi is partnering with college football players across the country through NIL deals to promote recycling.
Pepsi is no stranger to the NIL space, signing deals earlier this season with Wisconsin quarterback Graham Mertz and running back Braelon Allen. Now the soft drink company has agreed to NIL deals with more than a dozen football players as part of its #PepsiTrashTalk campaign on TikTok that supports plastic bottle recycling.
Players that are part of the deals do a duet video with a group of fans cheering them on as they use creative ways to recycle plastic Pepsi bottles.
For example, Kansas quarterback Jalon Daniels uses a ping pong paddle to knock a bottle into the air, catch it and then fire it into the recycle bin. Penn State's KeAndre Lambert-Smith pretends to dodge defenders before finger-rolling a bottle into a bin. Colorado cornerback Jason Oliver mimics a defensive back drill by back-pedaling, catching a bottle and then racing to place it into a container. Others, like Utah offensive lineman Alex Harrison, simply drop a bottle in the bin and then start clapping.
"Know the difference," the video captions say. "Be a team player and recycle."
Others who are known to be a part of the deal include Vanderbilt's Errington Truesdell, Texas A&M's Deuce Harmon, San Diego State's Caden McDonald, Baylor's Jaylen Ellis, Oregon State's Alex Austin, Michigan State's Jayden Reed, Syracuse's Courtney Jackson and Florida's Donovan McMillion. A full list of those involved was not available at the time of publishing.
The terms of the deals weren't made public, but a NIL agent told On3 that some of the deals are believed to be in the $1,500 range. Yet, maybe more importantly, it's another example of players using their NIL for a good cause.
More student-athletes using NIL to focus on social issues
UConn women's basketball star Paige Bueckers generated national headlines when she agreed to a NIL deal in March to draw awareness to the issue of student hunger.
Bueckers, the 2021 women's national player of the year, became the first student-athlete brand ambassador for the education platform Chegg. Bueckers and Chegg is working to draw awareness to the issue of student hunger. A report from Chegg.org shows that 32% of college students reported having suffered from food insecurity since the start of the pandemic. 
Many fans view NIL only as an opportunity for student-athletes to make money off their brands. But NIL observers say more athletes are doing deals — like the #PepsiTrashTalk campaign — that raise awareness on social issues.
"Deals like this where the athlete is using his or her NIL to draw awareness to a social issue are definitely growing," Mit Winter, a sports attorney at Kansas City-based Kennyhertz Perry LLC, told On3 earlier this year.
"I think these deals are great for the athlete, the brand they're working with and the social issue being addressed," he said. "For the athlete, it shows the public and other brands that they have interests beyond athletics. So often, athletes can get pigeonholed as just an 'athlete.' I'm a big fan of deals where athletes can open up about their interests outside of sports. And these deals also allow athletes to use their star power to bring attention to issues they feel passionate about."