Pepsi distributor signs NIL deals with 5 Purdue basketball players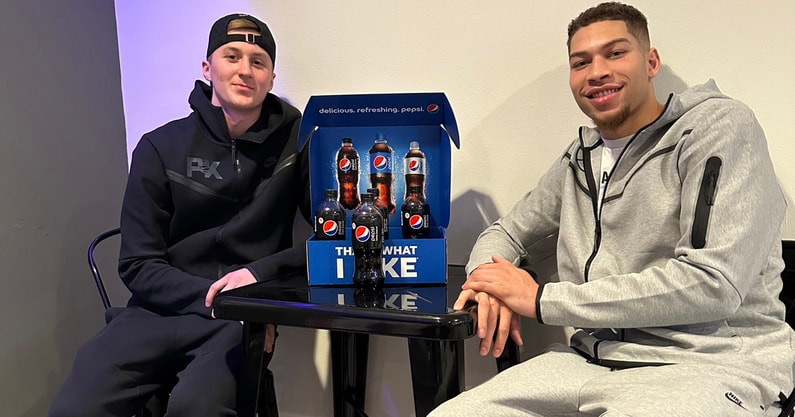 Add another big brand to the list of companies announcing NIL agreements ahead of the NCAA Tournament.
The local Pepsi distributor in Indiana has partnered with five members of the Purdue men's basketball team on a NIL deal ahead of the Boilermakers' first-round game against Fairleigh Dickinson. Purdue – the Big Ten Conference champions – is the No. 1 seed in the East Region.
The NIL agreements were facilitated on the INFLCR marketplace and included:
Loyer was named honorable mention All-Big Ten this season. He ranks fourth among the Big Ten's freshmen in scoring with 11.6 points. Loyer ranks sixth on Purdue's freshman scoring list.
He had an outstanding season, becoming the first Purdue freshman since 2008, to be named Big Ten Player of the Week after scoring 27 points against Nebraska in mid-January. His six 3-pointers against the Cornhuskers were the most by a Purdue freshman in school history.
Others involved in the deal have also been critical players for Purdue. Gillis averages 6.7 points and 3.7 rebounds. Newman averages 6.1 points and 3.1 rebounds. Additionally, Morton has started in 29 games.
More about the Pepsi deal, other March agreements
Coke has a corporate sponsorship with Purdue athletics. Jack Gallagher, the Boilermakers' Director of NIL Engagement, said the deal could not include any intellectual property associated with the school or its teams. That's why you see players promoting Pepsi on social media in normal clothing that doesn't feature Boilermaker logos.
Pepsi is the latest big brand to announce significant NIL deals ahead of tip-off for the NCAA men's and women's basketball tournaments.
Just this week alone, Gonzaga star Drew Timme inked deals with Beats by Dre and Pringles, Auburn guard Wendell Green announced an agreement with The Next Round, the Illinois NIL Store launched a Matthew Mayer "Mullet Monster" T-shirt campaign and MarketPryce agreed to a deal with the entire UCLA's women's basketball roster.
Additionally, Nabisco released deals with top stars like Baylor's Keyonte George and TCU's Mike Miles. Plus, Great Clips signed Mayer and UConn's Caroline Ducharme to a deal to promote its "Hats Off Sweepstakes." On Monday, Newegg, MSI and Seagate Technology announced the launch of a basketball-themed and NIL-fueled campaign featuring UCLA basketball star Jaylen Clark.
And not to be outdone, Under Armour continued its investment in NIL through new NIL deals with student-athletes from the Maryland, Notre Dame, South Carolina and Utah women's basketball teams. And on Wednesday, Iowa's Caitlin Clark and UNC's Caleb Love were featured in a nationwide commercial supporting the modernization of the Small Business Administration.
Purdue players' On3 NIL Valuations
Mason Gillis has the highest On3 NIL Valuation as part of this deal with Pepsi. His On3 NIL Valuation is $27,000. Fletcher Loyer's On3 NIL Valuation is $26,000. That's followed Ethan Morton at $22,000 and Brandon Newman at $21,000. David Jenkins' valuation is $20,000.
The On3 NIL Valuation is the industry's leading index that sets the standard market NIL value for high school and college athletes. A proprietary algorithm, the On3 NIL Valuation calculates an athlete's NIL value using dynamic data points targeting three primary categories: performance, influence and exposure.
About On3 NIL Valuation, Brand Value, Roster Value
While the algorithm includes deal data, it does not act as a tracker of the value of NIL deals athletes have completed to date, nor does it set an athlete's NIL valuation for their entire career.
Furthermore, the On3 NIL Valuation accounts for an athlete's roster value and brand value. Roster value is the value an athlete has by being a member of his or her team at his or her school, which factors into the role of NIL collectives. Brand value factors in an athlete's personal brand and the value it could bring to regional and national brands outside of the scope of NIL collectives. The On3 NIL Valuation is publicly available. Performance, Influence, and Exposure ratings along with the athlete's personal Brand Value Index and Roster Value Index are available only to the athlete in the "Athlete Verified" private dashboard on the On3 Athlete Network.