Georgia commit Peyton Woodyard inks NIL deal with Bevel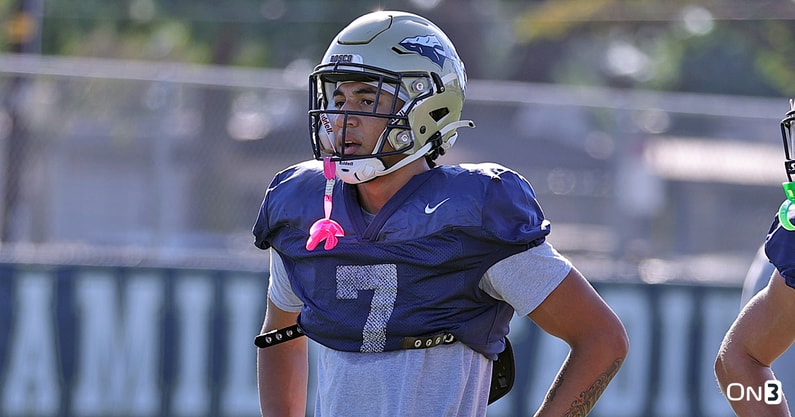 Georgia safety commit Peyton Woodyard has become the latest high-profile recruit to sign an NIL deal.
The four-star prospect in the 2024 recruiting class released an Instagram video Wednesday night, promoting the health and beauty company Bevel. The ad was released in partnership with Overtime, which has emerged as a content collaborator with multiple athletes.
In the clip released on Instagram, the fifth-ranked safety in the nation is seen going through offseason drills.
"This training session just didn't feel right. I'm feeling slow today, it's got to be the beard," Woodyard remarks a few seconds into the video.
"Yo coach, I gotta go shave this off real quick," the No. 7 prospect coming out of California says as he runs into the locker room. "I'll be right back.
"I ran inside and cracked out my Bevel Essential Shave Kit. Whenever I'm feeling slow, this kit gets me right every single time. I washed off, headed back to training and then I was flying all over the field."
After shaving, he runs back out onto the field and finishes his training. Woodyard is seen running the 40-yard dash, going through agility drills and working the bungee dash.
"I could not be stopped," he says at the end of the video.
Bevel was started as a men's shaving company in 2013. The brand now features skin, hair and beard products and is owned by Procter & Gamble. Woodyard promoted the company's starter shave kit on Instagram; the package's retail price is $25.46.
A rising senior at St. John Bosco, Woodyard committed to Georgia back in January. Because he is a high school athlete in the state of California, the safety is allowed to monetize his publicity rights and earn compensation without losing his amateur status.
Latest on Peyton Woodyard's recruitment
The safety recorded 53 tackles, seven pass deflections, plus an interception this past fall. A top-100 recruit, he has not fully shut down his recruitment yet. Woodyard has visits planned this summer to Alabama, Georgia, Ohio State and USC.
Flipping him from Georgia is not a long shot for the trio of schools still in the mix. An Alabama fan at heart, Woodyard has not ruled out the Tide. USC provides the opportunity to stay close to home. He also has built a close relationship with Ohio State safeties coach Perry Eliano.
"He's very versatile," St. John Bosco head coach Jason Negro previously said. "He can play all three downs on defense. First, second and third. He can play the single-high safety; he can play the two-high safety. He can play in the box. He's physical. He can cover slots in the nickel. There's a lot of versatility to his game."
Growing value to brands
Peyton Woodyard has not publicly announced NIL representation, but he is in position to start building out a successful brand. As one of the top-ranked defensive backs in the nation, he has more than 27,000 followers across his social media channels.
National companies have placed an importance on follower count when partnering with athletes when it comes to social media endorsements.
The safety has a $151,000 On3 NIL Valuation, which ranks in the top 90 of the college football NIL rankings.
The On3 NIL Valuation is the industry's leading index that sets the standard market NIL value for high school and college athletes. A proprietary algorithm, the On3 NIL Valuation calculates an athlete's NIL value using dynamic data points targeting three primary categories: performance, influence and exposure.
About On3 NIL Valuation, Brand Value, Roster Value
While the algorithm includes deal data, it does not act as a tracker of the value of NIL deals athletes have completed to date, nor does it set an athlete's NIL valuation for their entire career. The On3 NIL Valuation calculates the optimized NIL opportunity for athletes relative to the overall NIL market and projects out to as long as 12 months into the future.