Boilermaker Alliance NIL collective launches to support Purdue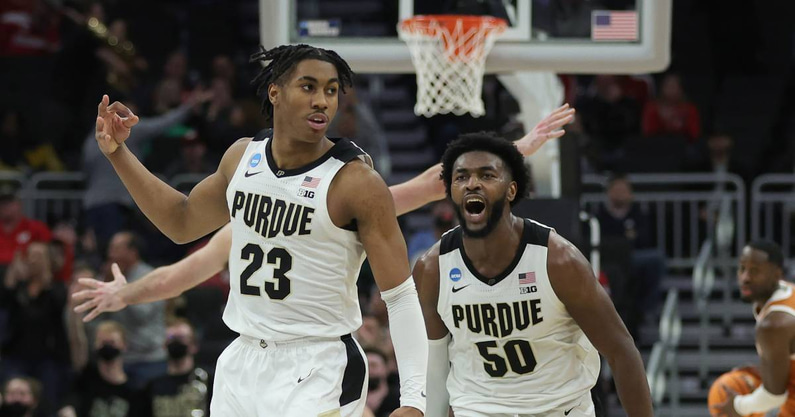 Purdue University has joined the list of Division I institutions whose fan base and donor community have launched multiple NIL collectives. Boilermaker Alliance joins The Boiler Trust in supporting Purdue athletes through NIL.
Boilermaker Alliance's website states, "Boilermaker Alliance was founded by a group of individuals who have made a long-standing commitment to Purdue University and the Athletic Department. Our organization intends to provide a new vehicle to recognize the accomplishments of Purdue student-athletes while elevating the profile and effectiveness of charitable organizations.
"It is our hope that in uniting Purdue student-athletes, Purdue Alumni, and the charitable organizations they are passionate about, we will positively impact the Greater Lafayette community and beyond for many years to come."
Boilermaker Alliance is a nonprofit corporation. It filed in Indiana on May 19. McKean Law Firm, P.C., is listed as the nonprofit's registered agent. Purdue alum Jeff McKean is a co-founder of the Boilermaker Alliance.
The nonprofit's stated goal is to keep operating costs below 15 percent. Boilermaker Alliance said the organization is in the process of applying for 501(c)(3) status as a public charity, which would allow donations to be deductible for tax purposes.
Boilermaker Alliance's Board of Directors and Advisory Board each include former Purdue athletes. The organization's testimonials page includes quotes from former men's basketball players Jaden Ivey and Robbie Hummel, women's basketball player Camille Cooper Ozumba, football players Akin Ayodele, Pete Quinn, Jim Everett and Chris Clopton, and women's volleyball player Grace Cleveland.
What are NIL collectives?
Collectives are groups typically launched by fans of a specific school, which pool contributions that are then paid to athletes at the school in exchange for NIL-related services, such as social media posts or public appearances. Some collectives, such as Boilermaker Alliance, have incorporated a charitable or community service element.
Boilermaker Alliance's website says the nonprofit organization will form relationships with charities in Indiana and in the hometowns of Purdue athletes. The organization says athletes will be able to present charities in which they're already involved. Contracts with Boilermaker Alliance will be non-exclusive. There will not be a minimum donation amount required in order to contribute.
Collectives are most common at the Power Five level, especially in the Big Ten and SEC. The fan bases at some schools, such as Purdue, have created multiple collectives, including some collectives that are designed to support athletes who compete in a specific sport. Some collectives have already merged, such as Florida State's Rising Spear and Warpath 850.
Nijel Pack transferring to Miami reportedly helped prompt the Boilermaker Alliance
The creation of the latest collective designed to support Boilermakers athletes was reportedly inspired, at least in part, by former Kansas State men's basketball player Nijel Pack's decision to transfer to the University of Miami, according to the Lafayette Journal & Courier.
Purdue was a potential landing spot for Pack, who's from Indianapolis.
Miami booster John Ruiz announced an NIL deal between his company LifeWallet and Pack that Ruiz said was worth $800,000 over two years, plus a car. On Twitter, Ruiz called it "the biggest LifeWallet deal to date." It's also one of the highest-profile NIL deals to date, period, given the public nature of the deal's terms, the involvement of Ruiz and the subsequent ultimatum that was delivered by an agent who represents Pack's Miami teammate Isaiah Wong. Wong later clarified his stance with a public statement.
NCAA enforcement staff members met with Ruiz and LifeWallet staff members in June.
"A good friend and I were talking, and he brought me around," McKean told the Lafayette Journal & Courier, regarding Boilermaker Alliance. "He said, 'Things change. There's new rules. Things are different. We need to figure out a way to do it, the best way, the right way. Purdue needs to use its resources to play under the new rules of the game.'
"That set me straight a little bit. We can sit around and complain, or we can try to do something."