How Ohio State collectives are responding to Ryan Day's call for NIL assistance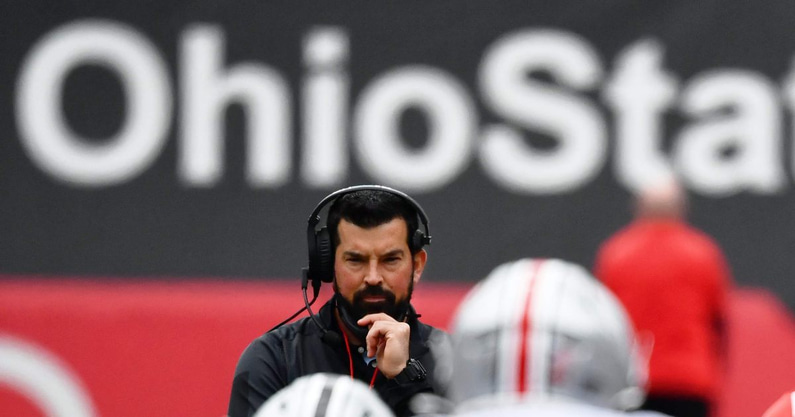 Ryan Day sent a very clear message to Ohio State fans and donors over a week ago.
It caught the attention of college football fans and media. While Nick Saban and Jimbo Fisher's NIL-fueled feud has been the talk in the SEC, no coach has outright produced a number needed to stay competitive.
His words did not come as a surprise to any of the collectives working to help Day and the Buckeyes, though. The golden $13 million number has been spoken about in circles for months. And with the standard at Ohio State to win and compete for national championships, there's no sticker shock.
If anything, it has served as a rallying cry for boosters.
"I totally agree with Coach Day," Brian Schottenstein, the co-founder of The Foundation, told On3. "In order to compete with other schools in the South, we need to continue to raise money,"
Schottenstein launched the crowdsourced collective last fall. A lifelong Ohio State fan and real estate developer, he started the organization with former Buckeyes quarterback and close friend Cardale Jones. They're not new to the college football landscape.
If Ohio State is going to stay competitive in the next decade, falling behind the cash-heavy schools of the SEC is out of the question.
"We started working on it last fall because I saw all these schools in the south, like [Texas] A&M, Texas and Tennessee, what they were doing," he said. "If Ohio State doesn't have something like The Foundation in place, we're going to get behind. I knew the number was north of $10 million because I could see what they were doing down there."
The Foundation is not the only Buckeyes collective in the Columbus market. Ohio State alum Gary Marcinick founded Cohesion Foundation, which aims to be a "trusted resource to educate, connect and foster opportunities for current student-athletes."
Marcinick is in agreement with both Day and Schottenstein about where college football is headed.
"There's a lot of schools and colleges actively recruiting off the portal, so to speak," Marcinick, who is the president of Cohesion, told On3. "So it's a real threat when you have a roster with as much talent as Ohio State at even the two and three deep. It's a big threat. It's probably a bigger threat to these top four or five schools than anyone else. They're just so fortunate they have such great depth. Ryan just expressed the fact.
"I think he's trying to sound the alarm to what it's going to preemptively take, potentially, to stem the problem. There's no certainty around it, but there's high probability some of his marquee players will be targeted."
Ohio State collectives taking action
The Foundation is approaching Day's warning head on. Schottenstein told On3 that in the coming days a major NIL deal raised by The Foundation will be announced. No specifics have been revealed, but four players are signing with three companies with a total cash figure of $550,000.
The plans do not stop there. The Foundation will hold an event with Ryan Day later this summer providing boosters the opportunity to mingle with the head coach. All profits from the event will go directly to student-athletes.
And the organization has plans to partner with FanJolt, too. The app gives fans live access to players including live broadcasts, social media follows and recorded videos. Schottenstein sees athletes talking one-on-one with fans or providing glimpses of the postgame locker room. Part of the proceeds goes to FanJolt's charitable foundation, too.
The Cohesion Foundation is an official sponsor of Ohio State athletics through the school's media rights-holder Learfield. The collective appeared on video boards at the spring game, and plans are in the works to play a role with the 2023 recruiting class.
"Our space is not to be chasing athletes but to create a culture of base opportunities to incoming recruits," Marcinick said. "We don't want to only give them a fish, we want to teach them to fish. A big stipulation and component of us doing NIL is mandatory financial literacy. I think that's key and that's real. Our foundation is not setup to stroke and pay players half a million for retention or a potential high school recruitment. Ours is to give them a reasonable base NIL to build from.
"We're really readying ourselves to be an opportunity for the 2023 recruiting class."
Schottenstein declined to provide a specific number of donations The Foundation received, but he did confirm they are on an uptick since Ryan Day's comments. Both Schottenstein and Marcinick confirmed there are no plans for the two collectives to merge.
Ryan Day's $13 million figure is starting point
The Buckeyes will have one of the top offenses in college football this fall. C.J. Stroud and TreVeyon Henderson are both Heisman Trophy favorites.  Jaxon Smith-Njigba is a household name after his Rose Bowl performance; he'll be the top wide receiver prospect in the 2023 NFL Draft.
With the addition of defensive coordinator Jim Knowles, Ohio State's defense should take a major step forward. Day has a real shot of capturing his first national championship this year.
Schottenstein and Marcinick know the real game will be won off the field. If the Buckeyes piece together a historic year, they'll be in the crosshairs of nearly every Power Five team when the transfer portal ramps up follow the season.
Then Ohio State will have to reload from the high school ranks.
"One phone call, and they're out the door," Day said in front of Columbus businesses last week. "We cannot let that happen at Ohio State. I'm not trying to sound the alarm, I'm just trying to be transparent about what we're dealing with."
It's a cycle. Both collectives are aware the $13 million number is the starting point to the cash needed for Ohio State to compete in the NIL era.