Shaqir, Shareef O'Neal launch boohooMAN Tall collab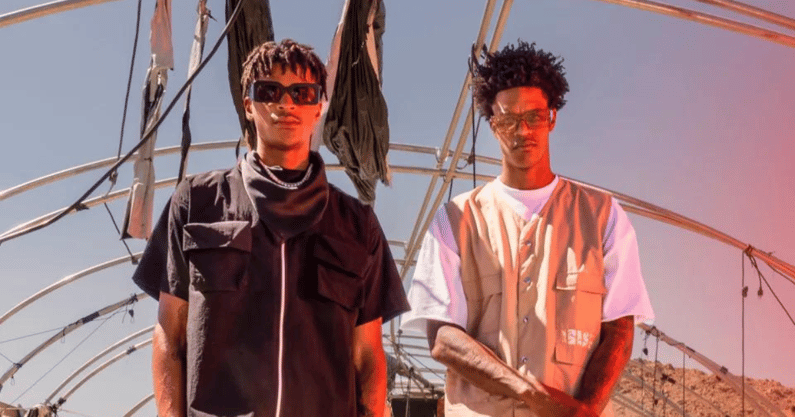 Shaqir and Shareef O'Neal are partnering up to bring NIL to the NBA.
The two sons of NBA legend Shaquille O'Neal, Shaqir is in his sophomore year at Texas Southern while Shareef is now playing for G League Ignite after spending the summer with the Lakers. They are now collaborating, shifting their focus to the fashion scene.
Plans were announced earlier this week for a boohooMAN collab, which combines their athletic sensibilities with a grunge style. The partnership with boohooMAN comes after Shaqir launched the clothing brand's first tall line last year, which featured graphic prints and band tees.
Now the clothing line featuring the O'Neal brothers, dubbed "boohooMAN x O'Neal Brothers", takes pieces of both their fashion styles. While Shaqir prefers a comfortable and laid back, Shareef has a fashion-centric approach.
"This collection was not only super comfortable but it was very bold," Shareef told Rolling Stone. "When you think about those two things, it sums up my brother and I."
The 50-piece collection is available in traditional sizes all the way up to 5XL. And it also marks a boohooMAN's growing relationship with children of celebrities. Graphic tees and hoodies are included in the collection, along with denim bomber jackets. Prices in the collection range from $10 to $80.
"This year, the team wanted to focus on the US market and what was trending over there for us, but we also wanted to make sure it still aligned with the brothers' personal aesthetic," the brand's head designer Shane Chin said. "We introduced key new shapes such as boxy and long line silhouettes which can be layered up for transitional looks. We're excited to work with both of the O'Neal brothers and believe this collection is a versatile range that will speak to the boohooMAN customer."
Shaqir O'Neal's continues to build NIL brand
Shaqir O'Neal is not new to the NIL scene. The sophomore at Texas Southern was the first O'Neal to sign with boohooMAN. He most recently announced a partnership with Capital One, advertising for the SavorOne student card.
And he also has created his own brand. The 6-foot-7, 185-pound guard has an On3 NIL evaluation $1.1 million. The ranking places him at No. 13 in the On3 NIL 100 and the most valued college basketball athletes.
Most of that is in part to his social media following of 4.6 million, with 3.6 million coming just from his TikTok account. He has a per post value of $15,100.
The On3 NIL Valuation is the industry's leading index that sets the standard market NIL value for high school and college athletes. A proprietary algorithm, the On3 NIL Valuation calculates an athlete's NIL value using dynamic data points targeting three primary categories: performance, influence and exposure.
While the algorithm includes deal data, it does not act as a tracker of the value of NIL deals athletes have completed to date, nor does it set an athlete's NIL valuation for their entire career. The On3 NIL Valuation calculates the optimized NIL opportunity for athletes relative to the overall NIL market and projects out to as long as 12 months into the future.