Shedeur Sanders signs NIL deal with Mercedes-Benz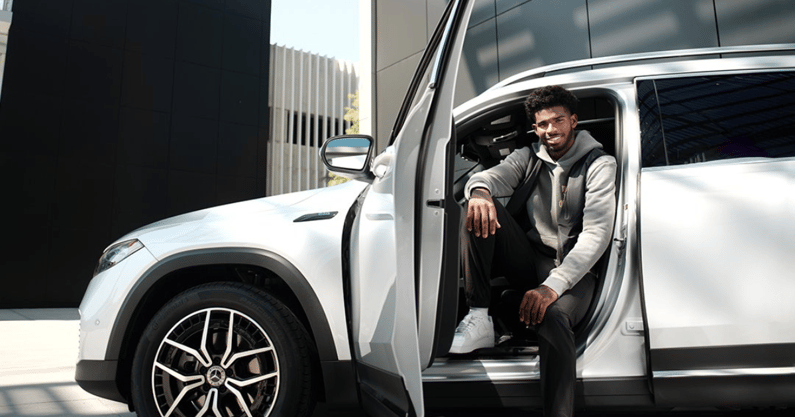 Shedeur Sanders has quickly become one of the most accomplished athletes in the NIL Era.
In the last year alone, he's signed with Gatorade, launched his own barbecue sauce and been tabbed as the BRADY brand's long-term ambassador.
He's now inked his first car deal. The Jackson State quarterback and son of Deion Sanders has appeared in promotions across multiple Mercedes-Benz social media platforms over the past few days. He's promoting the company's new, electric EQB SUV. And as part of the deal, Sanders has landed his own 2022 model, which starts at at $55,550.
WME Sports brokered the deal.
"Pocket protection worthy of a quarterback," the luxury vehicle brand wrote on Twitter. "The EQB has all the latest safety features Mercedes-Benz has to offer."
A former three-star recruit, Sanders has helped guide Jackson State to a perfect 9-0 start. He's passed for 2,847 yards for 31 touchdowns and a 70.9% completion rate. The quarterback has also only thrown five interceptions on the season. The Tigers have also already wrapped up their second consecutive SWAC East division
Jackson State has won all but one of game this season by double digits. Sanders did leave Saturday's win in the third quarter with an injury. He tweeted on Sunday he will be able to return for this week's game against Alcorn State.
Former Miami quarterback D'Eriq King and multiple NCAA athletes sign with Mercedes-Benz for its "#MercedesAllStar" campaign, which ran throughout the first year of NIL. But this marks the first time Mercedes-Benz as a national brand has entered the NIL space this year. It also shows the clout Sanders has in the NIL space and the portfolio he has built.
His other brother, Shilo, is a defensive back on the Jackson State team and beat Shedeur to signing the first car deal in the family. He signed with Porsche of Jackson back in August.
Shedeur Sanders massive On3 NIL Valuation
Sanders currently holds a $1.3 million On3 NIL Valuation. He's signed with Beats by Dre and Actively Black in the last year, too. A large chunk of his evaluation is thanks to his 1.1 million social media followers. He currently holds a per-post projection of $9,000.
The On3 NIL Valuation is the industry's leading index that sets the standard market NIL value for high school and college athletes. A proprietary algorithm, the On3 NIL Valuation calculates an athlete's NIL value using dynamic data points targeting three primary categories: performance, influence and exposure.
While the algorithm includes deal data, it does not act as a tracker of the value of NIL deals athletes have completed to date, nor does it set an athlete's NIL valuation for their entire career.
The On3 NIL Valuation calculates the optimized NIL opportunity for athletes relative to the overall NIL market and projects out to as long as 12 months into the future.
The Jackson State quarterback sits at No. 12 in the the NIL 100, which is the first of its kind and defacto NIL ranking of the top 100 high school and college athletes ranked by their On3 NIL Valuation. He also ranks No. 6 among college football players.