LSU commit, five-star receiver Shelton Sampson Jr. signs with Gordon McKernan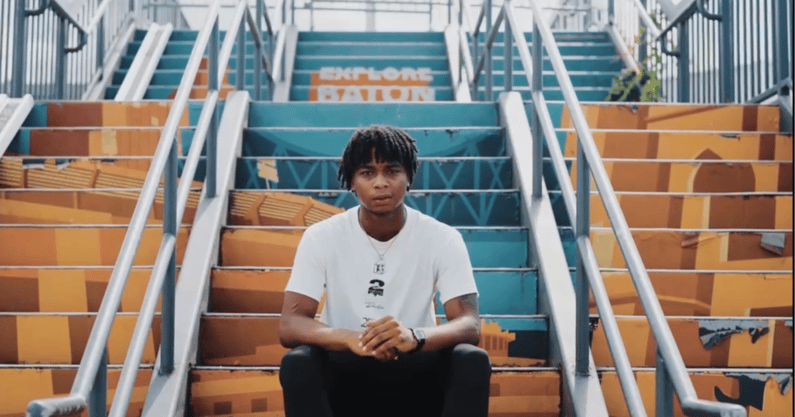 Shelton Sampson Jr. has inked his most notable NIL deal to date.
The LSU commit and five-star wide receiver in the 2023 class has signed with Gordon McKernan Injury Attorneys. The well-known NIL name around Baton Rouge has signed the hometown prospect. It's a match perfectly made for both parties and marks the start of what will be a relationship that will last through Sampson's LSU career.
McKernan has only ramped up his NIL activity in recent weeks, signing names such as Jayden Daniels, Mason Taylor and Josh Williams. One of the most active figures in NIL, he hasn't generated as much national attention as Miami mega-booster John Ruiz and LifeWallet. But McKernan and his firm have struck significant NIL deals with top student-athletes at all of the top college programs in Louisiana.
"We are excited to announce that Baton Rouge native Shelton Sampson Jr. is the newest member of our Get Gordon team of athletes," McKernan tweeted out on Thursday night.
For Sampson, he has quickly become one of the most proven names in the high school NIL scene. He has two apparel lines, one with Elete Sports, and the other with LouisianaRich. The 6-foot-3.5, 190-pound Catholic High product serves as MatchPoint Connection's NIL high school ambassador. He signed on to a campaign with Louisiana-based cheeseburger slider franchise Smalls Sliders in August.
Louisiana high school student-athletes are able to profit off their NIL, similar to how college athletes are able to, after a vote by the Louisiana High School Athletic Association in early April.
Sampson joins a lista roster of McKernan athletes that includes Kayshon Boutte, Harold Perkins and John Emery Jr. McKernan previously told Sports Illustrated the price tag for elite players is often at least $100,000. He said he will pay $500,000 in NIL deals this year.
Becoming the face of high school NIL in Louisiana
Sampson is arguably the most high-profile Louisiana high school player to enter the NIL space. With the help of MatchPoint and the backing of his family, there's also no rush to sign a load of contracts.
He has now five four deals, all coming with Louisiana routes. Discovering what he wants to achieve takes precedence, followed by making sure he delivers a return on investment.
"I feel like if we build our brand the right way, then we should be able to benefit off that," Sampson previously On3 when asked if high schoolers should be allowed to utilize their NIL.
Sampson's high school, Catholic, is also on board with his NIL activity. His athletic director, Ben DiPalma, has helped the family navigate NIL, specifically what is and isn't legal in the state of Louisiana.
"I'm just really, really excited for the opportunity that he's gonna have to hopefully be the face of this," DiPalma said. "What we have to remember is he's still a kid. So it comes to us, as the adults around him, to make sure that we really do our homework and make sure that he's making the decisions that are best for him in the long run."
Shelton Sampson Jr. cashing in on NIL potential
The LSU commit currently holds a $237,000 On3 NIL Valuation. The evaluation ranks in the top 30 of all high school football recruits.
His social media following continues to grow, now sitting at 13,300 followers. He has a per-post projection of $229.
The On3 NIL Valuation is the industry's leading index that sets the standard market NIL value for high school and college athletes. The On3 NIL Valuation calculates the optimized NIL opportunity for athletes relative to the overall NIL market and projects out to as long as 12 months into the future.
Sampson is ranked as the No. 5 receiver in the country, according to the On3 Consensus. The On3 Consensus also ranks Sampson 31st overall recruit in the country and the No. 2 prospect in Louisiana.