Spyre Sports, Opendorse launch first-of-its-kind NIL partnership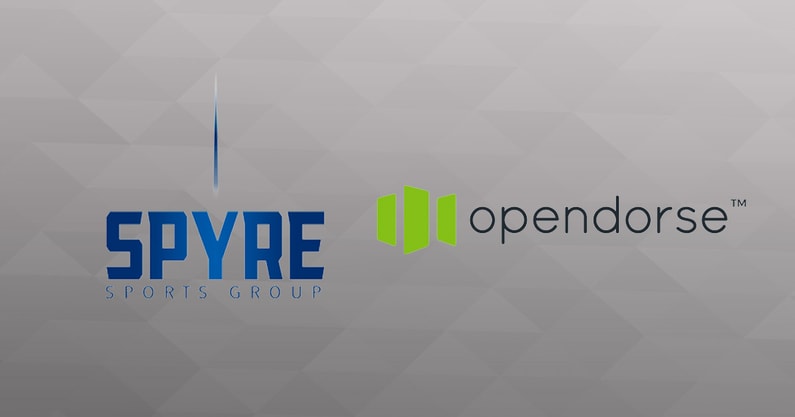 Spyre Sports Group has established itself as a leading organization in the NIL era.
The Knoxville-based sports marketing agency is focused solely on Tennessee athletics, facilitating more than $13.5 million in NIL deals since 2021. The firm operates the institution's two main NIL collectives — The Volunteer Club and Volunteer Legacy. It's safe to say nearly 23 months into college sports' new norm, Spyre has become a trend setter.
The success of Spyre has brought attention to the Volunteers, who wrapped up their first 11-win season since 2001 in football. Now Spyre is building out its NIL framework with an extended partnership with the marketplace Opendorse. The marketing firm had a preexisting relationship with the marketplace, using its software on backend compliance and tracking partnerships.
While co-founders Hunter Baddour and James Clawson have spent significant time brokering deals and raising funds, this new partnership opens up more brand opportunities for Tennessee athletes. The institution is not a partner with Opendorse but this new agreement will open up a similar suite of options for Spyre athletes.
Along with streamlining NIL compensation and compliance between the collective and its athletes, Opendorse will allow access to its brand network.
"This partnership has been one of the more rewarding in the NIL era for us in terms of working with good people, doing things the right way," Opendorse CEO and co-founder Blake Lawrence told On3 in a Zoom interview Thursday. "I've known Hunter for a decade and James as well. When we heard that they were going to take the lead in helping Volunteer student-athletes make the most of NIL, they were one of those first calls we had to make. It just makes a lot of sense to double down and work with the folks that are doing things right."
Spyre and Tennessee athletes will now have access to brands on the Opendorse platform. According to Opendorse head of brand marketing and communications Sam Weber, the marketplace has 29 of the top 50 Fortune 500 companies striking deals through the software.
Importance of Spyre, The Volunteer Club creating NIL opportunities
The NIL arms race has emerged as the biggest theme in college football since the NCAA allowed athletes to begin monetizing their publicity rights back in July 2021. Donor-led collectives have popped up across the country, competing to raise the most funds to attract high school recruits and retain athletes looking at the transfer portal.
But there is donor fatigue. The NIL market is settling, and there is an emphasis being placed on recouping dollars. Spyre has facilitated brand and collective deals for its athletes. With access to Opendorse's brand network, the number of possibilities has jumped up.
"The more other brands see Tennessee students doing NIL deals, the more comfortable they will get," Clawson said. "We want to put together an extensive library of of our athletes at Tennessee doing national, regional and local deals. We can take those to other brands. As we go into 2023 here, year three of NIL, we want to do more brand authentic brand deals with companies that the athletes are aligned to that they want to work with. Not only now but at the next level.
"… This was something we just couldn't pass up."
Spyre's Volunteer Club is closing in on 3,000 subscribers. And Volunteer Legacy allows donors to make tax-deductible donations with athletes partnering with a charity of their choosing for the activation. More brands are entering NIL, however, and collectives that can facilitate deals will be putting their institution at an advantage.
More than 30 NIL collectives currently work with Opendorse. This partnership is unique in it being the first to open up the brand network to a collective. Lawrence said it could just be the start of what collectives can do with the marketplace, especially as more companies spend marketing dollars on college athletics.
"Heading into year three of NIL, there's a balance that student-athletes need between collective support and commercial support," he said. "At Tennessee, they've had tremendous collective support. Opendorse brings tens of millions of dollars in commercial NIL deals to market each year. Those deals and those opportunities go to athletes that are what we would consider in network. They are at at colleges that are partners with us. Right now, Tennessee, the university is not not a partner of ours. Working with Hunter and James and saying, 'How can Volunteer student-athletes get access to more of these commercial opportunities that is coming through Opendorse?' That became the foundation of how we extended this partnership.
"This is really unlocking more commercial opportunities and commercial NIL deals to Volunteer student-athletes. For Spyre to step up and make that happen, it's the first of its kind where the collective is leaning in and trying to expand access within our solution set."