Stetson Bennett finalizes slate of NIL deals for 2022 season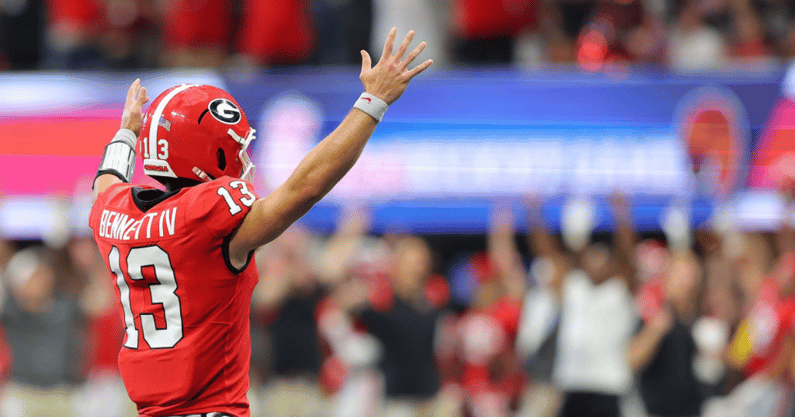 Stetson Bennett may not be the most NFL-ready prospect in college football this season. But that's not stopping the Georgia quarterback from cashing in on his NIL potential.
The national championship winner added Fanatics and Georgia Power to his portfolio earlier this offseason. And now he's signed partnerships with AARP and Synovus Bank to his list of partnerships.
He has not executed any of the action items with the company yet. Synovus is a financial services company with approximately $45 billion in assets based in Columbus, Georgia.
According to his NIL agent, Jeff Hoffman of Everett Sports Management, the quarterback is nearing $1 million worth of NIL deals.
Bennett has had fun pulling off his deals, too. He appeared in a commercial earlier this month for an Athens apartment complex. Dressed as a mailman, he delivers a package to two of the residents. Surprised to see the Georgia quarterback delivering their mail, Bennett responds with the classic response: "I deliver. That's what I do."
He handed out chicken tenders and signed autographs for a day at Raising Cane's following the national championship. He even joked with customers, telling one that their total was $33.18 — alluding to the score of Georgia's win over Alabama.
Georgia cruised to a 49-3 win over Oregon this past weekend, picking up the Week 1 victory. Bennett for 368 yards and accounted for three touchdowns, completing  25 of 31 passes. The Bulldogs look primed for another College Football Playoff run, putting their quarterback back in the national spotlight.
Stetson Bennett's soaring On3 NIL Valuation
Stetson Bennett's On3 NIL evaluation has spiked to $937,000 following his Week 1 performance. It's a $238,000 bump from a week ago. The valuation ranks in the top 25 of the NIL 100 and No. 14 in the college football NIL rankings.
His social media following has continued to climb after he secured Georgia's first national title since 1980. He currently has 97,000 between his Twitter and Instagram accounts, holding a per post value of $2,700.
The On3 NIL Valuation is the industry's leading index that sets the standard market NIL value for high school and college athletes. The evaluation utilizes a proprietary algorithm that includes data points regarding an athlete's performance, influence and exposure.
It doesn't act as a tracker of the value of NIL deals an athlete has completed to date, nor does it project an athlete's market value for the rest of the athlete's career. Rather, it calculates the projected value of an athlete's NIL opportunities for up to 12 months in the future.
The NIL 100 is the first of its kind and the defacto NIL ranking of the top 100 high school and college athletes, ranked by market valuation.