How empty NIL promises fueled T.A. Cunningham move to California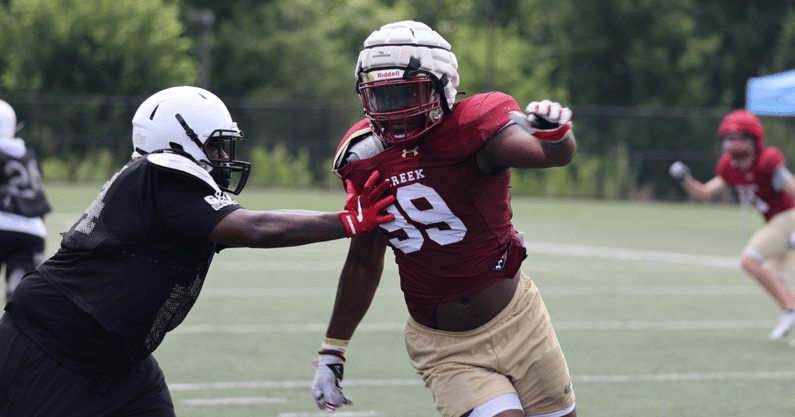 T.A. Cunningham may just be college football's next great defensive lineman. 
But right now, he's a high school junior caught in a web of problems. He's thousands of miles away from his home of Georgia. His football career has been put on pause. An Orange County Superior Court judge denied Cunningham's request Thursday for an emergency restraining order, which would've blocked the California Interscholastic Federation's Southern Section from deeming him ineligible.
Cunningham was repped in court by Michael Caspino, who works for Forward Counsel located in Newport Beach, California. Caspino has done work for Nico Iamaleava and Jaden Rashada, building a reputation for brokering deals between recruits and NIL collectives. 
The other side of Name, Image and Likeness has all but derailed T.A. Cunningham's future. The Cunninghams did not know their next step when the family was evicted from their house on June 13. They were out in Los Angeles taking unofficial visits to USC and UCLA. 
California emerged as a viable option. With high schoolers able to monetize their NIL, he could start to profit and bring in cash. 
NIL drives move to California
The family had been advised by NIL attorney Michael Caspino before last week's court filing. The attorney cashes his checks from collectives, which are independent of college institutions and fueled by boosters. 
His most notable deal to date was with Iamaleava. As The Athletic reported Monday morning, Iamaleave signed a deal that could see him make $8 million after four years. His commitment to Tennessee came within two weeks of the ink drying. 
When the Cunningham's ran out of options, they did not stop soliciting advice with Caspino. 
Cunningham's father, Terrance "Big Rev" Cunningham, reached out to sports lawyer Darren Heitner over Twitter on May 31. The conversation ultimately moved to a phone call, where Heitner said in a statement shared with On3 and The Athletic that Cunningham's father was told, "Caspino was promising him that he could secure millions of dollars for T.A. Cunningham while he was in high school and that all his son would need to do is move to California, where it was legal for high school athletes to earn money from NIL deals."
The day after the call, Heitner was back in contact with Big Rev. Cunningham texted the Fort Lauderdale-based attorney. In text messages provided to On3, Big Rev wrote to Heitner: "Don't let Nico [Iamaleava] have all the fun! Get my boy a deal!" The conversation did not stop there, though. "By the way, I may be making my way to California here soon God willing."
Big Rev was asking for cash Heitner alleges Caspino told the Cunningham family he could help secure. 
On June 4, Heitner referred Big Rev to his former Florida undergraduate classmate, Justin Giangrande. At the time, Giangrande ran Levels Sports with Chris Flores, better known as "Coach Frogg." 
"This is pure fantasy on the part of Heitner who is desperately trying to hide his involvement with this disaster," Caspino told On3 when asked for comment. "The text messages show the truth. Heitner sent T.A. Cunningham to California to live with an alleged sex offender. This is all on Darren."
Giangrande was introduced as a marketing agent who could provide assistance to T.A. Cunningham, if he and his family ultimately decided to move to California. From there, Heitner says he exited all talks with the Cunninghams.
Giangrande then made introduced Flores and sent over a Levels Sports pitch deck, included in last week's court filing, which included clients DJ Uiagaleli and JuJu Smith-Schuster, as well as Los Alamitos stars and USC commits Malachi Nelson and Makai Lemon. 
Eventually, the two parties worked out a contract, which was included as an exhibit in last week's court case. A deal was signed on June 28, where Level Sports would take a 20% commission on every deal, plus any expenses incurred. Levels Sports held limited power of attorney, and either party could terminate the contract within 30 days. 
The deal has since been terminated. All Level Sports activity has been put on pause.
On July 7, T.A. Cunningham announced he was leaving Georgia and transferring to Los Alamitos. And on August 12, Coach Frogg was arrested for allegedly sexually assaulting a 14-year-old girl multiple times in 2021. 
Attorney feud leaks into courtroom
Darren Heitner and Michael Caspino have each positioned themselves to be successful in the new NIL landscape. Heitner primarily spends his time looking over and drafting contracts for athletes with major brands. Caspino also spends most of his days working on contracts, only dealing with collectives instead of businesses. 
The two have been at odds since the start of this past spring. Heitner has been public in his disdain for Caspino, first calling out the attorney on Twitter in May. Caspino had sent The Athletic's Stewart Mandel a comment on Jimbo Fisher's reaction to Nick Saban's comments directed toward Texas A&M. 
Heitner quickly fired back on Twitter, pointing out the NCAA's policy guidance regarding third party involvement. The two have continued to go back-and-forth, with Heitner sometimes alluding to Caspino but not naming him. Caspino said he asked for tweets to be redacted, threatening defamation on occasion. 
And the two are at odds again. Heitner's name was all across the petition submitted to the Orange County court last week.
"For those who follow the NIL space, it's no secret that Mike and Darren aren't fans of each other," NIL and sports attorney Mit Winter told On3. "So the fact that they're continuing to feud isn't surprising. But I didn't think we'd reach a point where their disagreement made its way into a lawsuit where one is accusing the other of improper activities."
What happens next for T.A. Cunningham?
T.A. Cunningham has yet to play a high school football game in the state of California. And the 2024 four-star prospect has not announced a NIL deal to date. He also has not committed to play college football anywhere yet, although he holds offers from Georgia, Tennessee, Florida State and Texas, among others.
Cunningham and his eighth-grade brother, T.K. Cunningham, spent time living with Coach Frogg when they first moved to California. The brothers moved from couch to couch and are now living with the president of Los Alamitos' Pop Warner league. According to The Athletic, Laura Hart is listed under "parent/guardian/caregiver" on Cunningham's CIF transfer application.
Orange County Judge Layne H. Melzer said following his decision last week the CIF Southern Section has until Sept. 27 to complete an undue influence investigation, examining whether the Los Alamitos coaches had any sway on Cunningham transferring to the school. If they do decide to reinstate the 6-foot-7, 275-pound defensive lineman, he will only have five games remaining. 
All the evidence that NIL played a major factor in his decision to move to California filed in the petition will not help T.A. Cunningham's case. 
"This is the ugly side of NIL," Caspino told On3 last week. 
Cunningham's situation may be the first, but he will not be the last highly-touted prospect to leave their home state due to his NIL potential. Nothing is stopping high school athletes from moving across the country to California, Washington, D.C., Louisiana or New York – all states that allow high schoolers to turn a profit. 
Major talent-rich states Texas, Florida and Georgia prohibit NIL. There's now cash to be made before reaching even the college ranks.