AT&T Fiber enters NIL with The Volunteer Club, Lady Vol Boost Her Club partnership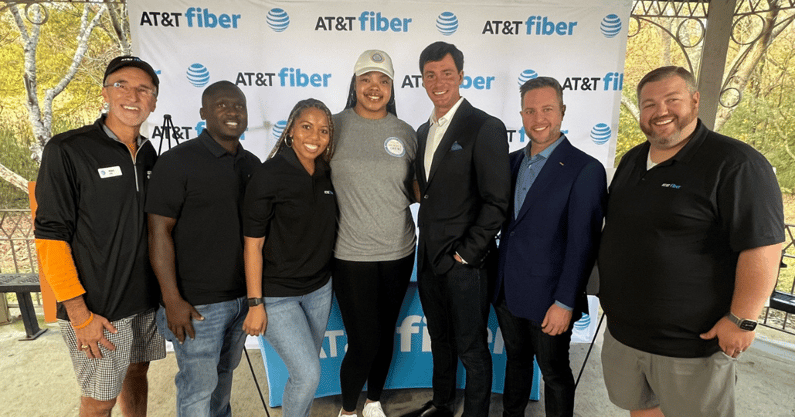 The Volunteer Club and Lady Vol Boost Her Club have collaborated to bring NIL opportunties to Tennessee athletes.
The two collectives have partnered to help bring AT&T Fiber into the NIL space. Tennessee quarterback Hendon Hooker has signed on next to Lady Vol basketball players Tamari Key, Sara Puckett and Jordan Walker. The four Vols will be promoting AT&T Fiber services used throughout Knoxville.
The deal calls for athletes to promote the company on their social media channels. It marks the first time the telecommunications brand has struck any type of Name, Image and Likeness partnership. The AT&T Fiber portion of the company services nearly 150,000 homes and businesses around the Knoxville area.
The move is just the latest in a long list of deals The Volunteer Club has brokered. Managed and facilitated by Spyre Sports Group, a sports marketing agency based in Knoxville, the club supports student-athletes through a monthly membership program. It's distributed more than $4.5 million to Tennessee athletes.
The Lady Vol Boost Her Club was launched this past summer. With a mission to develop NIL opportunities for female athletes at Tennessee, it has expanded from only women's basketball to softball and soccer.
"We are excited to create a new partnership with AT&T and University of Tennessee student-athletes," Volunteer Club CEO and Spyre co-founder James Clawson said in a statement. "This a perfect opportunity to highlight AT&T"s ultra-fast fiber services through student-athletes at Tennessee."
Hooker has led Tennessee to a No. 3 national ranking and touting a 7-0 record. With his name near the top of the Heisman conversation, he's thrown for 18 touchdowns with a 70.6 completion percentage.
Tabbed as the No. 5 team in the country entering the season, the Lady Vols open play on Nov. 8 at Ohio State.
"As a life-long Vol fan and alumnus, I'm so excited to see our brand join forces with these athletes to bring high-speed internet to even more Tennesseans," AT&T's Tennessee regional director Alan Hill said. "Whether it's running up and down the field or on the court, these student-athletes are the perfect ambassadors for our reliable AT&T Fiber service with simple, straightforward pricing."
Hendon Hooker's rising On3 NIL Valuation
The Tennessee quarterback continues to see his NIL value rise. Hendon Hooker's On3 NIL Valuation currently sits at $972,000, a $156,000 increase from last week. He now ranks No. 23 in the NIL 100, which is the first of its kind and defacto NIL ranking of the top 100 high school and college athletes ranked by their On3 NIL Valuation. He ranks No. 13 among college football players.
The On3 NIL Valuation is the industry's leading index, setting the standard market NIL value for high school and college athletes. A proprietary algorithm, the On3 NIL Valuation calculates an athlete's NIL value using dynamic data points targeting three categories: performance, influence and exposure.
While the algorithm includes deal data, it does not act as a tracker of the value of NIL deals athletes have completed to date, nor does it set an athlete's NIL valuation for their entire career. The On3 NIL Valuation calculates the optimized NIL opportunity for athletes relative to the overall NIL market and projects out to as long as 12 months into the future.