Shakas Up Sports launches as Texas A&M-Corpus Christi NIL collective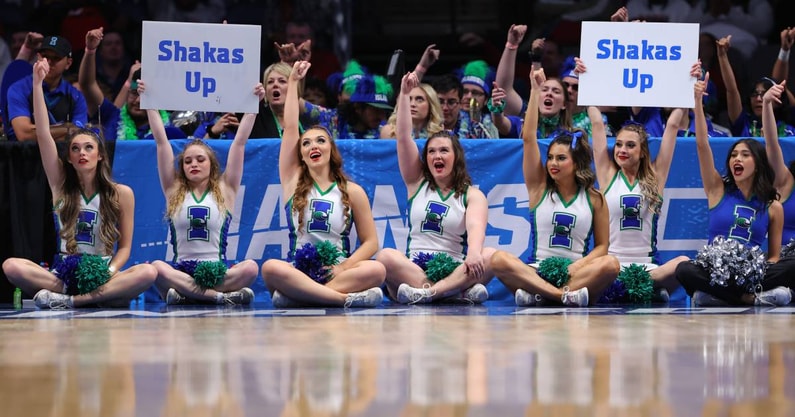 The name, image and likeness collective Shakas Up Sports launched Monday to support Texas A&M-Corpus Christi athletes. The announcement comes a few weeks after Texas A&M Corpus Christi's men's basketball team made its second consecutive NCAA tournament appearance. The Islanders have three NCAA tournament appearances in program history since they officially joined the Southland Conference for the 2006-07 season. Two of the bids have come in the first two seasons of coach Steve Lutz's tenure.
The collective's website displays a graphic that suggests a $100,000 fundraising goal. It says Shakas Up Sports has raised $29,000 so far.
A low six-figure goal is consistent with many collectives that support athletes who attend an institution with an FCS program or that competes in a conference that only sends one school to the NCAA men's or women's basketball tournament.
The Islanders' women's basketball program hasn't made the NCAA tournament. In 24 seasons competing at the Division I level, they have a winning percentage of .504. However, in three of the last four seasons Texas A&M-Corpus Christi has been among the best teams in the Southland.
It finished with a 19-12 record in the 2023 season, including a 14-4 record in conference play, which was tied for the best in the conference. The Islanders went 11-3 in Southland play in 2022. In the 2020 season, Texas A&M-Corpus Christi finished 23-7, which is tied for the best single-season winning percentage in program history, including a 17-3 mark in conference play.
Texas A&M-Corpus Christi sponsors 16 athletic programs. The university transitioned from Division III to Division I after the 2001-02 academic year. The Islanders competed as a Division I independent starting in the 2002-03 season through the 2005-06 season.
Shakas Up Sports to offer exclusive opportunities
"We strive to create a supportive environment that nurtures personal and professional growth for our athletes while fostering a sense of community among fans," the collective's website says. "Recognizing the significance of personal branding and NIL's opportunities, our comprehensive approach ensures student-athletes maximize their potential in today's competitive landscape. Our team, comprising industry experts and former Islander alums, works relentlessly to develop tailored strategies for each athlete. Our focus is personal branding, skill enhancement, financial literacy, and long-term career planning. We equip our athletes for success during their time at TAMUCC and beyond.
"Shakas Up Sports presents exclusive opportunities for our devoted fans to engage with their favorite athletes and teams. Through various events, merchandise, and interactive experiences, we aim to bring fans closer to the action and fortify the bond between the Islander community and its sports teams."