Inside Vanguard Volkswagen's NIL investment into Texas football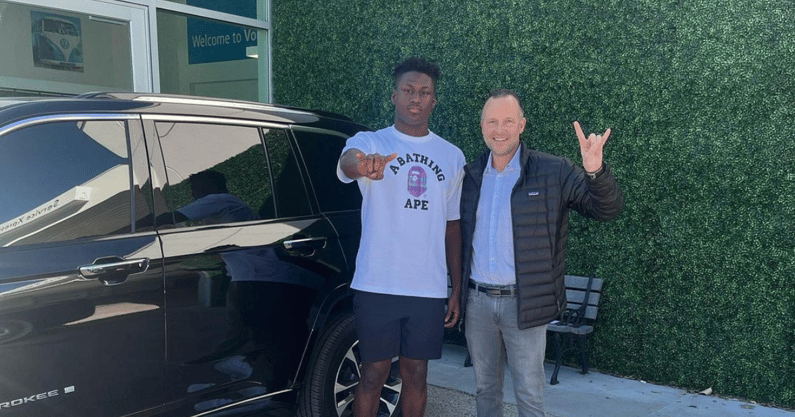 Chris Late only planned to dabble in the NIL space.
The owner of Austin's Vanguard Volkswagen thought he would just start simple. In the last year, Late moved into Austin with his Volkswagen dealership. But he also has previously established locations across the state of Texas, with shops in Arlington, Carrollton, Hughes Springs and Sherman.
A Texas alum, he grew up with Longhorn football. His father played a role in establishing the Big Wheels program at the school. What better way to grow his brand's recognition than NIL?
"I kind of grew up with it as a kid, my family all went to Texas — it was just kind of in our path," he told On3 this past week in a phone interview. "When the NIL opportunities came up for these kids, we thought it'd be a great way to kind of represent who we are and help out some kids.
"Also possibly get some good social media attention from it and future clients. And, you know, as some of these kids go on to be successful, whether it's the NFL or whatever else in life, they'll always feel comfortable coming back to me to buy a car."
Late's first plan was to sign Quinn Ewers — who has more than 200,000 social media followers — to a partnership. He agreed to terms with Texas starting quarterback in October.
It didn't stop there, though.
"My first player was Quinn," Late told On3 in a phone interview this week. "And then immediately following him, we had [Diamonte] Tucker-Dorsey. And we signed Roschon Johnson and T'Vondre Sweat. So you know, my original plan was to kind of go with four people. Four players have now turned into 10 or 12."
What was a simple NIL blueprint continues to grow. In the last two weeks, he has announced car deals with Johntay Cook II, Justice Finkley, Anthony Hill, Kelvin Banks, Malik Muhammad, Jaylan Ford and DeAndre Moore Jr.
While Late declined to go into specifics on what the deals look like, he said each athlete's contract is different and depends on the player. They are all allowed to drive their respective cars off the lot.
NIL deals with car dealerships have become one of the most popular activations over the past 18 months. In return for promotion on social media and maybe a few appearances, athletes are able to have access to a vehicle during their time in college. While earning cash compensation is a big win for athletes in the NIL Era, being able to have a car is a major win.
Late said it is too early to truly gauge if there has been a return on investment for the Austin dealership. But there has been a rise in brand awareness since the first deal with Ewers was announced in October.
"I just got my first dealership here in Austin in September of last year," he said. "So last year, we were kind of running everything out of Dallas, which was fine, because plenty of stores up there and good footprint and still in the state of Texas. But now that I have the store at Austin, we're trying to run as much of the marketing aspect of it through the Volkswagen store."
With more than 10 players now part of the Vanguard program, Late has the option to continue to expand. He said he has heard from multiple athletes from other Texas programs but plans to stick with football for the now.
He knows the university is grateful for the deals he's already created. Ewers could be a Heisman dark horse this season. The signings of Cook, Hill, Muhammad and Moore all came within a month of their arrival at Texas, making clear the NIL opportunities they will have during their time in Austin.
On top of providing a set of wheels for the athletes, he has been able to get to know them off the field. That's been another win in his eyes.
"You could definitely tell a lot of these kids have really good heads on their shoulders," Late said. "And, you know, they're focused and determined. Very appreciative for the opportunity. It's easy for them to get a cool car. But also easy with social media these days for them to snap some pictures and make a quick comment for us."