Texas state representative's NIL bill would allow some high school athletes to profit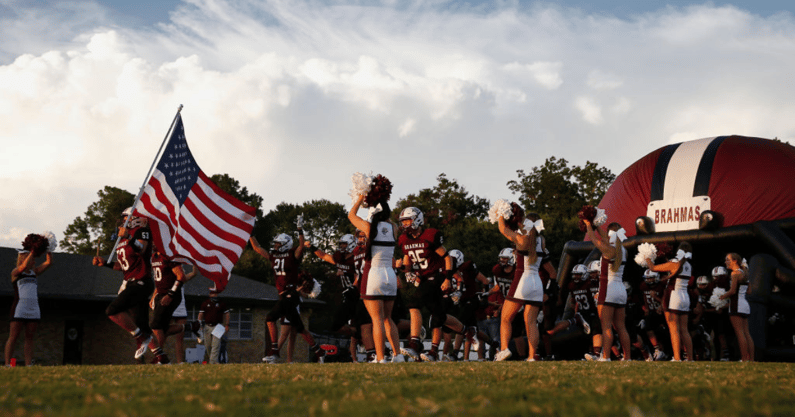 Texas, the state with one of the most restrictive name, image and likeness laws in the country, could soon allow some high school athletes to profit off their publicity rights.
State Representative Giovanni Capriglione, a Republican from Tarrant County, filed a bill Monday that would reform the state's preexisting legislation. Titled House Bill 1802, the proposal would allow athletes in the University Interscholastic League (UIL) — the governing body of Texas high school athletics — to engage in NIL-related activities if 18 years or older and meets grade requirements.
The 88th Legislature's regular session began on Jan. 10 and runs through May 29
According to the bill, those grade requirements would follow section 33.081 of the state's education code, which states students will be suspended from extracurricular activities if they receive, "a grade lower than the equivalent of 70 on a scale of 100 in any academic class other than a course."
Most athletes turn 18 years old during their senior year of high school. However, the bill would limit underclassmen. On top of an athlete's age and grades, they would be prohibited from promoting, alcohol, tobacco, e-cigarettes or nicotine devices, anabolic steroids, sports betting or casino gambling.
Reform for NIL at the high school level in Texas will have to come from the statehouse as opposed to a high school athletic association. In the current Texas state law regarding NIL, it is outlined that prospective athletes are not allowed to monetize their NIL prior to their enrollment at a university.
How quickly the legislation could become law is unknown. Before it can be voted on in the House and passed along to the Senate Committee, it will have to be assigned and voted out of a Texas House Committee.
Meanwhile, Dr. Susan Elza, the athletic director of the UIL, has been named Matt Rhule's chief of staff at Nebraska.
The move comes at a time when states across the nation are grappling with NIL at the high school level. Currently, 25 states allow athletes to monetize their NIL, along with the District of Columbia.
Multiple states, however, with major pools of high school talent have yet to follow suit. And while Georgia has started a conversation regarding NIL, Florida has yet to budge.
"In Georgia and Florida, they don't have the law," Mit Winter, a sports attorney at Kennyhertz Perry LLC, told On3. "They just have the state athletic association rule. If Texas does it, I would think other states in the South that are holdouts right now to change as well."
Where is NIL allowed for high schoolers?
Illinois and New Hampshire recently became the latest state associations to join the ever-growing list of states allowing high school student-athletes to participate in NIL deals without losing eligibility.
High school associations that changed their bylaws in 2022 to allow NIL on the high school level:
Colorado
District of Columbia
Idaho
Illinois
Iowa
Louisiana
Maine
Maryland
Massachusetts
Minnesota
New Hampshire
North Dakota
Oklahoma
Oregon
Pennsylvania
Rhode Island
Tennessee
Utah
Washington
It's also permissible in Alaska, California, Connecticut, Kansas, Nebraska, New Jersey and New York. Plus, high school officials in Arkansas, Indiana, Michigan, Missouri, Montana, Nevada, North Carolina, South Dakota and Wyoming have indicated they're also having discussions about revising their current NIL regulations.