The Brandr Group, Hyperluxe strike partnership with Ole Miss' Grove Collective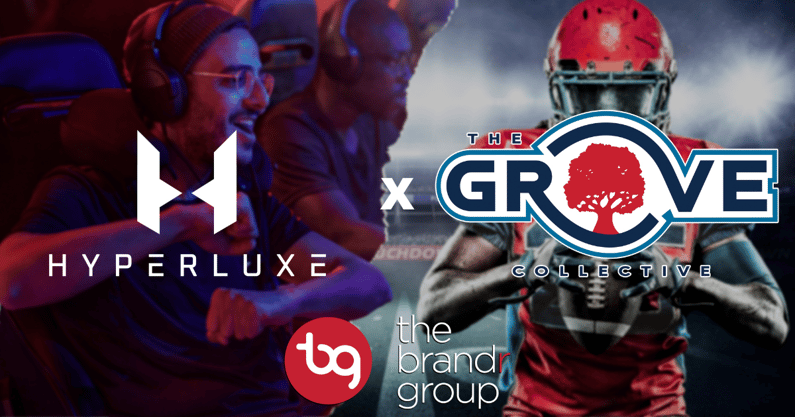 The Brandr Group is ushering yet another company into the NIL space.
The firm currently works with more than 80 institutions across the college landscape. It also has preexisting relationship with the Ole Miss-focused Grove Collective. The partnership aims to create national and local athlete NIL deals co-branded with the institution.
In the next few months, Grove Collective athletes will start participating in monthly eSports tournaments run through the Hyperluxe platform. The first NIL work for the eSports company, the competitions will be open to all Ole Miss students, alumni and fans. The online tournaments will feature Grove Collective athletes competing and interacting with the gaming community.
Executive director Walker Jones believes it's an immediate value add for members of the collective. And when athletes are not on the court or field, odds are they are playing video games in their dorm or apartment. This makes sure they're making the most of their time and NIL value.
"We've tried to pride ourselves on kind of being the cutting edge," Jones told On3 in a Zoom interview on Wednesday. "For us to be competitive in the SEC given the disparity and resources at the Power 5 level, it's really one of the main ways that we can punch above our weight class, so to speak, and create more value for our athletes.
"The positive buzz that we can create in the marketplace shows people we're thinking outside the box. We're always looking for innovative ways to help athletes build their NIL."
How Hyperluxe will be implemented at Ole Miss
Gaming has trickled into the name, image and likeness space over the past few months. Before November's Ohio State and Michigan game, athletes from both schools played in a Fortnite tournament with $55,000 up for grabs.
This new initiative will operate differently. Through deals with the Grove Collective, participating in the tournaments will be one of their action items in contracts. EA's Madden NFL will be the first game tournaments are centered around, however, Hyperluxe is capable of adding more gaming options.
The Hyperluxe product provides events landing pages, custom sponsorship integration, subscription models and a string of administration functions. The platform has social integrations for gameplay, too.
"If you look at the beginnings of Hyperluxe, we really started off as what would be called a traditional eSports company offering different tournaments and things of that nature," Kurt Lunkwitz said in the Zoom call. "When you start to look at the evolution and then see the opportunity within collegiate ranks, universities and NIL athletes, I think the one thing that everyone will agree on here today is all of these players, they're all gaming. The university fan base, the communities – they're all gaming."
Grove Collective is starting point for Hyperluxe, TBG
Dan Barrett oversees regional and local partnerships for TBG as executive vice president. Over the past few months, he has assisted in assisting brands land group licensing agreements in NIL. TBG played a notable role in Hally hair and beauty signing deals with more than 100 Baylor athletes. The Grove Collective also has a working partnership with Wheels Up thanks to TBG.
Barrett was not the one who found Hyperluxe, though. Jones presented the opportunity to TBG, which then helped move forward the relationship.
"Actually, Walker had this opportunity through other relationships he had that he brought to the attention of all of us," he said. "He looped all of us, the Hyperluxe folks, TBG and obviously Grove Collective as kind of the three-prong monster to pull it all together. So, we're helping activate on the student-athlete side, and helping build that piece out of it and making sure that we're aligned with Grove Collective athletes.
"How do we find these opportunities that other additional collectives across the country, especially at schools we already work with?"
TBG and Hyperluxe plan to bring this program nationwide. Barrett mentioned expanding to collectives at institutions it already has relationships with. In the future, different collectives and their memberships could be going head-to-head with each other.
"The super exciting thing about our platform, since we built it from the ground up, and it's a proprietary platform, is that your imagination is the limit of what we can do here," Hyperluxe COO Abbey Parcellin added. "We can go collective-against-collective or athlete-against-athlete. We can do something for all the Hyperluxe collectives. There are so many opportunities for innovative new ways to engage the fan bases."
As On3 reported earlier this week, the NIL landscape has naturally matured as it approaches its two-year anniversary. It is clear there has become an unannounced tiered system. Programs are operating on vastly different budgets. The top-funded organizations aim to have a bankroll of $8 million for an 85-scholarship roster, multiple sources indicated to On3. 
Collectives are working to create viable fundraising models. That means dealing with booster fatigue while trying to field a winning football team.
Trying to create a friendly community that donors want to continue to return to is crucial. This only adds to the Grove Collective's previous work.
"It's the challenge that we face on sustainability from a fundraising standpoint," Jones said. "Donor fatigue is real. The university certainly hasn't paused all its capital campaign. So our fans are continuing to get asked to do a lot financially. Anything that we can do to create the value of, 'OK, what am I getting something for my money outside of just hoping we beat LSU next year or hoping we win the conference tournament?' This is something additive to that."