The NIL Stylist: Laura Fedock turning college football gamedays into high fashion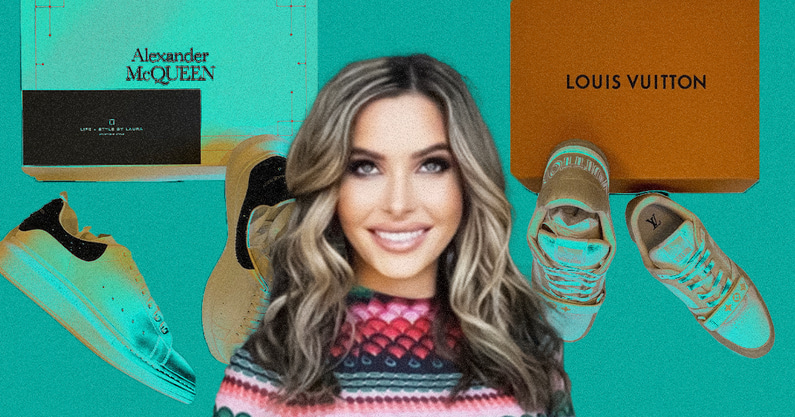 Laura Fedock loves college football. She loves fashion and has an entrepreneurial mind. So, of course, it only makes sense that Fedock married her passions through her Life+STYLE by Laura brand to become the en vogue NIL stylist for college football stars.
Fedock grew up in the Lone Star State. So, like any true Texan, she's a fan of college football. While in college at Texas Tech, she worked in the recruiting office under then-Red Raider coach Mike Leach. After graduation, she eventually launched Life+STYLE by Laura, a Dallas-based company that's grown to more than 1,000 clients. She works as a stylist, personal shopper, wardrobe consultant and image expert. She was even recently recognized as one of the top 10 influential women on Instagram by Yahoo.
It's that unique background in football, business and fashion that caused Fedock to gravitate to the NIL space.
Since last July, Fedock has secured NIL deals with 16 players from top programs coast-to-coast. Her client list includes sure-fire future NFL stars like Georgia linebacker Nolan Smith and Alabama offensive lineman Emil Ekiyor.
It also includes other well-established players like Texas A&M defensive back Demani Richardson, Oklahoma receiver Theo Wease, Texas Tech quarterback Tyler Shough and Michigan receiver Andrel Anthony. She's even struck deals with stars of the future, such as USC cornerback Domani Jackson, who was a Five-Star+ recruit in the Class of 2022.
"She wants her players to succeed on the field, but she truly cares for these guys off the field," said GSE Worldwide associate agent Hunter Kirsch, who helped facilitate a NIL deal between Fedock and Crimson Tide receiver and former four-star recruit Emmanuel Henderson. "The guys just love her. They love her presence. They love her energy. She's a good mentor to these guys who need someone that's honest and trustworthy to help build their identities and brands early on in their careers."
Fashion essential in brand building
Fashion has become an integral part of the sports and entertainment business. It contributes to a player's longevity and visibility in the public eye.
As Arizona Cardinals receiver DeAndre Hopkins says: "Players don't get a lot of face time, so we've got to create those little moments for ourselves and make them last." That style guide has trickled down to the college ranks. Now, thanks to NIL, players can build their brand and uniqueness early on with businesses like Fedock's.
"One of my philosophies all along is that you are your own brand," Fedock said. "The way you dress – it's not too superficial – is how people see you. So, the first question I ask these guys is, 'How do you want to be seen? Do you want to be seen as confident? Charismatic? Likable? Determined? What is it? So, every single decision that I make wardrobe-wise for their gameday looks, for their casual look, for appearances, whatever it may be, all goes back to what image we are trying to achieve."
Fedock said her NIL partnership allows players to focus on what's most important – looking good on and off the field.
"Guys have a lot on their plate," she said. "They are full-time students. They are full-time athletes, and now they're businessmen. So, why not allow me to kind of take a huge pressure off of them and make this really fun?
"When they feel good about how they look that internal confidence becomes external. And then there's that 'it factor.' They can laser-focus. They've got their headphones on while getting off the bus. They're in game mode. They know they look good. They're getting photographed. And then they can just let their actions on the field speak for themselves."
What Life+STYLE by Laura NIL deals look like
Each of Fedock's NIL partners receives a welcome gift prior to the season. It consists of a reasonable monetary gift that's in the hundreds of dollars and a pair of designer sneakers.
For example, last week Alabama receiver Jermaine Burton announced his NIL deal with Fedock. With the announcement, Burton shared a video of his welcome gift that featured Prada Cloudburst Thunder sneakers with gold accents that will set you back $1,200.

When he announced his deal two weeks ago, Oklahoma linebacker DaShaun White shared that his welcome gift included sold-out and impossible-to-find Dunk Low Next Nature Nike Sun Club sneakers. Henderson's had Dolce & Gabbana sneakers, Smith's had Louis Vuitton shoes and Young's contained DIOR B23 High-Top Sneakers.

After the welcome offering comes an over-the-top gift basket. These baskets are similar to what NFL agents gift their clients before the start of the season. Yet, Fedock's baskets come with a high-fashion twist.

Fedock says the gift baskets are generally valued at around $2,000. The basket contains sneakers, custom game-day suiting, strategically selected casual clothing, jewelry, sunglasses and many other items. She says, "no two baskets are the same" and "there is nothing cookie-cutter about the process."

Furthermore, the athletes are also offered two virtual styling appointments per week. This comes in handy for styling gameday looks. They also get a significant shopping budget. Each athlete spends time before and during the season to utilize their budget with Fedock's guidance. She also ensures the student-athletes "enjoy the fun side of fashion all while making smart purchasing decisions."

In return, the players go out of their way to promote Life+STYLE by Laura and the brands she works with on their social media handles. It's not just a one-post type of thing. Players will be wearing and representing Fedock's business, the high-fashion companies and their own personal brands throughout the college football season.
It goes beyond looking good
Deion Sanders famously said if you look good, you feel good and then you'll play good. But Florida tight end Jonathan Odom says his partnership with Life+STYLE by Laura is more than just getting cool clothes.
"That for sure is part of it," Odom said. "It's also part of your brand. It's how people want to see you as. Do you want to be seen as somebody who wears basketball shorts when there are thousands of cameras around you? Or do you want to be the guy that takes the time to look nice and presentable?
"It's more of a brand thing for yourself – how you want to present yourself. And on top of that, there's the look good, feel good, play good aspect. It just heightens your emotions when you're dressed up like that."
Odom says Fedock has helped him define his brand.
"My whole thing is that I like to be different," Odom said. "I like to stand out. I want people to say, 'I've never seen that before.' In the next couple of weeks, I'll be wearing a pink suit. I like people to be like, 'Wow, I've never seen that in my entire life.' That being different than anybody else is something that Laura has helped me with."
Along with the pink suit, Odom has some other things that will turn some heads later this season thanks to Fedock. They include an all-white suit and a suit decked out in "Masters Green" and red that will remind folks of a Christmas tree.
"My teammates are all jealous," Odom said. "They've all been like, 'How do you get a deal with her?' But she won't just work with anyone. It's not just a handout. She's really working with people that she can elevate from a brand standpoint. She wants it to be a good partnership."
NIL deals help build Life+STYLE by Laura's recognition
While the players get a lot out of the Life+STYLE by Laura NIL deals, Fedock also benefits in a number of ways.
One of the biggest certainly is the name recognition for her company. Tweets featuring the players' welcome gifts have gone viral on social media, especially on Instagram. The amount of attention generated by the NIL deals has provided Fedock and Life+STYLE by Laura with a tremendous return on investment.
Then there is also the long game.
Fedock says she's entirely focused on college sports and helping student-athletes through NIL deals. Yet, brand experts say it's wise of her to engage with college stars that could become NFL stars of tomorrow.
"One of the greatest things about NIL is that brands often get to align and build relationships with athletes before they are surrounded by agents and marketing teams," said Christopher Aumueller, founder and CEO of the athlete storytelling and branding company FanWord. "It makes those athletes a lot more approachable, relatable and authentic. I absolutely believe that brands building those relationships early are very smart from a business perspective, too. Also, as an athlete, I would prefer brands to believe in me from the start and not just when I sign that huge NFL contract, for example.
"That usually builds a more authentic and trustworthy relationship. And I think what Laura is doing is phenomenal and a great, untouched niche in the NIL space."
Even with all that, Fedock is focused on the present. She cherishes the relationships she's built through the NIL deals. Yes, the deals have been good for her own personal brand and business. But to her, it's much more than just a NIL deal.
"My intentions are really pure," Fedock said. "I want these guys to be surrounded by people that are not just 'yes people,' and I want them to have somebody that genuinely cares.
"'You have outstanding athletic ability. But underneath all this, you are a person. And I always want you to understand that I am here. If you ever need somebody to talk to, if somebody in your family isn't there, you need somebody to listen, I'm here.' I've been a part of their lives on a much deeper level. Fashion is my in with them. But I'm genuinely there and I care. I knew going into this that it would be a time commitment and a monetary commitment. But it's so rewarding to me to help these guys."
And that's why Fedock's NIL deals have become so in fashion for the 2022 college football season.