Top 10 On3 NIL Valuations in 2023 men's NCAA Tournament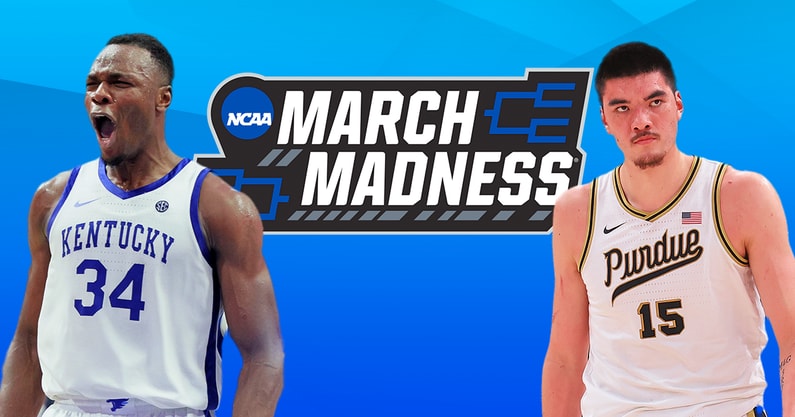 March Madness creates opportunities for athletes to capitalize off their NIL rights. And while a lot of attention has been on football since NIL's inception, more and more brands understand men's basketball stars have massive social media followings and can create a solid return on investment for NIL deals.
On3 is breaking down the top 10 On3 NIL Valuations entering the men's NCAA tournament.
Kentucky center Oscar Tshiebwe
On3 NIL Valuation: $915K
On3 NIL 100 Rank: No. 25
Social Media Followers: 132K
The reigning Naismith Player of the Year has a legitimate shot at winning a national title this March. If he and his teammates are able to pull together the run is a different question. A year after being bounced in the first round by St. Peter's, Oscar Tshiebwe returns to the Big Dance. As a No. 6 seed this tourney, the Wildcats will have a matchup with former Kentucky forward Bryce Hopkins and Providence in the round of 64. Tshiebwe is still averaging a double-double with 16.5 points and 13.1 rebounds.
The 6-foot-9, 260-pound center has also been able to cash in on his publicly rights more in the last year. While the rest of his teammates were focused on bonding and playing exhibition games in the Bahamas in August, his schedule was filled with filming commercials and signing autographs because he has not been granted an O-1 visa. He had to take advantage of the time he was in international waters. Tshiebwe reportedly made $500,000 over the seven-day trip, bringing his total NIL earnings to about $2.75 million. The content he filmed has been used throughout the season in the deals he's signed. He's just another example of how NIL played a factor in staying in college another season, even if it meant jumping through a few more hoops.
Indiana forward Trayce Jackson-Davis
On3 NIL Valuation: $887K
On3 NIL 100 Rank: No. 27
Social Media Followers: 147K
When Indiana big man Trayce Jackson-Davis announced his withdrawal from the 2022 NBA Draft in May, there was potential for a big year. But the 6-foot-9, 245-pound forward has over-performed expectations. Entering the tournament, Jackson-Davis is scoring 20.8 points and grabbing 10.9 rebounds a contest. He's doing that while also dishing out 4.1 assists and shooting 57.8 from the field.
His return also led to more NIL opportunities. The Indiana-aligned NIL collective Hoosiers For Good has made sure to take care of him. Plus, Merchants Bank of Indiana renewed its agreement with Jackson-Davis as a brand ambassador for another season. His most notable partnership to date is with adidas, a deal announced back in December. His valuation has seen a $279,000 jump since the start of the season.
Purdue center Zach Edey
On3 NIL Valuation: $821K 
On3 NIL 100 Rank: No. 39
Social Media Followers: 45K
Purdue has not been to the Final Four in 43 years. Last weekend's Big Ten conference title was the first since 2009. Years like this are not taken for granted in West Lafayette. Thanks to Zach Edey, the Boilermakers appear to have the makings for a deep run. A favorite to win Naismith Men's College Player of the Year, he's shooting 60.6% from the floor which ranks in the top 20 in the country. He's also averaging 22.3 points and 12.8 rebounds. No team has seemed to have an answer for his work around the rim.
The 7-foot-4, 305-pound center has developed into one of the most recognizable players in college basketball. Since Edey is an international athlete, he has not been able to cash in like some other players. But he did partner with Campus Ink earlier this season. The parties came up with the "Big Maple" hockey jersey is in Purdue colors with the school's logo, along with Edey's name and number on the back. The company kept Edey out of specific talks surrounding the deal, making sure not to compromise his eligibility.
Arizona forward Azuolas Tubelis
On3 NIL Valuation: $787K
On3 NIL 100 Rank: No. 42
Social Media Followers: 45K
The native Lithuanian was named to the AP All-American second team earlier this week. Azuolas Tubelis has emerged as one of the best players on the West Coast. Entering the NCAA Tournament, he is averaging 19.8 points and 9.3 rebounds while shooting 57% from the field. Tubelis is not able to profit off his NIL, though. He is expected to be an NBA draft prospect later this spring. If Arizona can make a run in the Big Dance, Tubelis will be a major piece of that success.
Kansas forward Jalen Wilson
On3 NIL Valuation: $638K
On3 NIL 100 Rank: No. 63
Social Media Followers: 202K
Jalen Wilson was recently named the Big 12 Player of the Year after leading the league in scoring and rebounding with 19.7 points and 8.4 rebounds. He will have to lead the Jayhawks in the tournament with Kansas head coach Bill Self missing the team's first round game against Howard.
He's also No. 63 in the On3 NIL 100, which is the first of its kind and de facto NIL ranking of the top 100 high school and college athletes ranked by their On3 NIL Valuation. Wilson hasn't been as flamboyant as other college basketball stars with his NIL agreements, but he's had no shortage of deals during his time in Lawrence. His decision to return for another year has paid off. In the last few months alone, Wilson has struck deals with clothing companies Rally House and Charlie Hustle. He was also part of deals with a local Wendy's franchise and MiniJerzeys through deals that were facilitated by KU-focused Mass St. Collective.
Gonzaga center Drew Timme
On3 NIL Valuation: $626K
On3 NIL 100 Rank: No. 67
Social Media Followers: 110K
The Gonzaga big man decided last June to return to college basketball for another year and it has paid off. Drew Timme is averaging 20.9 points, 7.3 rebounds and 3.2 assists entering the NCAA Tournament while shooting an outstanding 62.4% from the field. The Zags beat Saint Mary's to capture the West Coast Conference title. And they'll be a No. 3 seed in the West Region.
He's also found plenty of success off the court. In recent weeks, he signed with Beats by Dre. He also previously gifted his teammates a headphone as part of the agreement. Timme is one of three college basketball players promoting Continental Tires this March, too. Barstool Gonzaga has merchandise featuring the big man. He signed with Seven1 Sports & Entertainment Groupfor representation back in August 2021. The agency is founded by Jermaine O'Neal and Tracy McGrady.
Kansas forward Gradey Dick
On3 NIL Valuation: $564K
On3 NIL 100 Rank: No. 76
Social Media Followers: 320K
Nobody has captured the attention of basketball fans in the Sunflower State more than KU true freshman guard Gradey Dick. He arrived in Lawrence as one of the nation's most heralded recruits and an On3 Industry Ranking five-star prospect. The Wichita (Kansas) Sunrise Christian Academy native lived up to the hype with 14.1 points and 4.9 rebounds a game while shooting 39.9% from 3-point range. He's been called by many as a one-and-done type of prospect.
But he could also stay in college to further cash in on his lucrative NIL opportunities. Since October, Dick has signed NIL deals with Long McArthur Ford, Adidas, Beats by Dre, Tommy's Express Car Wash and Continental Tires. A one-and-done season is not an afterthought, either. Dick is expected to go in the top 20 of the 2023 NBA Draft. Getting Kansas back to Final Four could make him a lottery pick.
Duke forward Kyle Filipowski
On3 NIL Valuation: $551K
On3 NIL 100 Rank: No. 81
Social Media Followers: 40K
After winning ACC Rookie of the Week countless times this season, Kyle Filipowski was named a first-team All-ACC performer as well as the league's Newcomer of the Year. The former five-star recruit and No. 1 player in the 2022 class has not missed a beat making the jump to the college level. The 7-footer is averaging 15.4 points and 9.2 rebounds.
Working with Excel Sports Management, he's kept the main focus on basketball. But in January, he announced one of his first public partnerships with Cuts Clothing. His brand has only grown this season. With a deep run in the tournament a possibility, more brands are going to want to align with Filipowski. Plus, he's expected to be taken in the first round of this year's NBA draft. Getting Duke back to the Final Four would only help his draft stock.
UCLA guard Amari Bailey
On3 NIL Valuation: $550K
On3 NIL 100 Rank: No. 82
Social Media Followers: 566K
With UCLA's Jaylen Clark shut down for the year with an Achilles injury, Amari Bailey will only have more to do on the court. He has missed time this year, too. But the freshman guard is averaging 10.6 points and 3.7 rebounds. His playing time has only ramped up in recent weeks, too. Off the court, he has signed with Roc Nation for NIL representation. Bailey has signed with the underwear brand Ethika, too. With more than half a million social media followers, a deep postseason run could have plenty of brands clamoring to work with him.
Houston guard Marcus Sasser
On3 NIL Valuation: $542K
On3 NIL 100 Rank: No. 84
Social Media Followers: 29K
Houston is hosting the Final Four this year and the Cougars may just be playing in it. Marcus Sasser is averaging 17.1 points per game and shooting 43.9% from the field. He's also dishing out 3.2 assists a contest for the Cougars, who have grabbed a top seed in the NCAA Tournament.
The senior won American Athletic Conference player of the year and is Houston's first first-team All-American since Hakeem Olajuwon. He suffered a groin injury in the AAC tournament semifinals.
The NIL partnerships continue to roll in, too. The 6-foot-2, 195-pound guard has signed with Little Woodrow's, Bose and Athletic Brewing Company in the past 10 days. That does not even include the agreements he has signed through the Houston NIL collective Linking Coogs. More opportunities will be there if he can get Houston back home.
About the On3 NIL Valuation
The On3 NIL Valuation is the industry's leading index that sets the standard market NIL value for high school and college athletes. A proprietary algorithm, the On3 NIL Valuation calculates an athlete's NIL value using dynamic data points targeting three primary categories: performance, influence and exposure.
About On3 NIL Valuation, Brand Value, Roster Value
While the algorithm includes deal data, it does not act as a tracker of the value of NIL deals athletes have completed to date, nor does it set an athlete's NIL valuation for their entire career.
The On3 NIL Valuation accounts for an athlete's roster value and brand value. Roster value is the value an athlete has by being a member of his or her team at his or her school, which factors into the role of NIL collectives. Brand value factors in an athlete's personal brand and the value it could bring to regional and national brands outside of the scope of NIL collectives.
The On3 NIL Valuation is publicly available. Performance, Influence, and Exposure ratings along with the athlete's personal Brand Value Index and Roster Value Index are available only to the athlete in the "Athlete Verified" private dashboard on the On3 Athlete Network.