Top 5 On3 NIL Valuations in Georgia, South Carolina showdown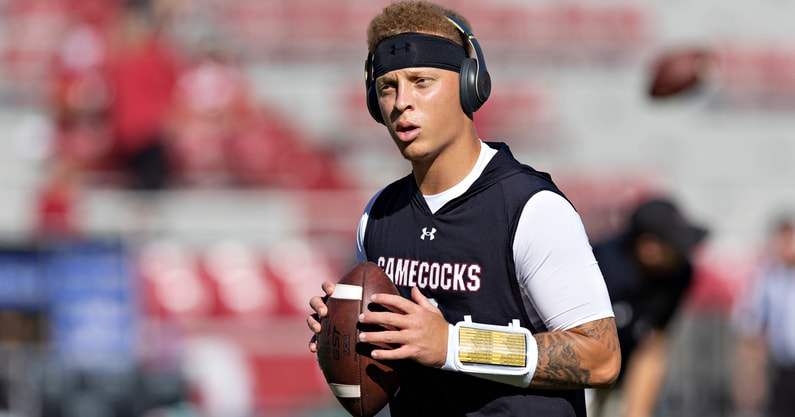 One of the biggest games of the college football weekend is Georgia at South Carolina in Columbia. And interestingly, the Dawgs and Gamecocks have rosters loaded with talent and NIL success stories.
UGA is coming in as the defending national champions and continues to ride high after blowout victories over Oregon and Samford. South Carolina is 1-1 after a loss last week on the road to No. 10 Arkansas. Georgia coach Kirby Smart says it'll be a tough matchup and this game will be one of the biggest tests the Dawgs face. Interestingly, both teams are chock-full of players that are doing well in the NIL world and would certainly be boosted by a big performance Saturday.
On3 breaks down the top-five On3 NIL Valuations ahead of this key SEC matchup.
1. Spencer Rattler
On3 NIL Valuation: $1.4 million
Per Post Value: $8,600
Position: Quarterback
On3 Impact 300 ranking: No. 223
NIL has been quite kind to Spencer Rattler since his transfer from Oklahoma to South Carolina. The star quarterback quickly inked a deal with the Garnet Trust collective and has generated other deals with companies like Jim Hudson Chevrolet and Blackwood for Men. If he can keep the Gamecocks on an upward trajectory this season, his $1.4 million On3 NIL Valuation will continue to balloon.
2. Jalen Carter
On3 NIL Valuation: $1.1 million
Per Post Value: $770
Position: Defensive line
On3 Impact 300 ranking: No. 5
Georgia's Jalen Carter backed up his Week 1 performance against Oregon with a strong showing against Samford. The defensive lineman finished with a tackle, pass breakup and three quarterback hits. He's now the top-ranked defensive player in the top 10 On3 NIL Valuations. He'll have his first SEC challenge this week against a South Carolina offensive line that has allowed nine sacks in two games. Carter already has a strong On3 NIL Valuation as one of the top defenders in college football. He's also executed a number of deals and even has his own apparel line. If he keeps it up, then the sky's the limit from a NIL standpoint.
3. Stetson Bennett
On3 NIL Valuation: $946,000
Per Post Value: $2,800
Position: Quarterback
On3 Impact 300 ranking: No. 58
Few have capitalized on their on-field success like UGA quarterback Stetson Bennett IV. Simply put, he's getting his now. Leading up to and after UGA's run to the national title, Bennett has been extremely active from a NIL standpoint. He's done deals with Synovus Bank, AARP, Hillpointe, Fanatics and Georgia Power. The deals will continue to pile up and so will his On3 NIL Valuation if he leads Georgia to another championship.
4. Brock Bowers
On3 NIL Valuation: $815,000
Per Post Value: $1,300
Position: Tight end
On3 Impact 300 ranking: No. 21
As one of the top young playmakers in college football, Georgia tight end Brock Bowers has already executed a handful of major NIL deals. He's built his On3 NIL Valuation to $815,000 through his play on the field and also through deals with NOBULL, Zaxby's and Associated Credit Union. He's been smart with who he's partnering with. But as he further established himself as one of the best tight ends in college with a huge NFL potential, he'll have businesses flocking to do deals.
5. Christopher Smith
On3 NIL Valuation: $661,000
Per Post Value: $634
Position: Defensive back
On3 Impact 300 ranking: No. 14
Georgia defensive back Christopher Smith had a monster start to the season, earning SEC Co-Defensive Player of the Week honors against the Ducks. Smith finished the game with six tackles including a tackle for loss and an interception. It was his second straight season-opener with an interception after he had a pick-six last season against Clemson. Smith's huge ceiling, strong start and NFL potential are key reasons why his On3 NIL Valuation has soared to $661,000. Smith has been selective early on with his NIL deals. For example, the only deal he's advertised on his social media accounts so far is an NFT partnership with The Players' Lounge.
About the On3 NIL Valuation
The On3 NIL Valuation is the industry's leading index that sets the standard market NIL value for high school and college athletes. A proprietary algorithm, the On3 NIL Valuation calculates an athlete's NIL value using dynamic data points targeting three primary categories:
+ Performance
+ Influence
+ Exposure
While the algorithm includes deal data, it does not act as a tracker of the value of NIL deals athletes have completed to date, nor does it set an athlete's NIL valuation for their entire career. The On3 NIL Valuation calculates the optimized NIL opportunity for athletes relative to the overall NIL market and projects out to as long as 12 months into the future.