Top five On3 NIL Valuations in Miami, Texas A&M showdown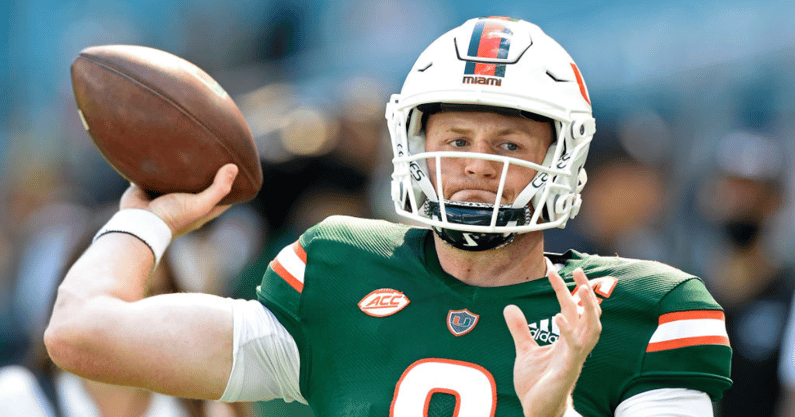 Saturday night was supposed to be a top-15 matchup between Miami and Texas A&M. Appalachian State had different plans. But now we have The NIL Bowl.
No two programs have been more prolific in the early days of the Name, Image and Likeness era than Miami and Texas A&M. Life Wallet founder and Miami mega-booster John Ruiz has dished out millions in NIL deals.
And the Aggies were at the center of college football's biggest offseason conversation, when Nick Saban accused them of buying every player on their team. Can't forget about Texas A&M's collective, The Fund, either.
Bring on The NIL Bowl.
The two teams meet on Saturday night at 9 p.m. ET on Kyle Field. On3 is breaking down the top-five On3 NIL Valuations ahead of the game.
1. Evan Stewart
On3 NIL Valuation: $915,000
Position: Wide Receiver
Per Post Value: $6,100
On3 Impact 300 ranking: N/R
Former five-star plus recruit Evan Stewart opted out of his senior year at Frisco Liberty. In his first two games playing in the college ranks, he's shown he has not missed a beat. Stewart has 10 catches for 105 yards, but he has yet to grab a touchdown. With a 2.4 million social media followers, the freshman ranks No. 24 in the NIL 100 and 15th in On3's college football NIL rankings. He's yet to sign an NIL deal, but his value is only starting to rise. With the Aggies making a change at quarterback, Saturday's primetime game provides the perfect situation to make a statement.
2. Tyler Van Dyke
On3 NIL Valuation: $642,000
Position: Quarterback
Per Post Value: $946
On3 Impact 300 ranking: No. 74
Tyler Van Dyke has been making the most of his NIL opportunities. The Miami quarterback has signed with College Hunks Hauling Junk & Moving, The Tank Brewing Company and Miami Millionaire's Club. He has his own trading cards thanks to a deal with The Players Trunk. And just this week, the Dan Le Batard Show announced Monday morning that he struck a deal with Van Dyke. The Miami quarterback is capable of on a show Saturday night, too. A 3-0 start to the season could place him in the Heisman conversation.
3. DJ Scaife
On3 NIL Valuation: $591,000
Position: Offensive Line
Per Post Value: $215
On3 Impact 300 ranking: No. 32
Last season, DJ Scaife mostly played at right guard, proving to be his strongest position. He slid out to the edge at right tackle this season, but he could move back inside Saturday night against Texas A&M. Miami allowed four sacks last week against Southern Miss. There's no question that Scaife is one of the top offensive linemen in the ACC. His On3 NIL Valuation ranks 40th in the college football NIL rankings. Miami is going to need to protect Tyler Van Dyke on Saturday night in College Station, though.
4. Tyreek Chappell
On3 NIL Valuation: $569,000
Position: Cornerback
Per Post Value: $566
On3 Impact 300 ranking: No. 13
Tyreek Chappell impressed as a freshman at corner for the Aggies last season, finishing on the SEC Coaches' All-Freshman Team. The former three-star recruit has bursted on to the scene, and he's building off his rookie campaign this year. Chappell has five tackles through two games this season with two pass breakups. He has yet to pull down an interception, though. His On3 NIL Valuation places him at No. 66 in the NIL 100.
5. James Williams
On3 NIL Valuation: $549,000
Position: Safety
Per Post Value: $611
On3 Impact 300 ranking: No. 60
The former five-star recruit pieced together a strong freshman year, earning All-ACC Honorable Mention and pulling down tow interceptions. James Williams is now back for Year 2 and will go up against a strong Texas A&M wide receiver corps on Saturday night. He has signed an NIL deal with Life Wallet, too, and has 44,000 social media followers. Williams is only starting to see his On3 NIL Valuation climb. He could give it a big boost this weekend.
About the On3 NIL Valuation
The On3 NIL Valuation is the industry's leading index that sets the standard market NIL value for high school and college athletes. A proprietary algorithm, the On3 NIL Valuation calculates an athlete's NIL value using dynamic data points targeting three primary categories:
+ Performance
+ Influence
+ Exposure
While the algorithm includes deal data, it does not act as a tracker of the value of NIL deals athletes have completed to date, nor does it set an athlete's NIL valuation for their entire career. The On3 NIL Valuation calculates the optimized NIL opportunity for athletes relative to the overall NIL market and projects out to as long as 12 months into the future.