Transfer Portal, NIL on collision course: 'I'm expecting total chaos'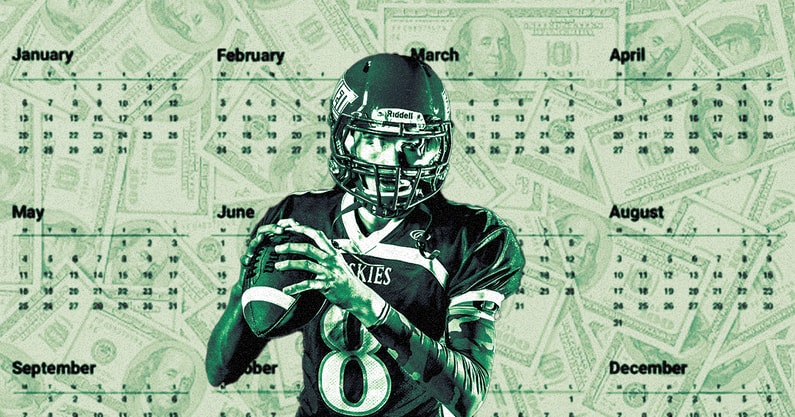 Dec. 5 is rapidly approaching. It's a date that has been circled for months. No matter how programs prepare, the Transfer Portal opens up in less than 20 days.
For some programs, it provides a chance for rebirth and to rebuild. NIL collectives have been prepping their war chests for months. For some collectives and programs, well, it's going to come as a shock to the system. 
"I'm expecting total chaos," an SEC staffer told On3. 
Some players will enter the Transfer Portal because they truly want a change of scenery and the opportunity to play elsewhere. But for some of the top talent in the country, the portal has become the NCAA's equivalent to free agency. There will be bidding wars and negotiation periods.
What was once unfathomable – athletes picking up, moving schools and earning a financial package in the process – is the new reality for some in college football. Forget the rants about how NIL is ruining the sport or how recruiting inducements are a violation of the NCAA's interim NIL policy. 
Schools and their fans want to win. They want to stay relevant. And for some to stay on top of the sport, that means dominating the Transfer Portal by using NIL-related resources.
"We've already gotten hit up quite a bit," one West Coast collective operator told On3. "I mean, that's what we're here for. We're here to support the kids. And so we will have our ducks in a row and make sure that we can support as much as we can.
"… At the same time, schools are going to screw up the alignment of the collective and their football program. I think that is going to happen, if not already happened. That's what happens when donors try to play fantasy football. This isn't fantasy football. And I think that's where NIL has kind of gotten to with this donor involvement."
Alignment, fundraising crucial
Trying to identify the culture fit, talent and market value of players will be an uphill climb for most programs when the Transfer Portal opens. The window begins right when coaching staffs are starting to jump into bowl game prep and closing out their high school recruiting classes. 
Of course, at the Power Five level, recruiting departments have already started to identify athletes they will target. Athletes who plan to test the portal waters have started to send out feelers to schools they're interested in, too. 
The portal closes 45 days later on Jan. 18, 2023. Checking over the film and setting up on-campus visits will be crucial in the first 15 days.  
"I think you have to do your due diligence, similar to what an NFL board would do relative to people that are put on the waiver wire," LSU coach Brian Kelly said earlier this month. "People that are free agents or anything like that, you better know the guys that are from the areas that you're interested in looking at. And so yeah, I think it expands your personnel department and puts more of an emphasis on understanding players that are in other programs."
For all the work happening inside a personnel department to identify talent and fit, NIL collectives are doing everything possible to raise funds and project a market value for athletes. With the NCAA's latest clarification, institutions are allowed to publicly assist in promoting fundraising efforts. 
Most booster-driven NIL collectives have been pushing for donations more than ever. Crimson and Cream, one of two approved NIL collectives at Oklahoma, announced just this week a large-scale fundraising campaign with a goal of raising $3 million in 30 days. Tennessee, which is sitting on the cusp of a College Football Playoff berth, has been pleading for Vols fans to answer the NIL call.
Those are only some of the latest examples. 
Even if at some schools the cash raised is not going to athletes as an upfront payment, it's part of the financial commitment players know they will receive when they do land on campus. 
There's little doubt which positions coaches and collectives will clamor to receive together the most lucrative NIL packages. 
"If you look at the National Football League, the premium positions getting drafted are the ones that are able to leverage more NIL money," a Big 12 analyst told On3. "Everybody needs a quarterback, left tackles. Everybody needs corners. Everybody needs D-linemen. 
"That's how you win football games. Throw the rock. Protect the Q. Get to the Q. And guys that can cover. It's the same exact model, and it's just happening at the college level now."
Projecting portal value
Trying to project a player's market value during portal season is the challenge collectives and coaching staffs will constantly face. If teams identify an athlete they want, all parties must be aligned. 
Overbidding for talent is a fear among stakeholders On3 talked with. For example, as the namesake of JohnCanzano.com reported earlier this month, West Virginia quarterback JT Daniels' father reportedly ran the conversation with Oregon State. The former USC and Georgia quarterback reportedly wanted a four-bedroom rental home as part of the deal, including one room dedicated to fitness equipment. Other rooms would have reportedly been used for family members who visited. 
That's only a slice of what athletes could ask. Oregon State ultimately lost out on Daniels, who headed to West Virginia. He ultimately received a NIL package in the mid-six figures, sources told On3. Another quarterback reportedly left the Power Five for a desirable Group of Five situation and commanded six-figure compensation. 
Not every situation is going to result in success for the school and athlete. Daniels has struggled this season in Morgantown. Still, athletes control their going rate. They have the final say.
"I think that's where you have to have an honest conversation with the kid and their family," an SEC staffer said. "What's your expectation? Because all these million-dollar deals, they're newsworthy, but they're exceptions. So, what is your value? What is their value to the team? 
"If they think, 'Hey, I'm worth this and if the collective matches that, then, you know, so be it. That's great.' But I think that's where honest conversations have to happen amongst everybody involved."
Year 2 of Transfer Portal, NIL 'gonna be on steroids'
When the portal does open, a wide range of talent is expected to appear in the NCAA's Transfer Portal database. Not every entry will try to find a new school immediately. Instead, multiple sources indicated to On3 the opening days will provide an opportunity for players to potentially renegotiate a deal or ask for cash from parties aligned with their current institution. 
Some athletes could theoretically begin that process now. A growing trend across the past month has been players announcing their intention to enter the portal, even if their name will not populate in the system until December. The announcements provide athletes with a bartering chip at their current programs. 
"I mean, if you were smart, and you were good enough to warrant it, I think you would just go in early," an SEC collective operator told On3. "And you would almost use it as an exclusive negotiating window with your current team. And when you get to where you want it to be, you would just pull out before the portal opens."
Added an SEC staffer: "You'll see guys going into the Transfer Portal, and then jumping right back out to hold schools accountable to pay them or pay them more."
There will be plenty of surprises, too. Jordan Addison caused shockwaves across the sport last year as NIL rumors ran crazy. Don't expect for a second that those situations won't pop up again.
"There were a few examples of that last year, I think this year is just gonna be on steroids," the same SEC collective operator told On3.