Jackson State's Travis Hunter inks NIL deal with Michael Strahan brand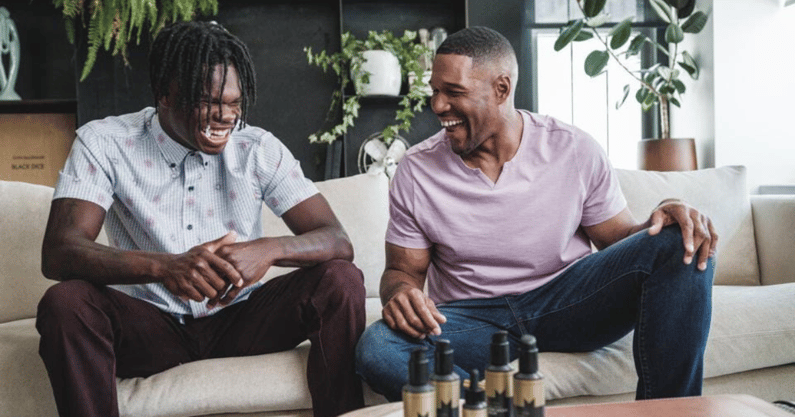 Former five-star plus recruit Travis Hunter shocked the college football world when he flipped his commitment to Jackson State back in December.
The athlete likens his game to Deion Sanders, who is now the former second-ranked recruit's head coach at Jackson State. And with the ability to monetize his NIL, Hunter is taking every opportunity he can.
Hunter announced Thursday he has signed on with Michael Strahan's lifestyle brand. The Good Morning America host and former Super Bowl champion, Strahan launched the company in 2015. The NFL Hall of Famer also started the talent management, music and production company, SMAC Entertainment, back in 2010 with his business partner Constance Schwartz-Morini.
As the first ambassador for Michael Strahan, Hunter will be the face of multiple brand efforts and appear in advertisements across the company's print, digital and social platforms.
"It means a lot," Hunter told Forbes. "It really inspires me to do more of the things he's doing for his brand and his community. … He's really at the top of what he does. He's one of the top people you want to work with. He can teach you a lot about what he does."
The Jackson State freshman had two passes defended in his debut against Florida A&M in the Orange Bowl Classic on Sept. 4. He missed the second game against Tennessee State and is expected to miss this weekend's home opener.
Strahan recently announced Michael Strahan Daily Defense, a new skin and shave line.
"Travis Hunter is a game-changer on and off the football field," Strahan told Forbes in an email. "This young man had the opportunity to select any school in the country but chose Jackson State University, an HBCU. His decision demonstrates his character, his vision and his confidence. He is also a great teammate.
"These qualities resonate with me and my brand. I admire this young man and look forward to watching his continued growth."
Travis Hunter adding to NIL portfolio
The freshman announced a multi-year deal with the digital banking platform Greenwood back in July. With co-founder Michael "Killer Mike" Render on board, the company aims to serve Black and Latino individuals and businesses. Greenwood's mission is to support financial freedom for minorities through community building, career advancement, and financial services.
With a campaign dubbed "Choose Black," Hunter is working to encourage people to support Black businesses, schools and causes. As part of the deal, he will do his banking with the company. He will also be a Greenwood brand ambassador, advocating for finding reliable advice when making money moves.
Greenwood is part of a subset of banks best described as neobanks, apps that offer banking services that are not actually banks.
Travis Hunter's growing On3 NIL Valuation
Travis Hunter has seen his profile skyrocket since his commitment decision made national headlines. And now on the same sidelines with former NFL star Deion Sanders, there's no slowing down the opportunities Hunter has.
He currently holds an On3 NIL Valuation of $605,000 which places him in the top 60 of the NIL 100 and top 40 of On3's college football NIL rankings. The wideout also has a massive social media following. With 1.1 million followers across TikTok, Instagram and Twitter, his per post evaluation is worth $5,500.
Hunter's 11th-hour flip from Florida State was wrapped in NIL rumors, though. There were countless whispers of a potential seven-figure NIL deal that lured Hunter to the HBCU. And then there was the thought that Barstool offered the five-star recruit a lump sum to join forces with Sanders. That was speculation that Sanders strongly denied at the time.
The On3 NIL Valuation is the industry's leading index that sets the standard market NIL value for high school and college athletes. A proprietary algorithm, the On3 NIL Valuation calculates an athlete's NIL value using dynamic data points targeting three primary categories: performance, influence and exposure.
While the algorithm includes deal data, it does not act as a tracker of the value of NIL deals athletes have completed to date, nor does it set an athlete's NIL valuation for their entire career. The On3 NIL Valuation calculates the optimized NIL opportunity for athletes relative to the overall NIL market and projects out to as long as 12 months into the future.