Jackson State's Travis Hunter inks NIL deal with Michael Strahan brand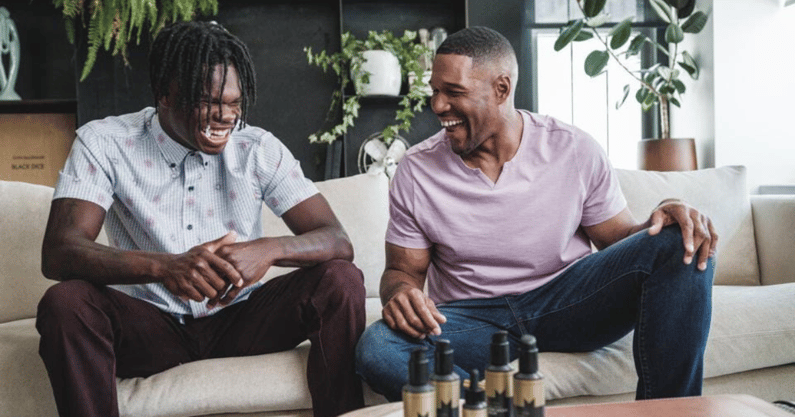 Lemon Perfect has signed the Ohio State quarterback-center duo to an NIL partnership. C.J. Stroud and Luke Wypler have inked deals with the fast-rising hydrating lemon water brand.
Stroud joins the brand as an equity partner and ambassador. As part of the deal, the quarterback will advertise the brand across his social media platforms. A zero sugar drink with only five calories, Wypler will serve as a Lemon Perfect spokesperson.
"Lemon Perfect helps me perform my best every day by keeping me hydrated," Stroud said in a press release. "It used to be a task to make sure I drank enough water, but it's easy to drink Lemon Perfect all day. It tastes great, it's refreshing, it's good for you, and I don't have to deal with the mess of making my own lemon water."
Wypler and Stroud will build the company's brand awareness across the state of Ohio and with Buckeyes fans.
Lemon Perfect has added partnerships with multiple notable athletes over the past few weeks. The company first signed five-star Duke basketball commit Jared McCain. The brand has also inked deals with Philadelphia Eagles quarterback Jalen Hurts and U.S. Open champion Sloane Stephens.
In April, Lemon Perfect announced the closing of a $31 million Series A headlined by Beyoncé Knowles-Carter. The financing brought Lemon Perfect's total valuation to over $100 million in less than three years from the company's selling its first bottle.
"As we dive meaningfully into the NIL ecosystem, we're honored to have C.J. join our Lemon Perfect team as a spokesperson for great-tasting healthy hydration," Lemon Perfect founder and CEO Yanni Hufnagel said in a statement. "… Powered by lemons, C.J. is poised to have one of the best statistical seasons ever by a Heisman-winning quarterback while leading Ohio State to a national championship."
Luke Wypler, C.J. Stroud building On3 NIL Valuations with on-field success
C.J. Stroud has had a busy offseason, inking deals with Designer Shoe Warehouse and Value City Furniture. He's currently driving around a G-Wagon, too. The Ohio State star has an On3 NIL evaluation of $2.3 million, which ranks sixth in the NIL 100 and third in the On3 college football NIL rankings. He's amassed a strong social media following, too, with 180k followers.
Luke Wypler is not struggling to find opportunities, either. He was part of TreVeyon Henderson's Chipotle ad. And he recently signed with Applebee's. The center has an On3 NIL Valuation of $202,000, which ranks in the top 300 of the college football NIL rankings.
The On3 NIL Valuation is the industry's leading index that sets the standard market NIL value for high school and college athletes. A proprietary algorithm, the On3 NIL Valuation calculates an athlete's NIL value using dynamic data points targeting three primary categories: performance, influence and exposure.
While the algorithm includes deal data, it does not act as a tracker of the value of NIL deals athletes have completed to date. The On3 NIL Valuation calculates the optimized NIL opportunity for athletes relative to the overall NIL market. It projects out to as long as 12 months into the future.