Jackson State CB Travis Hunter signs NIL deal with SoHoodie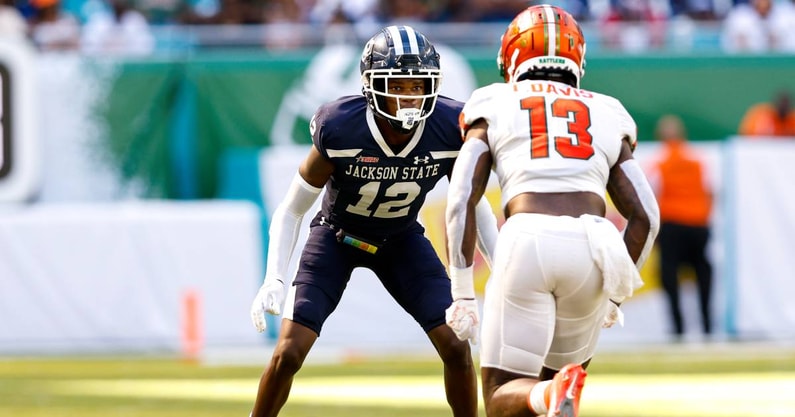 Jackson State cornerback Travis Hunter, a former Five-Star Plus recruit from the 2022 recruiting class who was ranked No. 2 in the On3 Consensus, has signed an NIL deal with SoHoodie.
SoHoodie sells patented, standalone, one-size-fits-all hoods, which are especially popular among youth football players, but also those in the NFL. The hood can protect a player's head and neck from the sun and the material used in production is terry, which allows players to dip it in water to stay cool while exercising.
Hunter's line of hoods will say "I'm him" on the side.
"What makes me him is that I can do multiple things on the field, and I have that dog in me that I won't let anyone take from me," Hunter said in a statement provided to On3. "When I'm on the field or doing anything competitive, I want to win, I want to be the best, and I don't like to fail. I want to inspire kids to embody those same qualities, to always be themselves, and not let anyone get in their way."
Travis Hunter is SoHoodie's first collegiate partner
During a recent Zoom call, SoHoodie Vice President Matt Fine said while SoHoodie receives 10 to 15 direct messages on its social media accounts per day from athletes who want to work with the brand, SoHoodie chose Hunter as its first brand partner who's a college athlete.
"We like working with people who like the brand," Fine said. "… For us, that's the most important thing. We want it to be organic. I mean the kids today see through everything and we do too. You know when something is not true. People are just promoting something for the sake of promoting it.
"We…gave him a hood and without anything, we noticed for like the next month, he was wearing it every day."
SoHoodies are also customizable, such that athletes can put their jersey number or a logo on the side.
Think of SoHoodie in the same vein as armbands, headbands or arm sleeves. The product's allure is part functionality and part fashion.
"We struggle with that, to be honest with you, a little bit, trying to understand how that all works out being that it's a product that nobody's seen before," SoHoodie Senior Brand Manager Mike Baruch said. "We kind of contribute it or relate it to the arm sleeve. Nobody's ever seen that before. What was the main reason why people we wearing that? Was it really for performance or because it was super cool because Allen Iverson wore it first?"
Influencer, former wide receiver A.J. Greene's role in the deal
Travis Hunter and SoHoodie connected with the help of the company's brand ambassador A.J. Greene, a former wide receiver at University of New Haven who has developed a combined social media following of more than four million, plus more than 165 million views on YouTube.
Greene travels the country, attending high school, college and NFL games, and 7-on-7 tournaments. "It's different to just have talent but he's looking for personality and engagement because that's the type of person he is," Baruch said.
Baruch said Greene and Miami Dolphins wide receiver Tyreek Hill plan on starting a 7-on-7 team and Hunter will have a role.
"He took our product under his arm and he ran with it and he would wear it in all of his videos," Baruch said of Greene. "He would promote it the best way that he could. We saw this, we were like, 'I don't think the NFL guys would ever show us this much love that this person is and he's in our demographic right away. He's getting to the people that want to buy our product, that are interested in it.'
"You know, the NFL['s] typical fan is older, is more, 30, 40 and up, where they're not really looking to buy this for the necessary reason why we're selling it, which is for youth sports."
Baruch said SoHoodie has previously partnered with NFL stars, such as Michael Vick, LeSean McCoy, Aaron Donald.
Fine said Los Angeles Clippers forward Kawhi Leonard contacted SoHoodie and wore a SoHoodie the night after he won an NBA championship with the Toronto Raptors.
However, Baruch said NFL players "loved to promote it but they weren't as engaging as a so-called creator or YouTuber, which completely makes sense. These guys are professional athletes. You're talking five, six years ago, that's more so what they were doing was focusing on football and they had a bevy of different deals that they were partnering with. For us, that was kind of what our thought would be. 'Get into the hands of the best athletes, have them promote it, you get content and we'll show the world that this is our brand' and it was successful.
"It put us on the map. It's actually how A.J. saw it."
Travis Hunter's deliverables for SoHoodie
Travis Hunter has roughly 617,000 followers on TikTok and 440,000 followers on Instagram. The Jackson State freshman will soon promote SoHoodie to his social media audiences multiple times per month.
"We're looking to have Travis to two to three posts per month where he's going to be promoting his own line, being able to wear it in and around the facility," Baruch said. "Unfortunately he can't wear it on the field due to the licensing agreements and the strict rules of JSU, which is OK. That was one of our main things we wanted to try and aim for but being that he couldn't wear it on the field, he could be able to wear it during practice.
"We want to have him gift the entire team by the winter so that's something that we're looking forward to. Obviously having all those guys do an unboxing of an official either 'I'm him' or JSU hood would be something really cool."
As part of Hunter's deal, Baruch said the company will look to collaborate with Hunter, Greene and Hill and the 7-on-7 team which the latter two plan on starting.
SoHoodie was acquired by The Game Headwear, a company that Fine said has licensing agreements with roughly 350 universities. SoHoodie will soon launch a collegiate line that feature officially licensed logos, including from Jackson State.
Hunter's line will be separate from his university's collegiate line, however, given some of the contractual restraints and hurdles that can come with college athletes using school marks in NIL deals.
"We think he's unique enough where he's going to be coming up with some graphic design stuff and then some slogans and that will probably be our Travis line," Fine said. "That people come to our site because of him and they want to buy Jackson State or they want to buy Michigan or Georgia. We hope that that will happen."