Indiana's Trayce Jackson-Davis releases high school throwback shirsey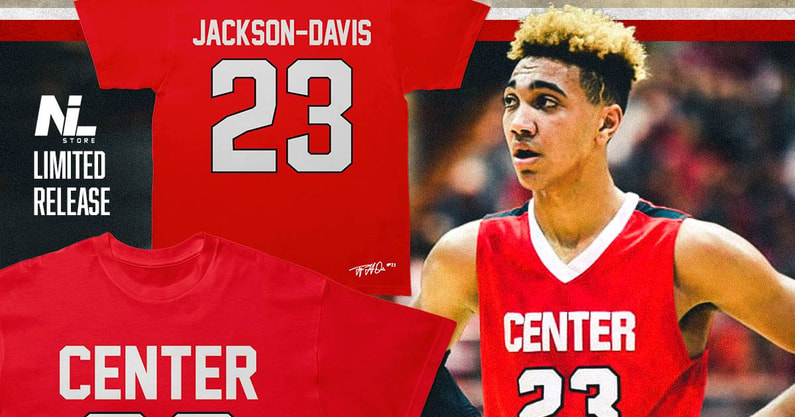 Indiana senior forward Trayce Jackson-Davis released a high school throwback shirsey through The Indiana NIL Store on Wednesday. Jackson-Davis attended Center Grove High School in Greenwood, Ind. The shirsey features "Center Grove" on the front, "Jackson-Davis" on the back and his No. 23 on both sides.
The apparel company Campus Ink launched the NIL Store as a platform for college athletes to sell custom apparel. The shirsey is part of the NIL Store's "Hometown Hero" collection. Campus Ink's website says the company has more than 20 school licenses.
"Center Grove will always mean a great deal to me because everyone from the principal to the custodians always showed such love and kindness towards me throughout my four years there," Jackson-Davis said in a statement. "I am proud to have represented the school and wouldn't have wanted to go anywhere else. Once a Trojan always a Trojan."
Jackson-Davis will donate $5 from every purchase to Center Grove High School.
"Trayce has been a great ambassador of Center Grove Schools and Center Grove Basketball," Center Grove basketball coach Zach Hahn said in a statement. "He has an infectious personality that changes the energy level in the room and always makes the moment about others. He shows great humility and has a passion for life. His leadership in our school and basketball program helped elevate Center Grove to a new level as a known commodity in the state of Indiana. Trayce embodies all of our teams' core values with passion, unity, servanthood, humility, and thankfulness!
"These same traits are the reason he has stayed at IU instead of turning pro. He is a goal orientated, driven individual that puts team goals in front of his own. He wants Center Grove to be great, he wants IU to be great. He holds a purpose driven life!"
Trayce Jackson-Davis to earn between $8 and $15 per item sold
Jackson-Davis was named Gatorade Indiana Boys Basketball Player of the Year after his senior season at Center Grove High School. He averaged 22 points, nine rebounds and three blocks per game.
Last season, Jackson-Davis was named a second-team All-Big Ten selection and a member of the Big Ten All-Defensive Team.
Last year, the forward partnered with companies including adidas, Merchants Bank of Indiana and Pennzoil. The high school throwback shirsey is an example of creative apparel that also allows an athlete to make a donation to an organization about which the athlete is passionate.
Jackson-Davis' shirsey retails for $34.99 and the limited preorder ends Jan. 30.
Campus Ink Director of Athlete Development and Partnerships Adam Cook previously told On3 that athletes earn between $8 and $15 per item sold.
"We're very proud of that," he said.
Another example of an Indiana player who made headlines through apparel sold on the NIL Store is guard Grace Berger. When Berger was sidelined with a knee injury last fall, Indiana coach Teri Moren wore Berger's custom sweatshirt on the sideline during Indiana's win over North Carolina.