Virginia Tech athletes, Triumph NIL partner with Life Ring Foundation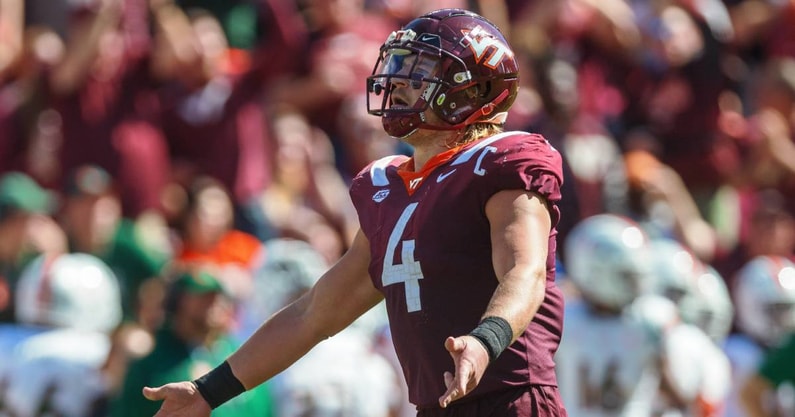 The Virginia Tech-focused sports marketing agency Triumph NIL announced Wednesday that it has partnered with Life Ring Foundation. Six Virginia Tech athletes will be involved in the partnership through NIL agreements they signed with Triumph NIL. Offensive lineman Silas Dzansi, linebacker Dax Hollifield, wide receiver Kaleb Smith, quarterback Grant Wells, small forward Justyn Mutts and soccer forward Tori Powell will support Life Ring Foundation events and fundraising initiatives, according to a press release.
Sixty-three Virginia Tech athletes have signed with Triumph NIL.
Life Ring Foundation is a 501(c)(3) charity founded by Kelly and Jessica Woolwine, the former of whom is the CEO of Triumph NIL after a merger with Hot Route Marketing over the summer. Hot Route Marketing acquired the shares and ownership of Triumph NIL.
"There wasn't a lot of ego," Kelly Woolwine told On3 in July, regarding the merger.
Life Ring Foundation says its mission is to impact residents of Southwest Virginia who are affected by childhood cancer.
"It profoundly touches our hearts, and the hearts of many, that these student athletes are willing to lend their voice to such an impactful cause," Jessica Woolwine said in a statement. "Please join them. Help more kids survive pediatric cancer."
Triumph NIL's efforts for Virginia Tech athletes
Triumph NIL says it builds custom NIL partnerships for athletes with fans, supporters and local businesses. Its founders have been clear that the organization as a sports marketing agency, which fits under the catch-all term of NIL collective.
NIL collectives are various organizations, including nonprofit organizations and marketing agencies, that typically operate independently from the institutions whose athletes they support through the facilitation of NIL opportunities. You can view the On3 database of NIL collectives here.
It was recently named one of On3's 20 most ambitious NIL collectives in the country.
Over the summer, Triumph NIL announced it was in the process of unveiling more than $500,000 in marketing deals, including an August announcement that the sports marketing agency signed 28 Virginia Tech football players.
The sports marketing agency also partnered with the Virginia Tech football program to co-brand the team's equipment truck prior to the school's season opener at Old Dominion. Hokies fans could scan a QR code on the back of the truck that redirected to Triumph NIL's website.
While Triumph NIL has signed dozens of football players, it has also signed numerous women, as well as two standout wrestlers. It has also announced partnerships with the apartment management company CMG Leasing.