Triumph NIL signs Virginia Tech wrestlers Mekhi Lewis, Bryce Andonian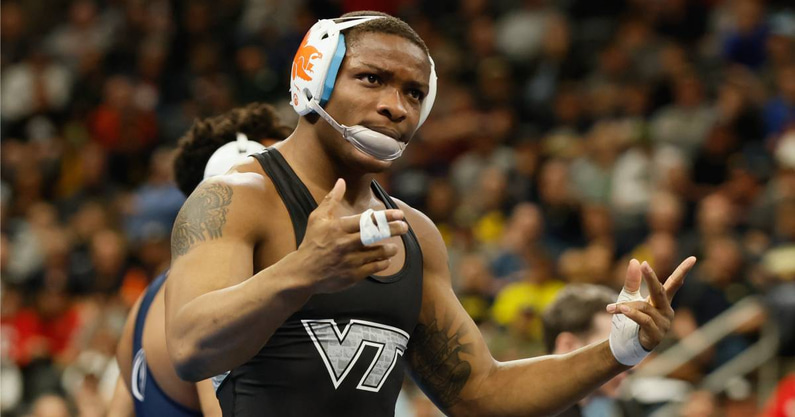 Triumph NIL, a sports marketing agency that helps creating marketing opportunities for Virginia Tech athletes, recently signed wrestlers Bryce Andonian and Mekhi Lewis to NIL contracts. In 2019, Lewis became the first individual national champion in program history. He won at 165 pounds. The same year, he won the ACC title and earned ACC Wrestler of the Year honors.
In 2020, Lewis took an Olympic redshirt year to train for the 2020 U.S. Olympic Team Trials.
"I am grateful to have Triumph in my corner as I pursue my goals on and off the mat," Lewis said in a release. "I am excited for all the opportunities that lie ahead and I look forward to creating a positive impact for the next generation to come. Keeping that in mind, I will continue to use my platform to give back to my community."
According to the release, Lewis recently donated $8,000 to the Center for Great Expectations in Somerset, New Jersey. The Center for Great Expectations is a treatment center that provides services related to mental health and substance use.
Andonian, a senior, earned All-American honors last season after finishing third in the 149-pound weight class. He qualified for the NCAA Championships in each of his first three seasons.
"Focusing on my aspirations on the mat is key to all that I want to accomplish and, as part of the Triumph family, I am able to do that as they look to help build my brand off the mat," Andonian said. "I am excited for this venture and what's to come!"
Triumph NIL expands its roster
In August, On3 named Triumph NIL, which was involved in a merger with the marketing agency Hot Route Marketing, among the most ambitious NIL collectives.
The term NIL collective serves as a catch-all phrase for various organizations, including marketing agencies, non-profits and for-profit corporations, that typically operate independently of a university whose athletes they support by creating or facilitating NIL opportunities.
With the additions of Andonian and Lewis, Triumph NIL's roster now includes 56 Virginia Tech athletes, according to the release.
"We are extremely excited to work with these two talented athletes," former Virginia Tech football player and Triumph NIL partner Brenden Hill said. "They are both committed to leveraging their ambitions athletically to help give back and support communities that are important to them. We know that Triumph and Hokie Nation will help facilitate those endeavors."
In August, Triumph NIL announced it signed 28 Virginia Tech football players to contracts worth $300,000. It was its second announcement of Triumph NIL signing players from the team. Triumph NIL was also involved in the creative co-branding on the football program's equipment truck prior to its Week 1 road game at Old Dominion.
While the majority of the athletes the marketing agency has signed are football players, Triumph NIL has also signed contracts with Virginia Tech women's soccer players, including Lauren Gogal, Dori Haugen, Tori Powell and Alia Skinner.
Now, a pair of wrestling standouts joins that list, which is noteworthy.
Data from the NIL technology company Opendorse showed that only 0.4% of total NIL compensation facilitated by or disclosed to the platform through May 31, 2022 involved wrestlers.